Hello everyone, Wow, time can surely fly by.  I was trying to post this last week, but then I was working on finishing up the 8th grade Basic Skills book, we had a guest come stay, and a birthday, and life.   So I have it for this week:)
Hope it gives some inspiration into a meal for your family.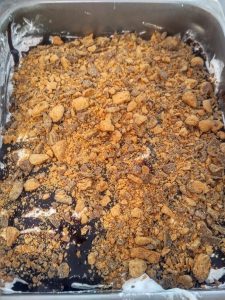 This goes back two weeks, we had a birthday dinner for Evan, who is 17 this year.  Talk about time flying by:) He always requests ice cream sandwich for his birthday dessert.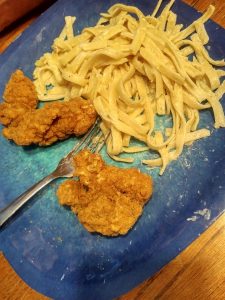 He had chicken tenders–prepackaged for his birthday dinner and fettuccine alfredo.  He has always like this so we did this for his real birthday day:)  Then the next day we had everyone home so we did a bigger meal.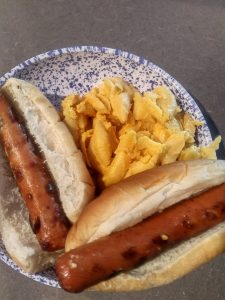 The only thing he wanted to have was "pizza rolls" so I bought a bunch of those and baked them in the oven.  Then as the Mom, I knew I had to balance out the meal a little, so we went with hot dogs and macaroni and cheese.  Did it balance?!?!? We had some fruit with this as well.  I had forgotten to take a picture:( so this was the next day's lunch photo.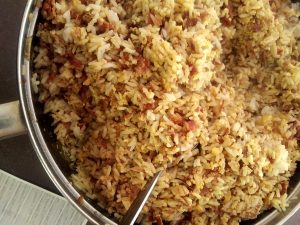 For our Sunday meal this week, I made a big batch of this Fried Rice.  I make it a lot but this time I added bacon to it for the meat.  It was a real winner in our home.
For our Sunday night time meal—I don't like to cook much on this day so we typically have a big lunch and have it for dinner.  So we had the rice and then I cooked these pancake and sausage balls that I found at the discount store.  They were good and everyone liked them.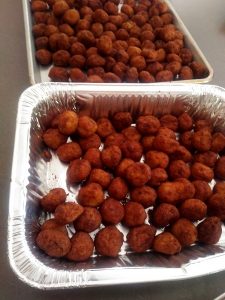 After a nice weekend, it was back to Monday.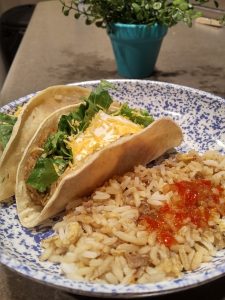 We still had some rice leftover so we had that along with some chicken chimichangas except we made them like tacos:)  I cooked the filling and then fried corn tortillas.  We served them with lettuce, cheese, and sour cream.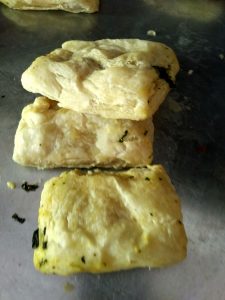 I was craving these spinach feta puff pastry squares so I decided to make them.  I knew not everyone would like them so I made a small batch. They were good.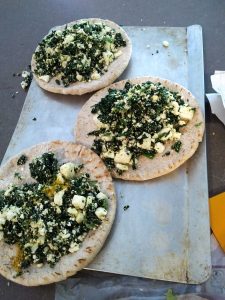 I had some leftover, so I put them on pita and baked them.  This was lunch for me for a few days.
For dinner, we did hamburger stroganoff..It is everyone's favorite, so it works.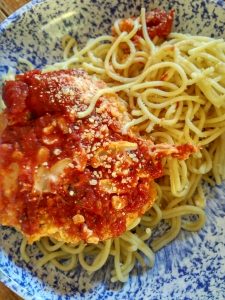 Then we made a new recipe.  It was a winner. Breaded chicken parmesan.  It was a crockpot meal, but we did it in the oven.  Very good and everyone liked it.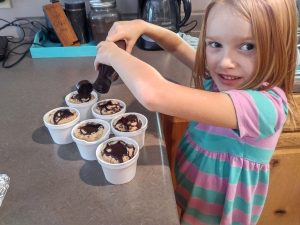 Then Madelyn was very gracious and shared her package of chocolate chip cookies that she had gotten as a treat today.  We had leftover ice cream cups from our parks' grand opening so we topped it with a chocolate chip cookie and some chocolate sauce.  Everyone enjoyed it.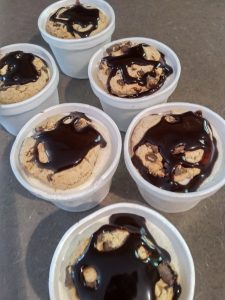 The next day we did another "new meal"……………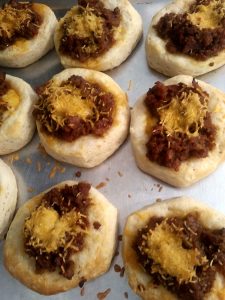 smoky bacon sloppy joe cups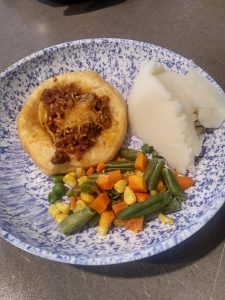 We served it with some mashed potatoes and mixed veges.  An easy and yummy meal.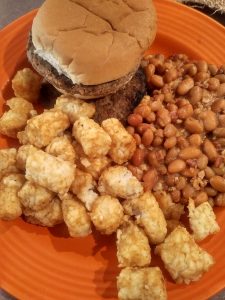 It was Friday, a busy day.  So we grilled hamburgers, had tater tots, and baked beans.  Easy meal for a busy day.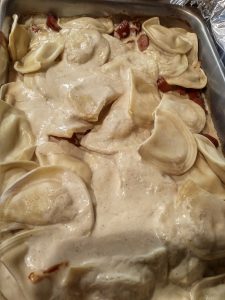 I then made a big pan of sausage, pierogie casserole.    This time the only thing I did differently, was that I did it in a large pan, and poured more of the alfredo sauce in the center.  This left some pierogies exposed.  This seemed to be better for my younger children, who didn't like the "mushed" potatoes:)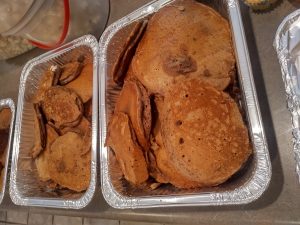 It was the weekend so we did some baking, because we had a friend come this week.  We did a big batch of banana chocolate pancakes.  We used the waffle recipe.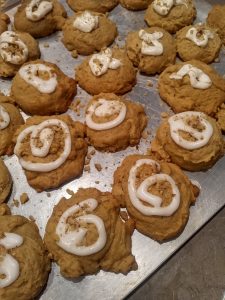 I hadn't made these since my older children were little.  It brought back delicious tasting memories.  Pumpkin cookies.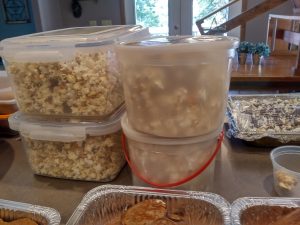 We then made more caramel corn.  You can't go wrong with caramel corn.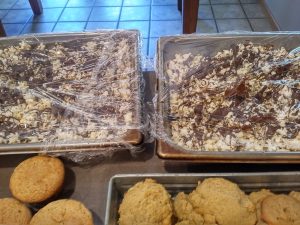 As well as some chocolate popcorn.
For the weekend, we did lots of leftovers.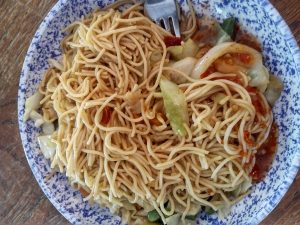 This week was busy.  So I made all my meals on Monday and we just grabbed the containers out of the refrigerator for each night. I made a pan of  lo mein noodles.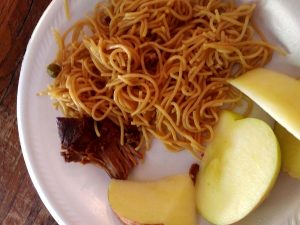 I cooked some roast that I had to use up from my freezer.  My husband enjoyed eating that more with steak sauce and I gave some to the children along with lo mein noodles.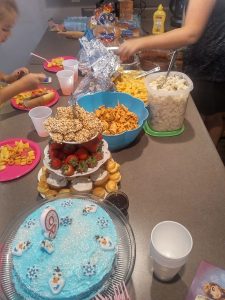 Then it was time for another birthday. Autumn turned 9.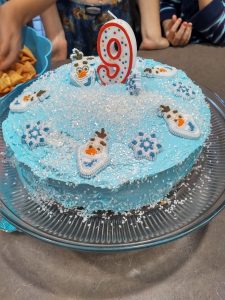 She wanted a frozen cake.  We made this with a vanilla cake base, topped it with blue raspberry frosting and put nerds in the center.  I didn't think it would be good but it just made it fruity tasting and the vanilla balanced it.  It was a keeper.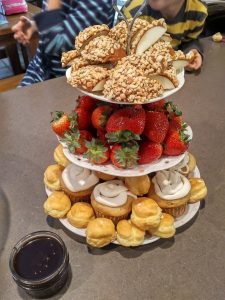 We had caramel apples, strawberries, cream puffs with chocolate syrup, and some vanilla chai cupcakes –that I made in case the blue raspberry was yuck for adults:)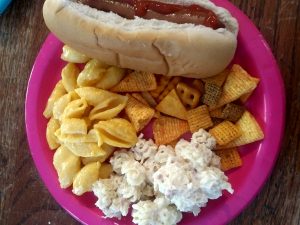 Her meal was……can you guess………….hot dogs, mac and cheese, and snack mix:)  I also made some cold chicken salad for this week.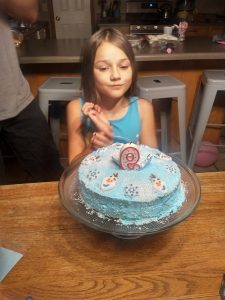 She was happy and we had a great birthday!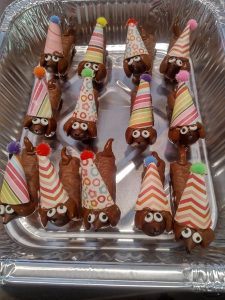 For her snack to take to church, we made these chocolate dogs.  Pinterest seemed easy, but it was one of those things you shouldn't make down south when it is warm and humid:)  But it worked and we made them.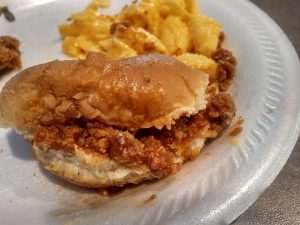 She also chose sloppy joes, so for this week, we just pulled out the meals and ate.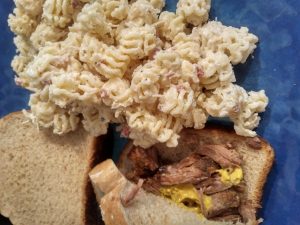 We had the roast that we cooked for sandwiches along with the chicken noodle salad.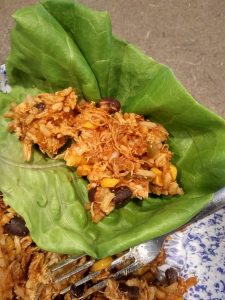 I made a batch of enchilada casserole.  I had mine on lettuce leaves and everyone else had it on corn tortillas.
That was our week.  It was great just cooking once and having the meals to pull out……….hmmm I am thinking a big freezer meal cooking for next month:)
Have a blessed week!