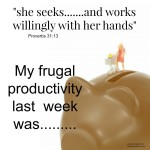 I haven't done this series for a while but felt it was much needed.  We can ALL do little things each week that will help cut back on the money that is needed to live on this earth.  The more that I can help cut back on the money that is needed to run our family, the more money that we can have to help others and do things that we would want to do as a family.
Here is my frugal productivity for the past week……………….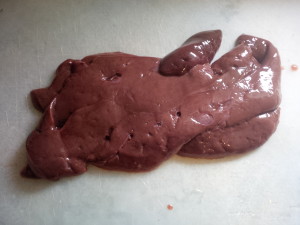 What is that??????  You might wonder why I have a hunk of liver…… Yuck, I can hear the gagging now:) 
Don't worry, I was too.  I had some blood work done over these past few months and my iron levels have been low.  I regret to say  that I can't be diligent in making sure that my iron intake everyday is what it needs to be.  My doctor offered a supplement but I decided to do some looking as to what else I could do.  Google brought  me to a term of "homemade liver pills."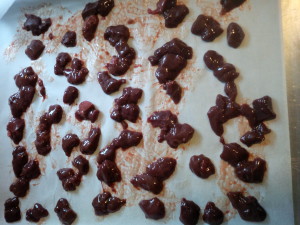 I know, I know, gross.  But necessary.  You can search yourself on the health benefits of liver—there are many. Plus the testimonies of people who take these and the increase on their energy levels is supposed to be much greater.  I will keep you posted on that one. I purchased some grass fed liver from our local co-op here.  It cost me about $8 and I got a big package of it.  I didn't look at the weight, next time.  I took it and cut it up into little pieces.  Which was hard to do when it was fresh.  But most of my pieces are small.  I then put them on parchment paper and a cookie sheet and froze them.  After frozen, I placed them into a container and into the freezer they went.  I filled up 2 quart sized bowls.  This should last me all month and then some.  Each day, I take out 2 pieces and if they are too big–I just cut them up.  They are a little easier to cut when they are frozen.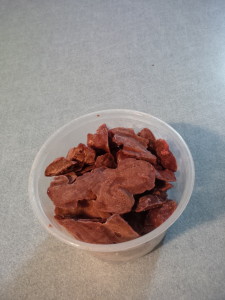 I then have my glass of kombucha or water ready, because you don't want these to thaw for a moment on your tongue:)  I swallow one and chase it down with liquid.  You don't even think of the taste or even have a hint of flavor or smell.  It kind of reminds me of swallowing a chocolate melting disc—if I was to do that:)  I have been taking them for 3 days now and have not even thought about the fact that I am eating raw liver:)   More news on my results in the next month.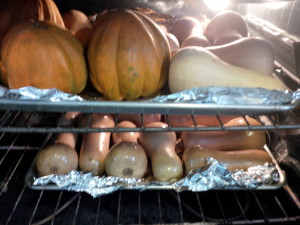 I also had acquired some butternut squash  this past week.  They were rather small and some would think they weren't worth cooking up—but never waste food if you don't have to.  I put them on a foil lined cookie sheet and placed them in my oven on 350 and cooked them until they were done.  It took about an hour each batch.  I threw some acorn squash that we had in as well.  I don't particularly care for that, but if you mix it with the butternut you don't even tell it is in there.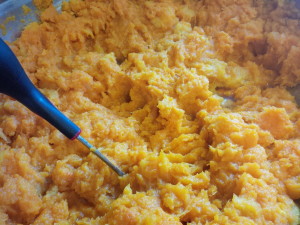 I then removed the insides by scooping them out and placing them into a large bowl.  I smashed them with a potato masher and we have this beautiful looking pumpkin puree.  I filled up my quart bags and placed them in the freezer.  We will now have pumpkin to make our muffins and breads with over the next few months.  I got 10 quart bags filled and it took me all afternoon to do it, in between school, children, messes, and life.  I figured I saved at least $20 by not having to buy pumpkin.  It was worth doing the extra work.  
Another frugal thing I did this week…..was to remove our air conditioners!!!! Woo hoo!!! Bring on the fall weather:)  As most of you know, this is our first summer here in Western North Carolina a much different climate than "cooler Michigan."  Most days this summer with "real feel temps" were in the 100s!  Which wasn't so bad when you could spend it all day at the lake, but a person can only sit so long at a beach all day.  I like doing things.  I like being productive and feeling like I accomplished something. I didn't mind our summer at the lake but I enjoy doing school, having routine, baking foods, and doing things that make me feel accomplished.  This I KNOW will save on our electric bill over the next few months.  Until we will need the heater on.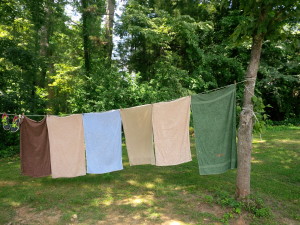 Another great thing about cooler weather is that the clothing will dry when hung outside.  Sounds backwards right?  But as soon as the hot summer with humidity came.  Not humidity like we were used to but you do know it rains for at LEAST 5 minutes everyday here in the mountains.  It will literally be beautiful and sunny and then you can walk outside and it will be sprinkling and then mysteriously just stop.  So strange.  But we have learned that if you wait, it will go away, clear up completely and life will move on.   Unfortunately for a person who enjoys hanging her laundry out, it does not do well.  I have learned to only hang out towels during the summer months and that it will take all day to dry.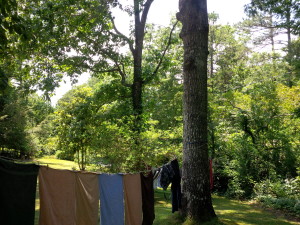 But now I can hang out all of my laundry and it will dry within a few hours.  So nice. I get up early and have my 2-3 loads washed before the sun comes up.  I then hang them out on the line and after lunch they are ready to be brought in.  I bought a drying rack and put it on my front screened in porch and put things like socks and underwear on that to dry.  I love it.  I hate using the dryer because I know it uses much electricity.  Another way to cut down on our electric bill!!!
I'm sure I have done many more things………..for one, I don't drive as much because we are busy with doing school—that saves on gas.  I am thankful gas is so cheap again.  I can fill up my 15 passenger van for $50!!! It seems a full tank will last me a few weeks if we keep our driving limited to church, the store, and to the park.  I can't express how nice it is that we have a park about 1 minute from our home.  The drive to the library takes 3 minutes.  The only reason I drive is because it is down the mountain and off a main road.  Too dangerous for little ones.  Makes us able to save money and still do extra things.
Okay, how about you?  Any frugal productive things you did this week that you would like to share?  Post a comment and share with others on how you help your family save money.
This is the day that the Lord has made, I will REJOICE and be glad in it!  Be blessed!