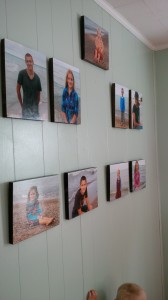 I have had this idea to Modge Podge my children's photos onto a piece of wood and hang them in our living room for over a year now.  I took photos last year of everyone at the beach and I was never completely happy with the photos that I took.  We had many little ones and some were not cooperative at all for the photo taking ceremony.
Well this past summer, all that changed.  We took all of the children for a photo shoot to the lake right down from our home.  It took about an hour and we had everyone's photos completed, I was super happy.
After we arrived here in our new home, I knew I wanted to have them done for our walls.  I already had them printed off months earlier when they had a good deal online.  I picked up a piece of pine wood from our local Home Depot and got to work.  I had my husband cut the boards into 10 inch lengths to fit my photos.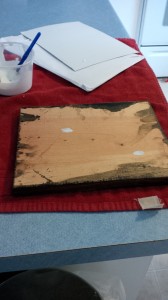 I then joined him in the garage and stained the edges.  I am not a perfectionist when it comes to neat staining as you can see:)  But it did not matter because all you would see are the edges.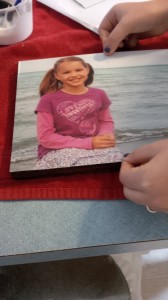 I then wiped a thin layer of Modge Podge onto the back of the photo so that it would stick to the wood.  I have always bought the matte kind but all the store had was glossy.  I think it turned out nicely with this type.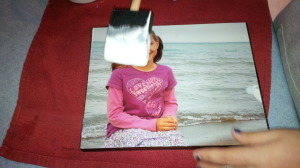 I then proceeded to wipe Modge Podge onto the photos.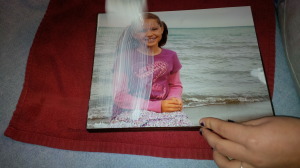 I wiped in the same direction the glue.  Be careful not to let it accumulate over the edges.  It is okay to get some on the edges it will just try shiny, but we had one spot that accumulated a ridge of glue and it dried like that.  Thankfully you cannot see it when it is hanging but just an FYI for you.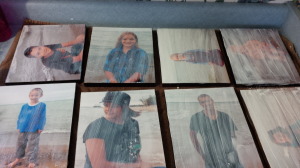 I put one coat on them and let them semi dry.  They will appear clear.  I then put about 3 layers of glue on the wood.  It is okay if it dries and it looks like spots on it.  Those will dry eventually too.
I let them dry overnight and attached hanger hooks to the backs.  We then hung them up to view.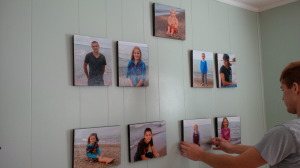 I am waiting for an "All because two people fell in love" sign from our family business to put among these photos.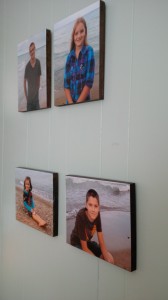 This is a great inexpensive DIY photo hang.  It looks great and very clean and simple on the walls.