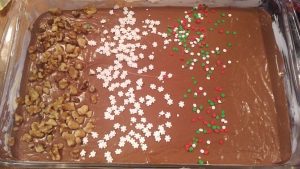 Butter a 9×13 pan and set aside.
In a large bowl add:
1 -12 oz package chocolate chips
12-1 ounces squares of sweetened chocolate(we used german)
2-7 oz containers of marshmallow fluff
In a heavy pot mix:
4 and 1/2 cups sugar
1 pinch salt
2 T butter
1 can evaporated milk
Dissolve the sugar over low heat and then heat to boiling the mixture.  Boil 6 minutes.  Almost until the softball stage.  Remove from heat and pour over the chocolate ingredients.  Stir until mixed and smooth.  Then pour into pan.  Top with chopped walnuts, pretzels pieces, or sprinkles.