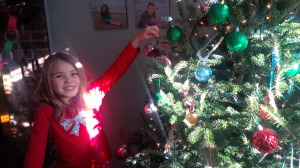 We have been enjoying these last few weeks experiencing Christmas in a whole new way. We were reminiscing  over the years of picking up a tree and it being freezing outdoors.  So much that myself and the little ones would sit in the car and my husband would go out and pick out our tree.  We would enjoy hot chocolate and popcorn driving around looking at Christmas lights and singing Christmas songs.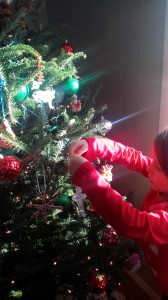 Not this year!!  We had the doors wide open while we decorated the Christmas tree and this year while driving looking at Christmas lights at the Ag Center in western North Carolina, we enjoyed eating ice cream from McDonalds with the windows rolled down!!  Did it lose it's nostalgia of Christmas because we didn't have the snow???  NO WAY, we had so much fun being outdoors  and still doing family activities together.
By the way, I HIGHLY recommend going and seeing the light show at the Ag Center.  We paid $20 a vehicle to see it, but it was well worth the price and the wait–we waited about 30 minutes to drive through.  I have never experienced Christmas lights like this before, it was all synchronized to music, a very neat event.  Plus it is presented with the gospel message, a very good outreach to the community.
I had  recently saw a picture on Twitter and it was a Christmas tree cartoon through the years.  It started out by displaying a beautifully decorated Christmas tree when the couple first got married.  It then went to when they had a 1-2 year old child and all the ornaments were at the top of the tree.  When they had 5-6 year old it was decorated with paper homemade ornaments.  When the child was a teenager it was decorated with neon, cool ornaments.  Then when the parents were of old age the tree was covered in half broken Christmas ornaments and they sat smiling at the tree.  That is my perfect picture of our tree.  We have lost most all of our "original" ornaments due to children playing with them over the years.  This past year I bought some plastic bulbs on clearance to help fill my already bare tree.  I discovered Autumn, the princess loving girl, wiping the ornaments all over her arms.  "Look Mom, I am sparkling like a princess!"  I don't know if we will have any ornaments left that are original by the time we are old and gray, but we enjoy laughing about the decorations we have each year.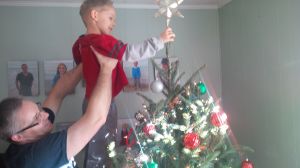 It was Jentzen's turn to put up the star.  We rotate children each year.  He will not get to put the star up again until he is 14 years old!  Unless an older sibling gets married or forfeits his/her turn.  Good times.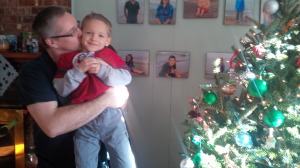 We did some holiday baking this year.  Every year it gets a little easier and easier as I have more hands to help.  The children's favorite activity is to make the holiday cut out cookies.  I look at it with such dread because I know the mess ahead of me after they have mixed it, rolled them out, and then the dreaded job—–decorating them.  I don't know if more frosting and sprinkles ends up on the actual cookies or my children and my floor?!?!?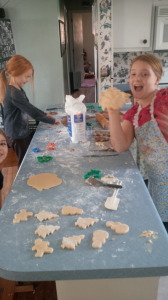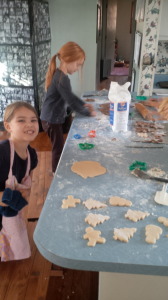 I do it because my children look forward to making them.  Yes it is messy. Yes it can be stressful and Yes they enjoy every moment of it!! It is about creating memories not so much in trying to keep my kitchen clean.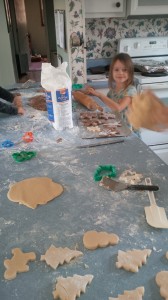 I know that one day we will be able to gather around the kitchen in a somewhat orderly fashion.  Well maybe not, but at least the cookies will resemble more than blobs of frosting and handfuls of sprinkles.
We also made something new and yummy this year—Caramel corn.  This was super easy to make and tasted delicious.
1 cup butter
2 cups brown sugar
1 teaspoon salt
1/2 cup corn syrup
1 teaspoon baking soda
8 cups popped popcorn
In a small saucepan combine butter, sugar, salt, and corn syrup.  Over medium heat stir and bring to a boil.  Continue boiling for 5 minutes stirring occasionally.  Then shut off heat and stir in baking soda.  It will foam up and help the ingredients stick together.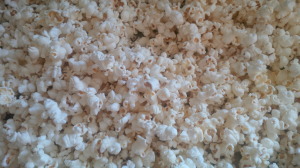 While your ingredients are heating up, pop your popcorn.  You  need at least 8 cups of popped popcorn.  We filled up our turkey roaster pan and found that sufficient.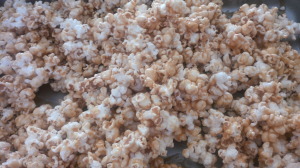 After your mixture has boiled and you added the baking soda, pour it immediately over the popcorn and stir until well coated.  You can add peanuts to your mixture if you enjoy it.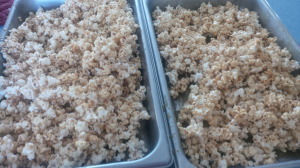 Bake in 200 degree oven for about 45 minutes.  Every 15 minutes gently stir the popcorn.  Remove from oven and cool.  Store in closed containers. 

I am sure everyone is going to be busy getting ready for Christmas today, I pray each and every one of you enjoys today with a peaceful heart.  Be blessed.