This is a fun activity to do with your children.  Mix up a batch and then let them create different shapes from the dough.  It is fairly easy to do and will be a yummy tasting treat when you are done.
Here is what you will need:
3 pkgs yeast
2 1/2 c warm water
1 tsp sugar
6 3/4 c flour
1/2 c lukewarm water mixed with 4 tsp baking soda
In a mixing bowl add the yeast, sugar, and warm water.  Let sit till bubbly.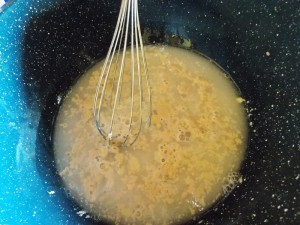 Next start mixing in the flour.  i like to do 1 cup at a time, whisking at first, then going to a wooden spoon.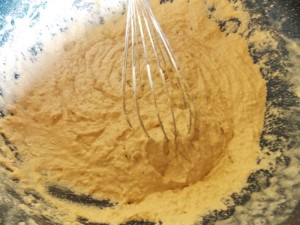 I then start mixing it by hand, kneading it in the bowl.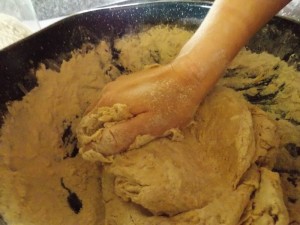 Let sit in your same mixing bowl until you are ready to use it.  If you need to punch it down, do so and let it rise up until you are ready.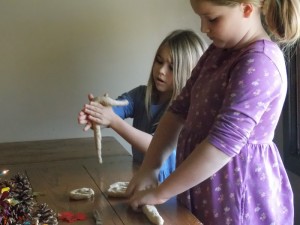 Here are my girls having fun creating different letters from the dough.  After you have your shape all formed, dip it or brush on the water/baking soda mixture and then sit it on your cookie sheet.  Sprinkle with pretzel salt.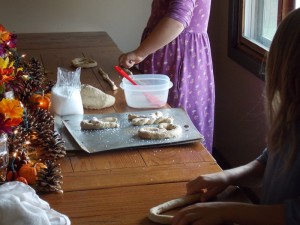 We did these on our "baking day" and then we gave part of our "goods" to a neighbor.  My daughter made the pretzels into the shapes of the neighbors first names.  She also made one for each person in our family.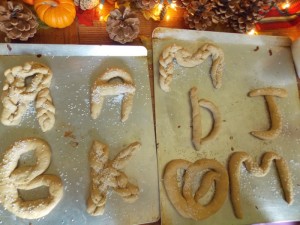 Bake at 375 degrees for about 15 minutes.