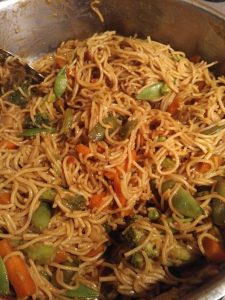 Cook your desired amount of spaghetti noodles.  We did the smaller angel hair pasta and the family seemed to enjoy that.
I added a package of frozen stir fry vegetables just because I had some and then I added:
soy sauce–1-2 T
sesame seed oil-1 T
hoison sauce–1/2 bottle
water with chicken bouillon mixed in–1 cup and 2 tsp chicken bouillon
To serve, I chopped up some green onions. If I had leftover chicken, I will probably add that next time.