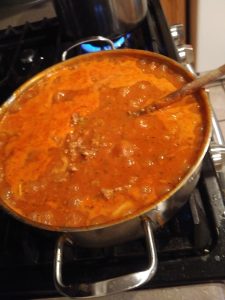 I made a big batch of homemade spaghetti sauce.  I used up the rest of a can of tomato sauce that I had used early this week.  Click here for the recipe.
To this batch I added the following because I had it on hand:
2 lb cooked ground chuck
1 can mushroom pieces
1 cut up green pepper
2 cups shredded zucchini–it was previously frozen
This got in some extra vegetables for nutrition without anyone noticing:)
For my cheese mixture I bought the big container of Ricotta cheese from Sams club, 2 cups mozzarella cheese, and 1/2 container parmesan cheese.  Mix this up and used it in my layers.
I cooked three packages of lasagna noodles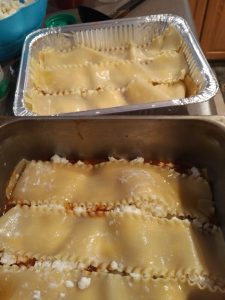 I layered it like this:
sauce
noodles
cheese mixture
noodles
sauce
noodles
cheese mixture
noodles
sauce
I made two big 9×13 pans of this.  For the edges, I pinched them up so that the sauce would not go over the edge during baking.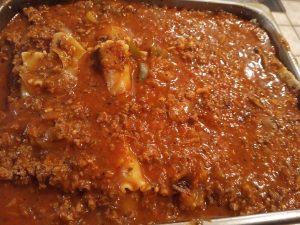 Freeze one for another meal and bake one at 350 for an hour or until melted in the center.