This is something that I make once in awhile to liven up lasagna.  It is really simple to make and freezes quite well.
You will need the following:
1 pkg lasagna shells–cooked

1 pkg ricotta cheese

2 cups mozzarella cheese
1 cup parmesan cheese

1 pkg spinach, drained and squeezed 

meat sauce–made from hamburger and spaghetti sauce.
Mix the ricotta, mozzarella, and parmesan in a small mixing bowl.
Unroll the noodles and sprinkle with part of the cheese mixture.  Then add a bit of the spinach. Roll up the noodle and you are finished.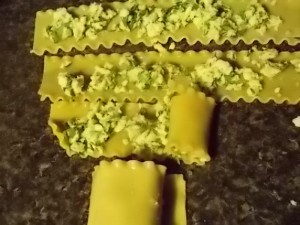 Put seam side down in baking pan.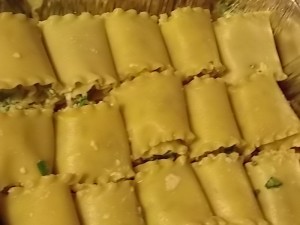 Cover with meat sauce and bake 350 for 40 minutes.  You can also freeze this for a later meal.