This past month we have had 2 birthday celebrations that I just never got to document yet. Brooklyn turned 8 and Jentzen turned 5 within two weeks of each other.   We usually let the children decide whether they want to go do something for their birthday or have presents.
We normally didn't have many activities available for our large family to do that wasn't overpriced when it was cold. But as a treat our winter birthdays in North Carolina got to experience thing a little differently this year.
For Brooklyn's birthday our town had a parade that we attended.
It was rainy for the beginning part of our day, but it was more of a mist and the children didn't mind.  By the time lunch came, it turned into a gorgeous 70 degree day!!!  We went to a local hardware store that was offering ornament decorating and cookies and hot cocoa.  It was fun, little busy, but fun.
We let each child choose their favorite foods for the meals for the day.  Since we were out for the parade, we packed sandwiches to eat and for dinner Brooklyn wanted the favorite of most of our children, hotdogs and macaroni and cheese.
We take a package of hotdogs and cut them up into slices.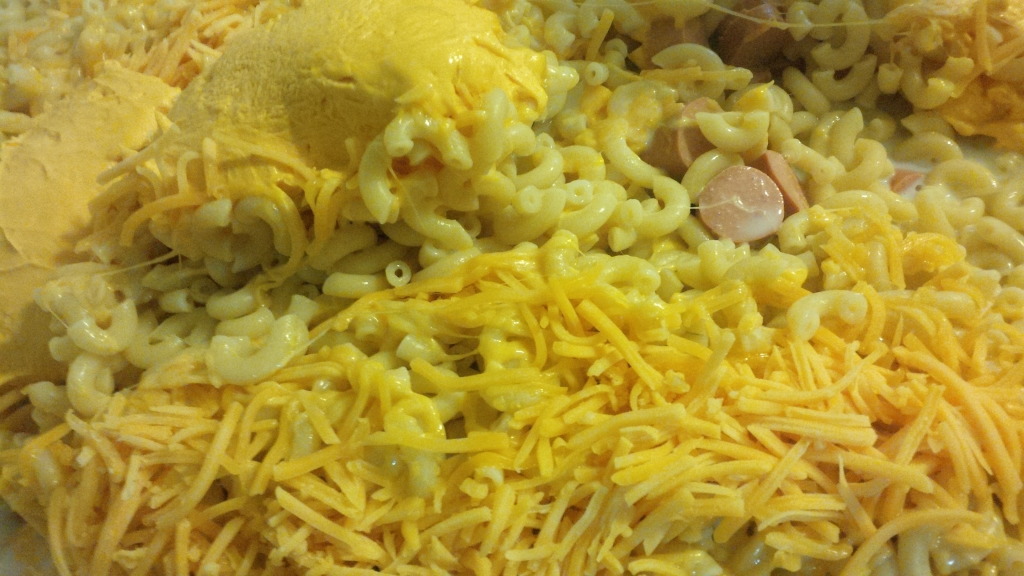 We then make up a big batch of homemade macaroni and cheese.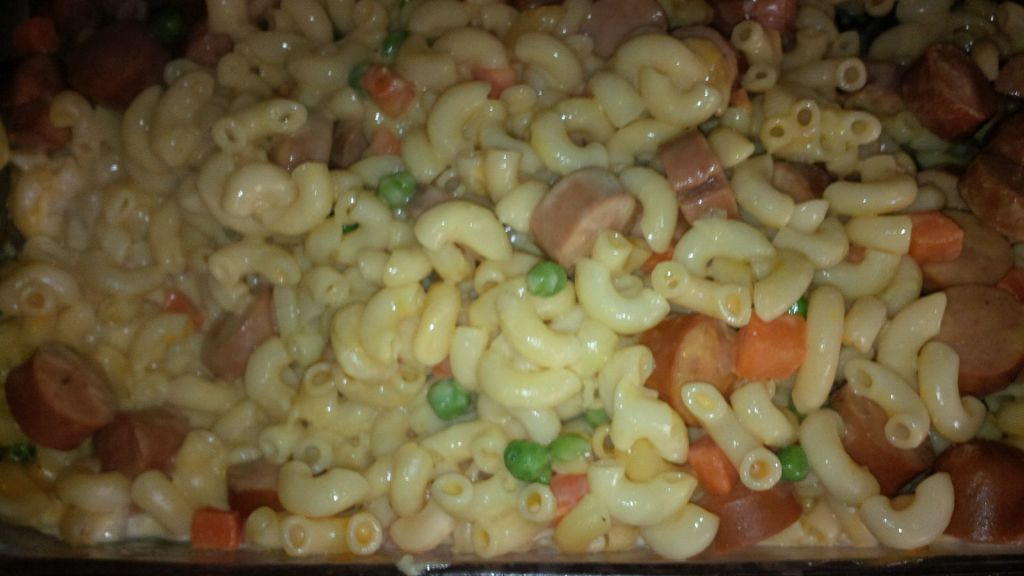 We then mix it all together with some peas and carrots and put it in the oven on low.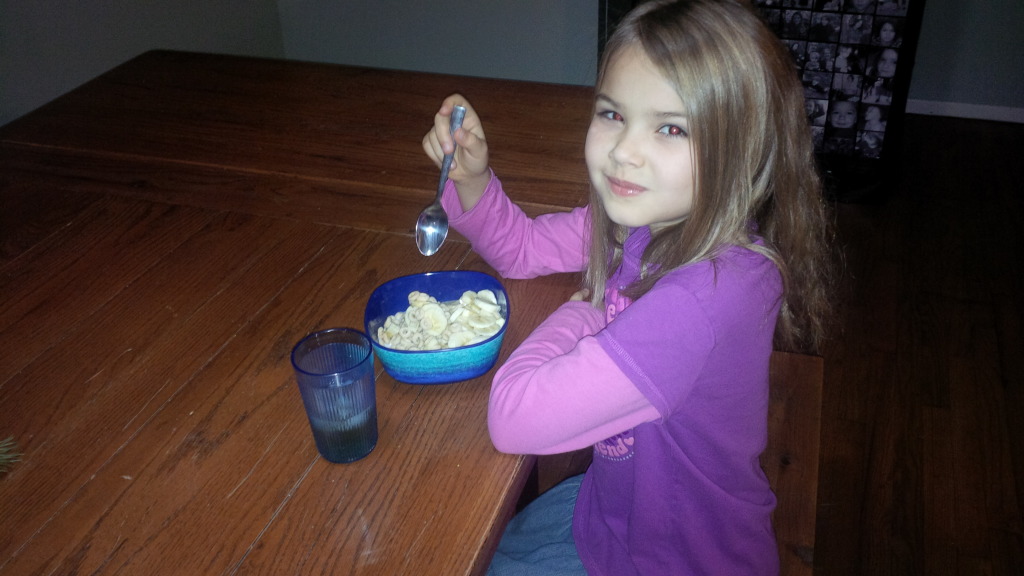 When we arrived home from being out, we were able to enjoy a warm, hearty meal.
Brooklyn said she wasn't too fond of cakes so she wanted to make ice cream sandwich dessert.  This is a fun creation that they enjoy customizing to their likeness.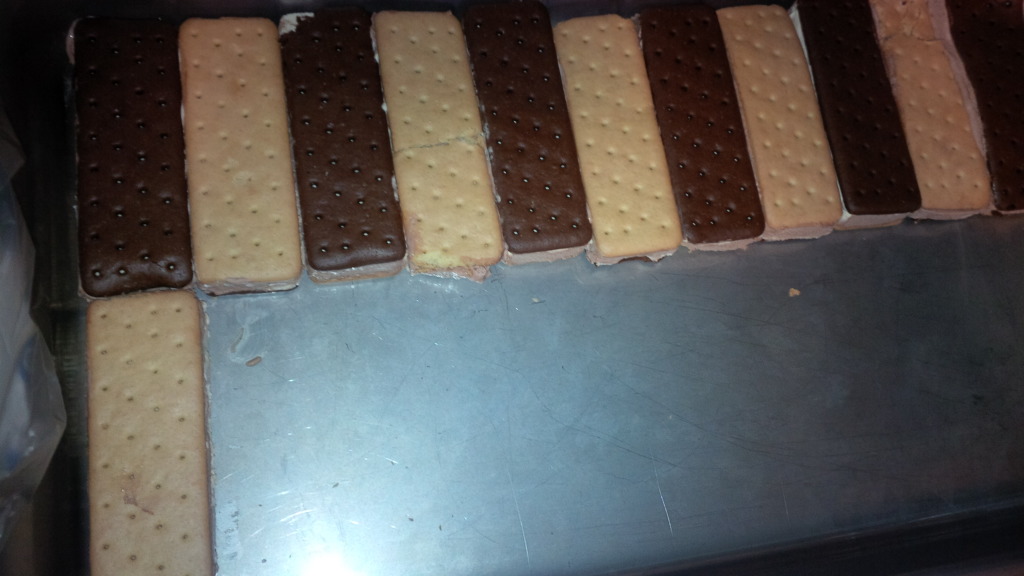 She chose vanilla and chocolate mix ice cream sandwiches.  We layered one box on the bottom of a large baking pan.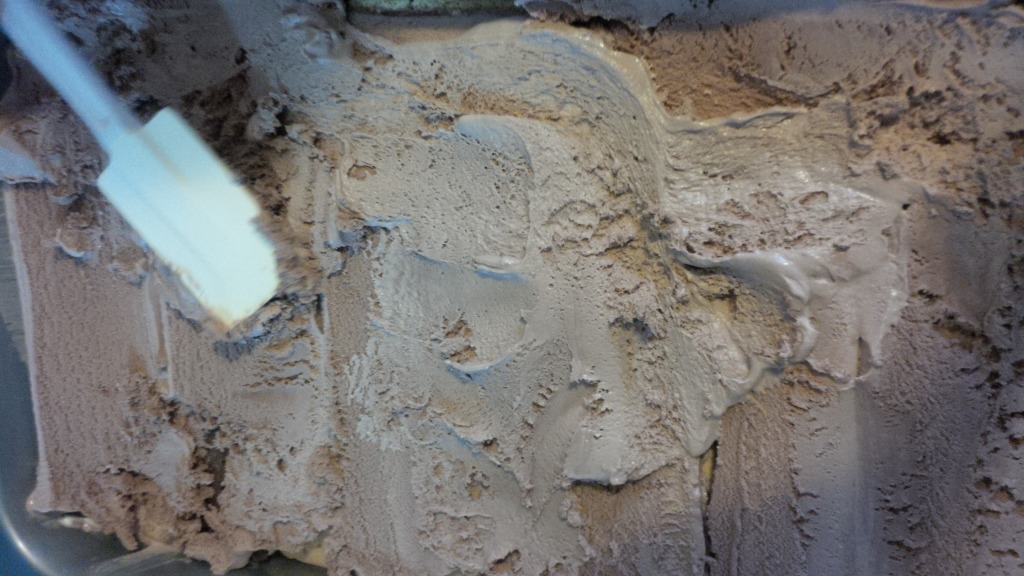 We then topped it with a container of ice cream.  She chose chocolate.  The good thing about this is that you "jazz" up your ice cream so you can choose the cheapest kind of ice cream otherwise this dessert will be costly.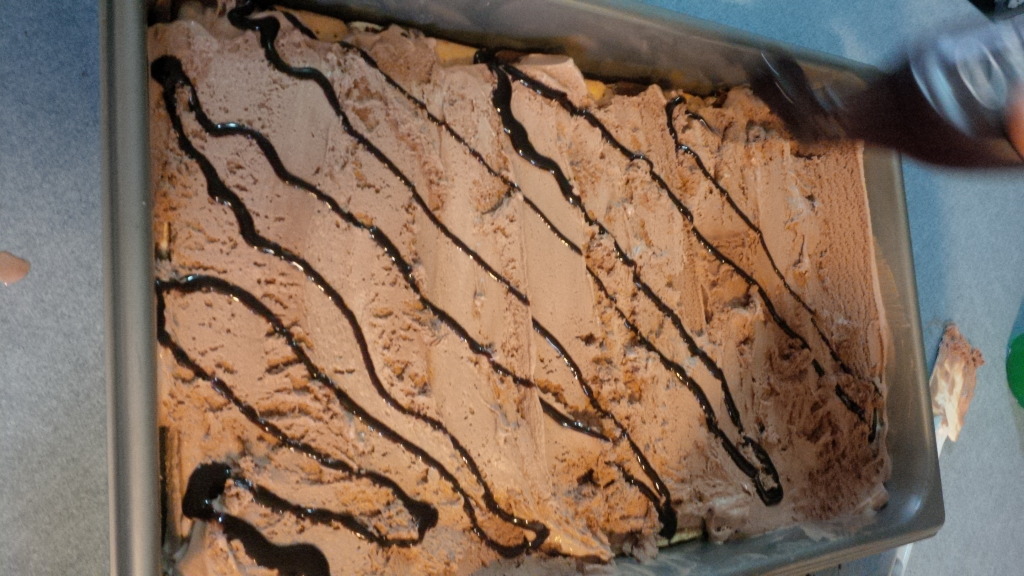 Then top it with chocolate and caramel sauce.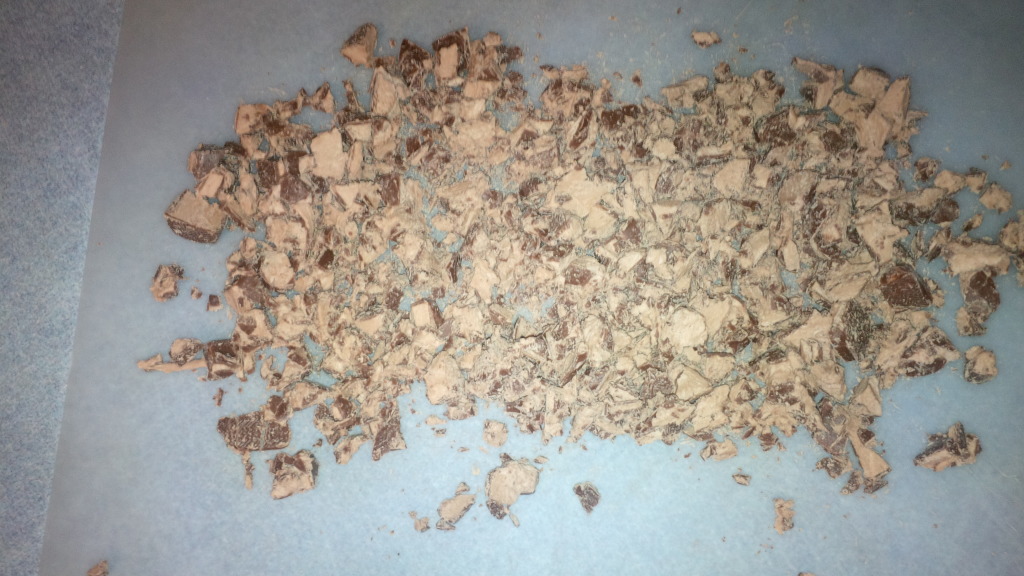 Choose your favorite candies for toppings.  She chose 3Musketeers candy bar.  We bought a small bag of unwrapped candies and then chopped them up small.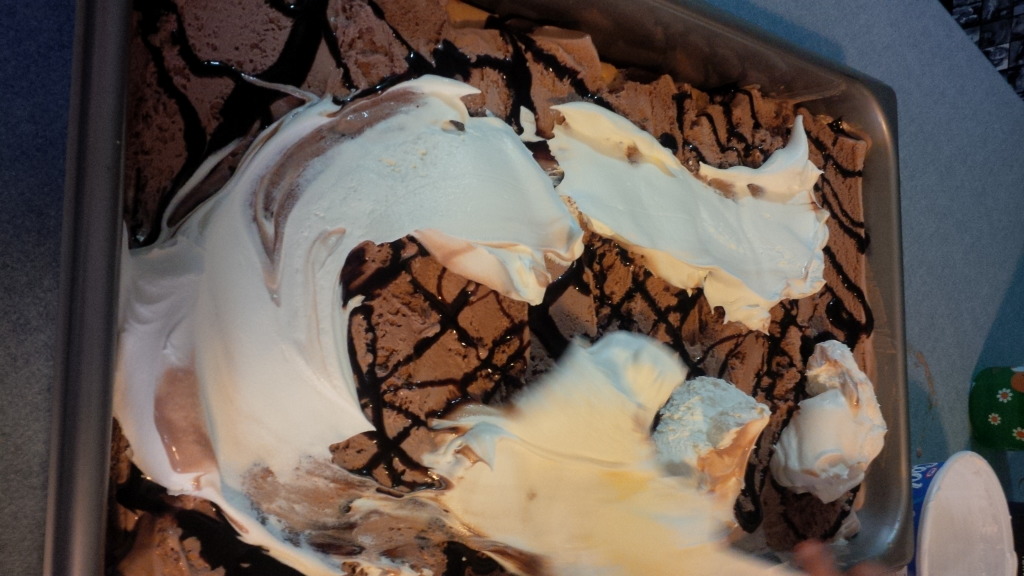 Spread cool whip on top of the candies and syrup and then repeat the layers again.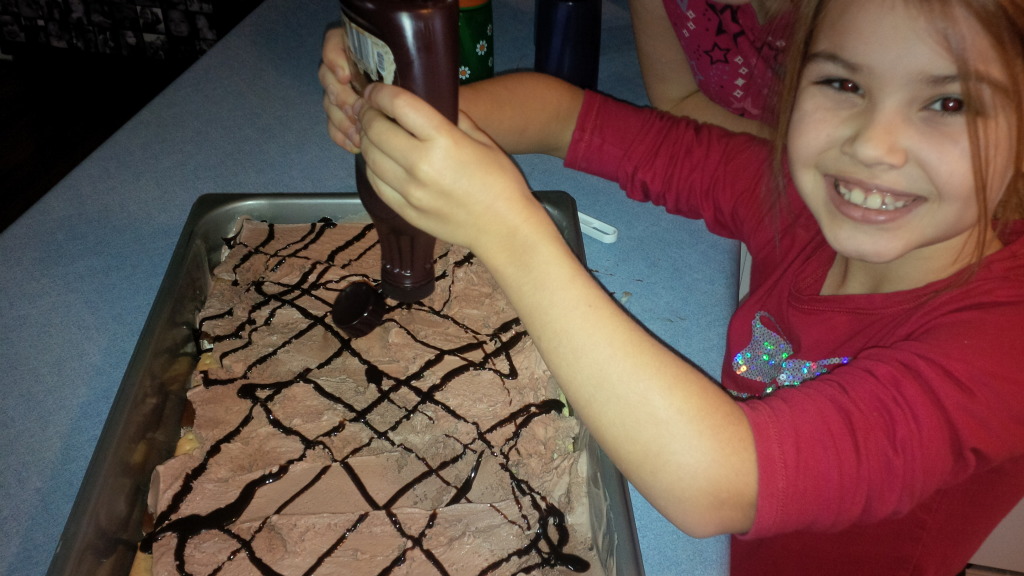 This is fun for the birthday girl to make herself.  Plus she gets to eat any remainder ice cream sandwiches that would not fit.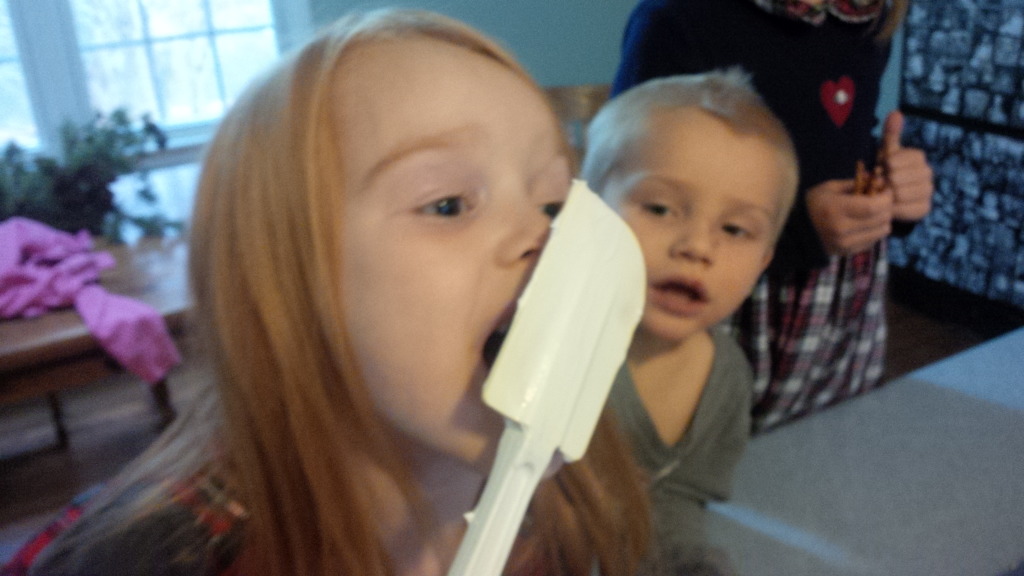 Brooklyn has a good heart and usually shares with her younger siblings.  I told her she could have it all herself, but she broke up pieces of it and shared.  She even let the little ones lick the spoon in between layers.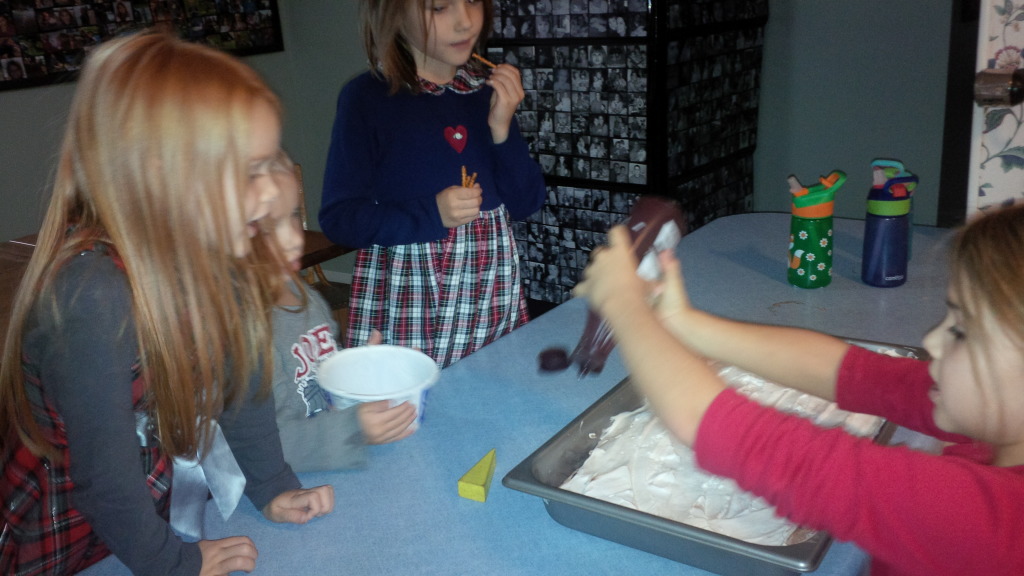 After you create it, cover it and put it in the freezer and freeze until firm.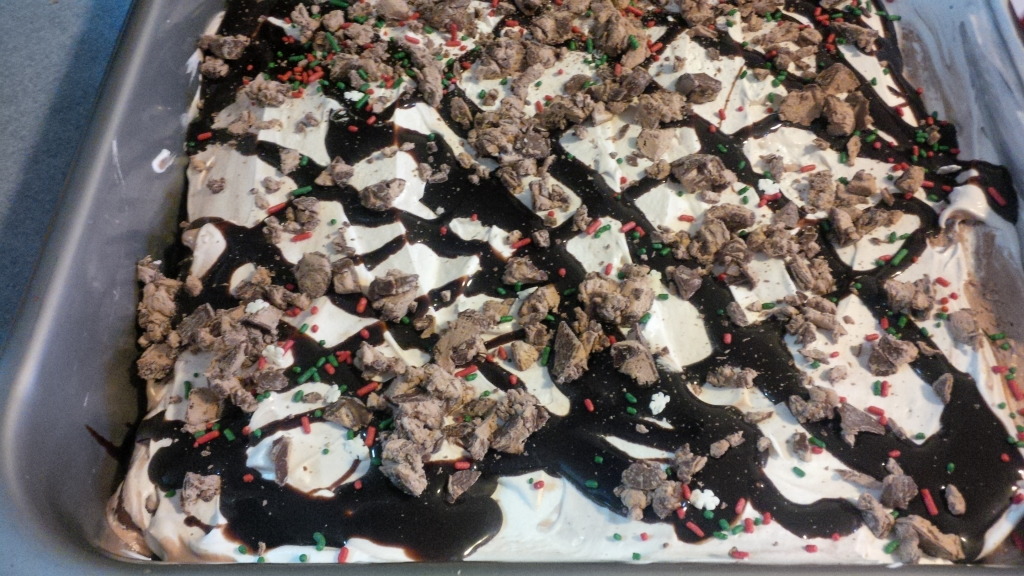 This is very yummy to eat.  I even thought about using graham crackers layered between ice cream to make it less expensive.  Another birthday we will experiment.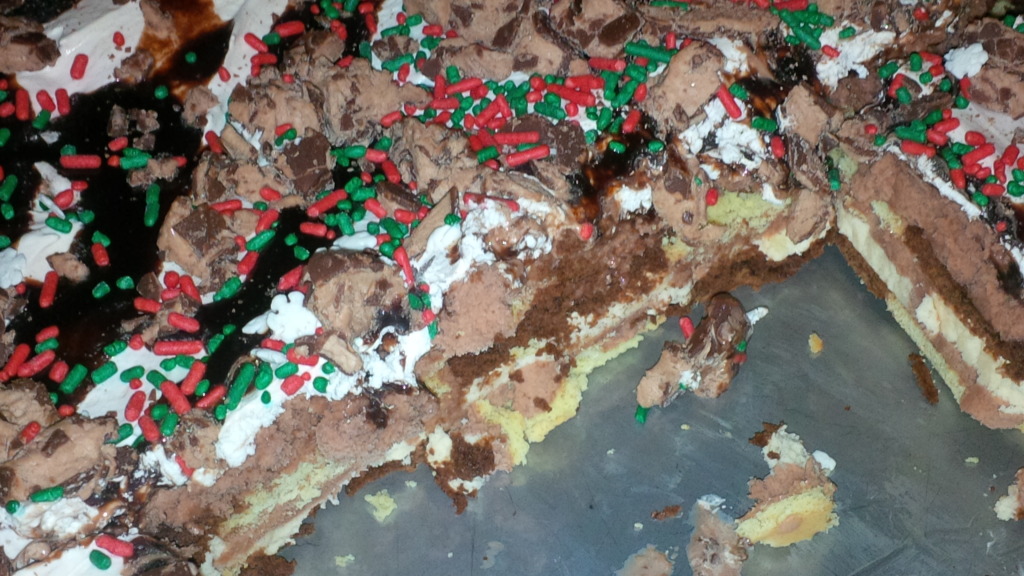 There wasn't much left after we all had our portion.  It was a good fun time for her birthday.
Then a few weeks later we had Jentzen's birthday.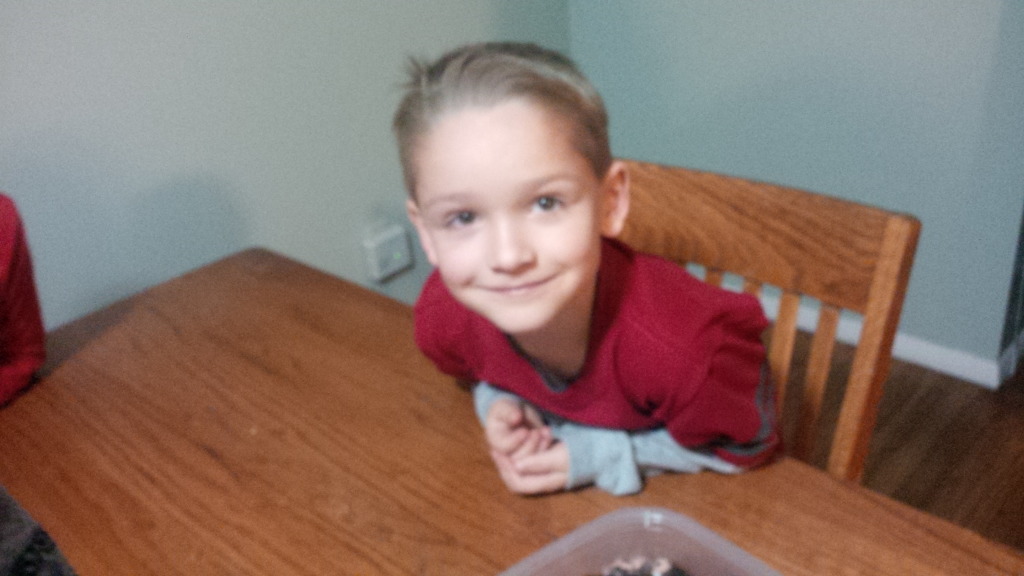 He chose to make dirt cups for his dessert.  He just didn't want the worms inside of his pudding.  He also wanted banana pudding.  These were nice choices as we have had many cakes and cookies lately.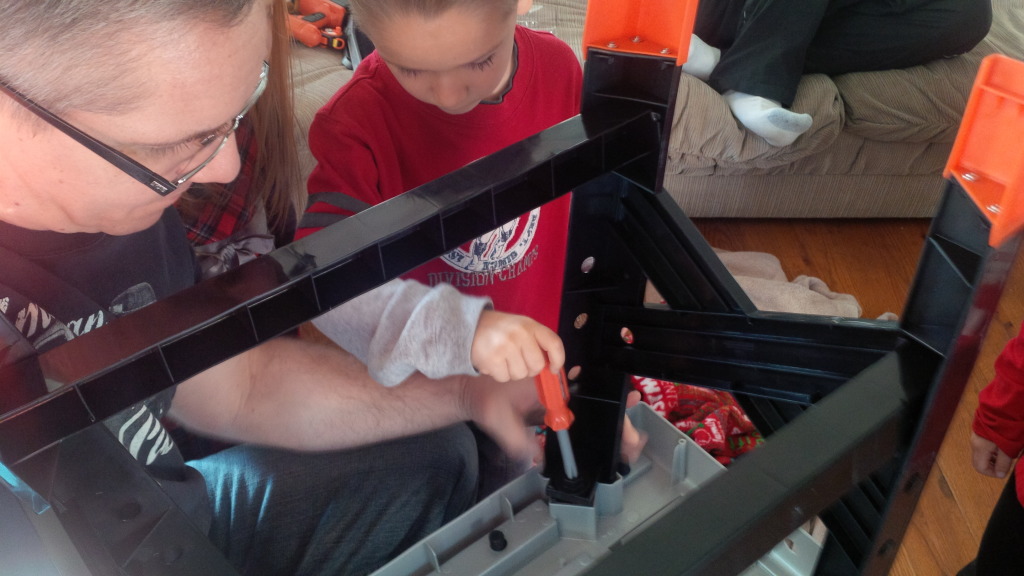 Here he was helping Daddy, with his new tool bench.  He really enjoys working out in the garage with him and now he can play inside with some tools.
For his birthday we went and picked out  our Christmas tree. It was a nice warm day out.  He enjoyed being able to choose which one we got.  Then we came home, decorated the tree and rode bikes outside.  Later that evening we went to a really cool Christmas lights display show at the Ag Center in WNC.  That was a really fun time.
He wanted macaroni and cheese pizza so we decided to make a pizza buffet for dinner.
Two simple easy birthdays that didn't cost much but we enjoyed being together outside doing things.