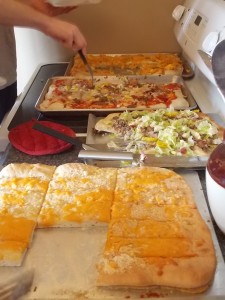 In our family, pizza is a FAVORITE thing.  We usually like to goto our local pizza buffet because they have so many different varieties that the family likes.  Well this week, I decided to take on our local pizza place and copy some of their recipes.
I was glad that I did.
First things first, you need a good pizza crust recipe.  We made one for years and it is made with white whole wheat flour, which is good because it is healthy. For this attempt I was going for "copying" the restaurants, so I went with regular white flour.  Here is the recipe that I used:
2 pkg yeast
2 2/3 cups water
3 T sugar
3 T vegetable oil
1 tsp salt
6 1/2 cups to 7 cups of flour
Combine yeast, water, and sugar.  Let stand for 5 minutes.  Stir in the remainder ingredients.  Knead until smooth and let rise until double.  Punch down and roll out into pan.  Bake at 425 for 8 minutes before adding toppings.  This gives you 2 large pizzas.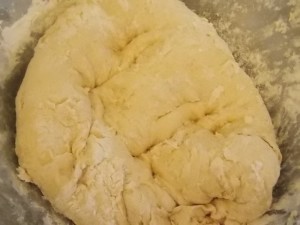 Here is your dough all nice and spongy.  I like my white whole wheat flour, but using this white flour makes it taste just like the restaurant in time, I will transfer back to my other flour.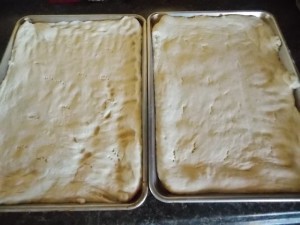 I made 2 jelly roll style pans that are very large with one batch.  For our family of 12 I did this recipe double.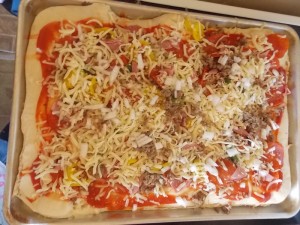 Here is pizza #1 our supreme pizza. Includes the following toppings:
pepperoni
ham
ground sausage
green peppers
onions
mushrooms
mild peppers
mozzarella cheese
We used regular pizza sauce for the base of our toppings.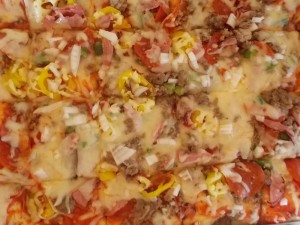 Bake it for about 20 minutes until your cheese is melted.  On to the next one…….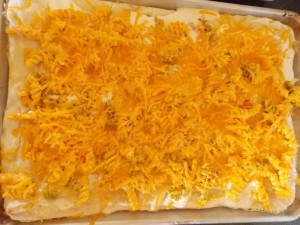 For our #2 pizza we went with the macaroni and cheese pizza that is ALL of our little ones favorite.
What I did was cook 1/3 a pkg of rotini pasta until done.  Then I added some nacho cheese that we had on hand for nachos the night before, but you can mix it with Velveeta cheese or make a quick sauce with some milk and shredded cheddar cheese.
For the base of the pizza we put Alfredo sauce, the macaroni and cheese noodles, and then topped it with cheddar cheese shredded.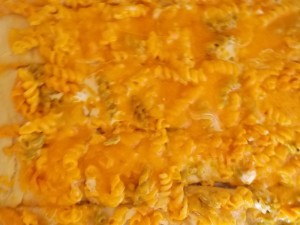 Bake it at 350 for 20 minutes until your cheese is melted.  A favorite for sure!!!  Try it before you think it would taste weird.  I know I did:)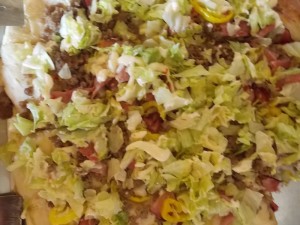 For our #3 pizza I went with an Italian sub style pizza.  This was one that I wouldn't normally just make because I didn't think it sounded very good, but this is the pizza that went the fastest.
For your base we used Alfredo sauce.  Then we topped it with the following:
cooked ground sausage
ham
onions
green peppers
light sprinkle of mozzarella cheese
We then put it into the oven for about 15 minutes to cook the cheese.
Then when we took it out we added the following to the pizza:
shredded lettuce
chopped tomatoes
mild pepper rings
drizzle with Italian dressing
drizzle with some miracle whip.  I put mine in a ziploc bag and then cut the corner off and squeezed it out like I would frosting.
So good, this was BY FAR my favorite pizza and I wouldn't think it would be.
For the last part of our dough we split it into 2 pans and made cinnamon sticks and cheese sticks.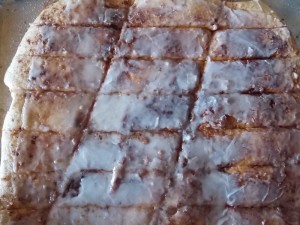 For the cinnamon sticks, I brushed some melted butter onto the dough and sprinkled it with cinnamon and sugar.  I baked it at 350 for 30 minutes.  **This dough was not precooked.  Immediately after coming out of the oven I mixed up about 1 cup of powdered sugar with enough water to make a drizzle frosting.  I drizzled that over the bread and then sliced it up.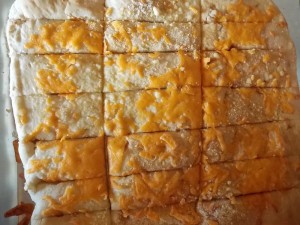 For the cheese bread, I brushed the dough with some melted butter.  Sprinkled some garlic powder and Parmesan cheese on it.  Topped it with shredded cheddar cheese and then baked at 350 for 30 minutes.  **This dough was not precooked.

There you have it, pizza for a large family.  I can honestly say that we did not have many leftovers with this batch.  I look forward to making this again in a few weeks.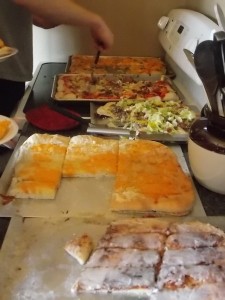 y p