In part 8 of our series, large family organization tips, we are going to look at the master bedroom.
As with all of our rooms in our household they are found to have the minimalist amount of things inside it to avoid the "cluttered"  look.
I think with most families, the master bedroom is the "catch all" for miscellaneous items.  Not here.  Our room is made with a simple layout.  We have a bed, made from pallets.  Yes, you read that correctly, you can click here to view how we made them.  The only other item in our room is a hope chest with a tv on it.
Some things in my hope chest;
all our family memories–photos and videos
my wedding dress, that I hope to fit into this anniversary
wedding videos
scrapbooks–when I had time to do those
journals of the kids–I keep one that I write in at least 2 times a year for each child until they move out of the home
flower petals I am saving for the girls—Daddy buys them roses for special days and I keep them dried for when they have their wedding day,they can throw the petals in the aisle
some favorite things like blankets, first outfits, and special toys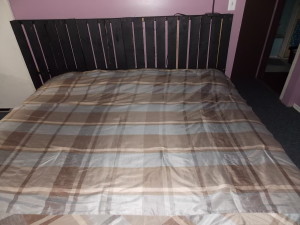 This year I finally took the time to decorate our walls with photos of the family.  I had our family business make this sign "All because two people fell in love…" and then I printed off various pictures of the children and placed them around that plaque.  I love laying in bed and seeing my beautiful child's' faces.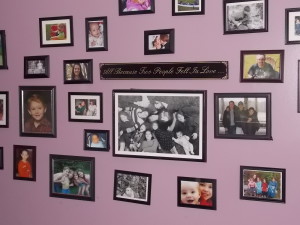 Our closet is located in our master bathroom, which is convenient.  We don't do dressers so everything is hung up.  I had my husband make me a jean holder for his jeans.  He took a 2 inch wide board and placed 10 screws in it like a coat rack.  I hang all his jeans by the loops on that rack.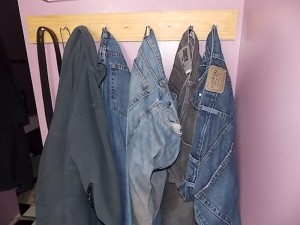 It makes me not have to fold all of his jeans for work and easier for him to be able to see what jeans he is grabbing out.    I then put our undergarments in plastic drawers like I do in the lower half's family closet.  I fold most of my skirts and set them on top of my drawers.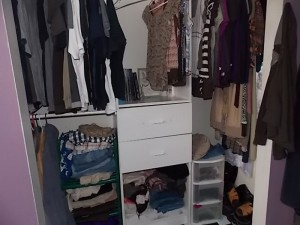 As with my children, I don't keep a packed closet.  I go through my husbands' and my clothing every season to evaluate the clothing that is stained, too small, or too big in some cases:)  For myself during my weight loss I have gone through numerous dress sizes.  I kept a pile of skirts that I would strive to fit into in a pile on my shelves.  As my weight came off and skirts became too big, I would put away the nicer ones that I wanted to keep in a bin in our basement, gave away some, and threw others out for rags. I would then replace my shelf with a new set of smaller skirts.   As soon as my top size went down, I gave away or threw out tops that were too big.  No sense looking frumpy for my husband.  If I get pregnant again and need larger tops, I do have a stash of pregnancy clothing in the basement.
I make sure and go through undergarments as well.  This is getting personal, but I feel that as a wife we should still try and be pleasing to our husbands and that means going through worn out or ripped undergarments and replacing them with nicer ones.  I teach my daughter, keep your older undergarments for your time of the month and then get a new set to wear for everyday.  That way they won't get ruined.  Okay enough about that.
As for what clothing to wear.  I do a lot of bending during the day. Whether it be to tie someones shoes, pick up a pacifier, or to pick up a child.  When shopping for my clothing I need to keep that in mind.  I know that there are some things that just won't work for a busy mother of little ones.
wide neck tops are out–just have a child start pulling on your top and you will understand why
no mid-line shirts—as soon as you go to fix your pony tale or bend over to pick something up, your backside and stomach get exposed, opt for longer fitting t shirts
snap up shirts are out–if you can snap it, so can your children
zipper tops, kids love to unzip things, especially mommy's shirt
Do the layered look for your wardrobe and you will be set.  I have 4 solid colored long t shirts that I wear under everything.  When I was nursing full time I cut nursing slits in them and wore them under my tops, now I just wear them under things because it makes me feel more modest.  I know that if someone pulls on my outer top I am covered by my undershirt.
For skirts….
avoid wrap around skirts, they always come apart when sitting down
no slits up the front, unless you sew them, they will fall apart when sitting down
shorter flowing skirts are good to fly up on you when walking holding onto a little one, avoid
sew the slits in most skirts.  I haven't found too many skirts that the slit is as low as I like it.  While walking you would be surprised at how much of your leg is exposed, do a simple straight stitch to sew it together.
We try and avoid all dry clean only clothing.  If it can't be washed and dried by me, it probably won't get done.  I am not an iron-er either so shirts must be wrinkle free.
My wardrobe is pretty basic.  I have solid 4 solid color t shirts,  and 4 solid color long sleeve shirts to wear under my tops.  I have 3-4 nicer church tops, and 10 everyday tops.  My tops are able to let my skin breathe.  Being a mother is a hard, sweaty job.  I realized I don't want to be wondering if I have wet armpits while praising the Lord on Sundays.  I avoid all white and light colored tops.  Knowing they will get stained somehow.   For skirts I keep 3 nice for church, and 3 for everyday.  I have my favorites and will continually wear those.  Why would I keep something that wasn't comfortable or that i didn't really like completely?  I also keep my colors simple.  I like brown and purple.  Most all of my undershirts are brown then while shopping, I know that all I have to look for is a coordinating top to go over it.  Makes it much easier.
For footwear, wearing heels is a little dangerous while carrying babies.  Plus they are not good for your back or your feet.  Save yourself some grief and pick out a cute pair of practical shoes or boots.  I have a set of brown leather boots that go with all of my wardrobe, I chose this as my footwear option.  I have no need for pantyhose, or knee socks, just any pair will do.  I prefer to be barefoot most of the time, so if I do have to go out, I usually just grab a pair of my husbands socks and then put on my boots.  Simple and easy.  Same for summer shoes.  I have a pair of flip flops that are for yard wear, a nicer pair of sandals for church, and one nicer pair for wearing out.  That is all.  Well actually I have a pair of tennis shoes for walking, but that is it.  Just a basic set.
We don't store miscellaneous things in our closet. I find a place for things that need a home.  The only thing I do hide in here is some early birthday or Christmas presents.  But clothing that no longer fits gets put away in a bin down in the basement, thrown away, or given away.  We don't hold onto the "maybe one day I will use this theory."  We get rid of it.  If clothing hasn't been worn in the last year, we pitch it.  As soon as there are holes in clothing–socks, pants,shirts, etc–they get thrown away or in the "to sew" pile.
up next the laundry room…..