Large family organization tips:  the boys room
In our large family household, we have 6 girls and 4 boys.  At the moment we have teenage girls in the basement, four little girls in one room, two little boys in one room and 2 big boys in a room.
This is the 2 big boys in a room.
As a mom of many, I have learned a few things about boys rooms in comparison to girls rooms  over the years:
boys are messier
boys are harder on their furniture
boys don't care to organize
boys will never clean their rooms unless made to
boys will throw all their clothing in the closet and be content to leave it that way
boys just aren't girls
I am very content with my boys.   They are growing up to be such strong, responsible, hard working men, I guess I can deal with ONE messy room in the household:)
This boys room is very small.  We had bunk beds in here originally and  a desk and that is about it.  Not much else will fit.  The problem with having bunk beds, is that when you have two full sized boys maneuvering around on them daily they are bound to get loose and start falling apart.  I was repainting their room and had climbed up on the top of their beds and it was swaying—yikes.  Time for some new beds.  But what can you buy that is going to hold up to two teenage boys???  Not a whole lot unless you can get something out of stainless steel.  Well we had to do what was close and that was something hand-made by Dad.
We also wanted something affordable and sturdy bunk beds were not on the list of affordable.  I am thankful for a visionary husband to be able to design these plans in his head by suggestions from me of things to incorporate into the plans.
This is what we came up with.  We did a loft style bunk bed on the top.  Underneath we bought a wooden heavy duty futon for the older son.  That way, one day the oldest boy will eventually move out and that will leave this boy alone for a few years.  Unless he wants to start bunking with his toddler brothers, I think not!!! Then he can add a chair or something simple to sit at underneath.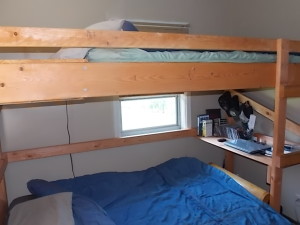 We made sure to build something for each boys personal items right into the bed design.  For the older boy, on the bottom, we made a small desk that he can put his laptop on and numerous "boy items."  Underneath he keeps his guitar cases.
On the top bunk bed, we didn't want to have shelves but still wanted the son to have a space for his personal items.  My husband made a built in desk.  As you can see it is above his pillows and opens up to hold all of this items from his tablet to his toys.  He then has a plug that goes into the desk and he can charge his tablet whenever he needs to.
 As for clothing….
The boys closet.  I love the idea of a family closet, but it just wouldn't be a feasible thing to do in our family.  So , I needed to find a way to organize my boys closets in a way that they would keep them clean.  Have boys ….make mess.
My boys are not naturally inclined to organize their clothing, that is why I had to come up with a way, to be able to jut throw your clothng and be good with it.  We don't have dressers as they take up too much space, but we do have organizers.
For the most part the boys do hang up their shirts.  On the top of the closet is the younger boys items.  I use these metal 5 gallon containers that my husband got from his work and lay them on their sides.  One bin is for socks and underwear and one bin is for pajamas.  To the left is supposed to be a neatly folded pile of shorts or jeans, depending upon the season.  It isn't usually folded very neatly.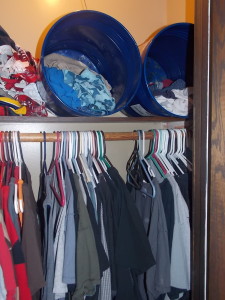 On the bottom, is the older boys clothing.  He has a 5 gallon drum for his sweat pants and one for his socks and underwear.  He then folds his jeans and shorts neatly and places them on the plastic bin rack.
The other item in their room, but is not pictured, is their entertainment stand with flat screen tv.   It sits across from their beds.  Holds all their media devices and remote control airplanes.  We bought it from Craigslist and it ended up being from a family that we knew right down the street.  I don't do much decorating in this room.  The boys have their posters and items that they prefer on the walls.  I am okay with that.  One less room to worry about.