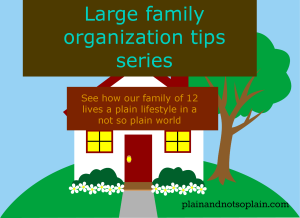 In a home full of so many people, having so many things it can get pretty messy if I am not careful.  When we moved to our new state of North Carolina, I had to size down even more on my children's toys.  Each child got a plastic dish pan full of toys to take and that was it.  We kept a few larger items like a box full of blocks—which has been refilled thanks to Daddies wood working business:)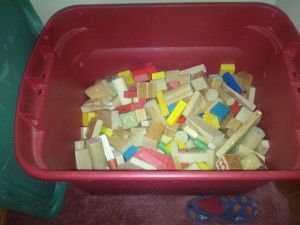 Also, some waffle blocks that the boys enjoy building with.  Everything else got given away.  We needed to bring only the things we thought we would really use and then we could always buy  more things later after we got here.  Well it has been a year and we have pretty much stayed the same with the boys room.  One of the boys enjoys his lego collection and has a small ice cream bucket full of them…..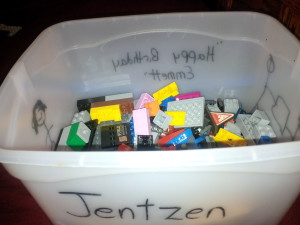 and the other boy loves small metal cars. ……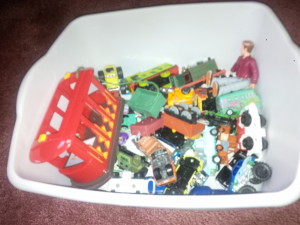 His box is full of those and small action figures.  Makes clean up easy, I had given away to church any toys that they grow out of and no longer use.  It is so much easier to clean a room each day when it is just a few items compared to tons.  We keep these all tucked nice and neat under the bed.  When I had all of the items sitting out in the room—the lego box, Stephens box, the block box, the waffle block—-it seems that they get into them more and make a mess.  Once I slid them under the bed, they had to "think" about them more to play with them verses just dumping everything out because they are there.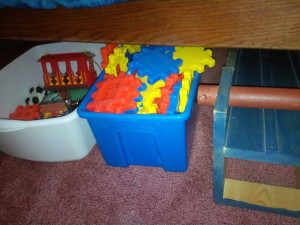 The boys room is simple, they have a set of bunk beds and a small table with the tv/vcr on it.  Not a lot to mess up and this in turn gives them a larger space to play in.
For clothing, we use those plastic drawers labeled for things to go inside of.  I don't fold their clothing very much as they can get out their own and make a mess.  I try to keep underwear,socks, and pajamas in the same drawer so they aren't digging through the shorts and pants making a mess.  It works.  I will eventually get them their own drawers but this works for now.  We hang all shirts and they put their shoes in here as well.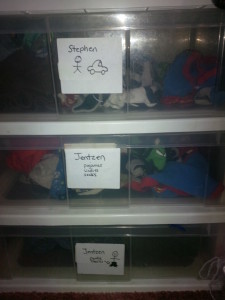 We keep it simple and practical.  You can watch my VLOG of this room as well if you would like.