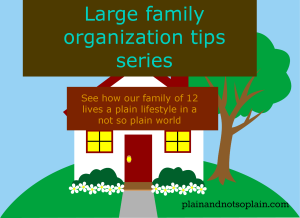 Our large family organization series takes us to our dining room and hallways.  We have the same table that we have had for a few years now.  It is a heavy duty, commercial style table.  That  means that it can take its wear and tear from our large busy family.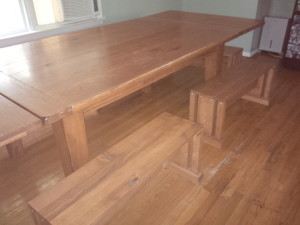 We have used this table for:
all of our meals
cookie roll out and decorating
playdough playing
my husband's woodworking, when he needs a large flat surface to paint on
a holder of towels when we fold towels during the week
a painting table for the children
our homeschooling area
a place to stack all of our meals when making our market meals for the tailgate market
a place to play family games
a holder for groceries when our once a month trip unloads
a play table for lego creations
a place to draw pictures
a place to sit and have coffee and talk
a gathering place for friends
We use our table for all kinds of activities.  I had my husband make us benches for everyone to sit on.  They take up less space and are real quick to wipe off.  I could not imagine sticky fingers and dirty chair rungs that I would have to wipe off each week. I absolutely love it!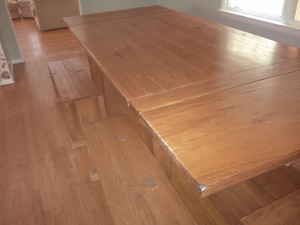 I also love that we have wood floors throughout our home. It makes clean up a breeze.  I would never trade in any other type of flooring.  This works great for our rough family.  My favorite is when our youngest will ride his bike in the home and people look at me like "Did he just ride a bike through here?"  Fun, fun!  Probably would have never allowed that with the older children—but as you get older, you get a little more lenient and not so strict on everything—well at least I did:)!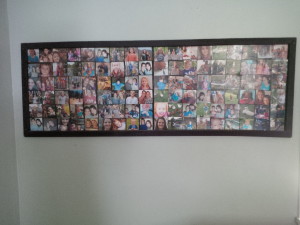 Our walls hold all of our family and friend memories.  I started making these Modge Podge photo collages and now it has become an addiction.  I will never just throw photos on a CD to be left in my hope chest again!  Every year, I go through my photos and choose some to be printed off.  Then we adorn our walls with them.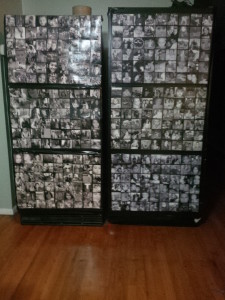 This is my favorite—because it is kind of a conversation starter.  Let me share the story.  When we moved here, we did not have sufficient basement space.  We need our large freezers and we had to put them upstairs.  Unfortunately I love the old style ones that will last and last and last.  These has been in rotation for probably 30 years or more.  But it is full of rust and not so pretty looking.  We were going to paint it, but I would need to remove the food and take it back outside to paint it, something that was more hassle than anything.  So I decided to adorn it with my photo collages.  Every person that comes over is like, "Is that a freezer?"  So fun.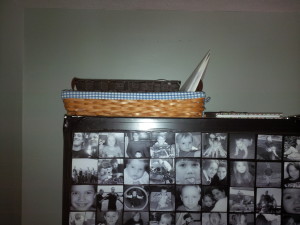 It is a fun thing to look at, good memories!  On top we hold our baskets for the tailgate market.  We do this every Thursday and it holds our money change, our signs, and all of our paperwork that we take.  It is out of the way so we keep it here.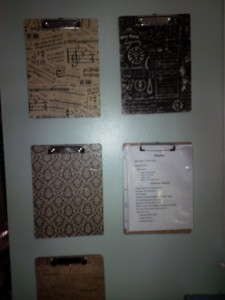 I have our clipboards that we used Modge Podge on in our dining/kitchen area as well.  I hold our chore lists on it now and any other important paperwork for the children. As school begins, I will give each child one so that any reminders can go on it.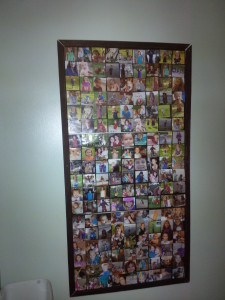 The  hallways hold our photo collages.  We made a simple wood frame out of wood slats from Lowes and painted them black.  Inexpensive and easy.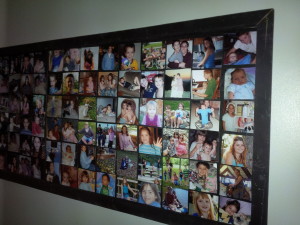 I told my husband  in our next home, I want long hallways or one big room dedicated to my photo collages.  How neat that would be to decorate the entire wall with family and friends? Hmmmm just an idea.
Dining room and hallways are simple.  Up next we will tackle the boys bedrooms.