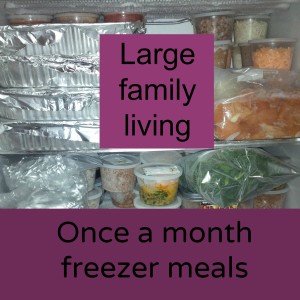 We all go through different season in life.  In our home, we have gone through multiple phases when it comes to making meals in our home.  There were times that I had many little ones and getting a meal made each day was a challenge.  Then there were times I had lots of help from my older ones and was able to get dinners out with ease.  I have learned many different tricks and tips along the way that have helped me cut down on the amount of time that I spend, making a meal, shopping, and preparing it.
I have learned to have a master menu for easy planning
I have learned the value of planning my meals out for the month
I have learned the importance of making a grocery list to never forget an item
I have learned about preparing some of my foods beforehand and freezing them.

We freeze cooked hamburger in 1 pound packages.
We prepare our chicken by soaking it in marinade then freezing it.
We cook and then grind up some for recipes.

 We also buy meat in bulk to cut down on cost.
We have learned that it is cheaper for our large family to shop once per month for most of our food.
Now my season in life has consisted of not many older ones to help out with making dinner.  I have younger ones that can help, but not that I can totally rely on to make a meal by themselves.  It seems that I spend more time than I would like right now preparing meals for our family.  I needed to make a change.  I decided to embrace the freezer meals that probably most of you have already done and use it as an opportunity to make my life easier right now.
How I prepared for this:
I made a list of meals that I could make and freeze for our family. I wrote out what ingredients I would need and put them on my shopping list for the month.
I hit the Dollar store and bought some aluminum foil pans.  I bought the two pack lasagna ones.
I bought a pack of large gallon freezer bags.  I already had quart sized ones.
I made sure to have a permanent Sharpie marker on hand.
Tape, yes I got tape.  Hmmm…more on that later.
So I did my planning, did my shopping, came home and put everything away.  I was exhausted that day as we did much shopping.  I decided to wait until the next day, which was a Saturday and get up and embrace my meal making plan.  I did take the roast that I bought and put it in the crockpot with some chopped onions, green peppers, and some beef bouillon.  I turned it on low and let it cook all night long.  This was going to be for a shredded beef sandwich that I would freeze for easy sandwiches.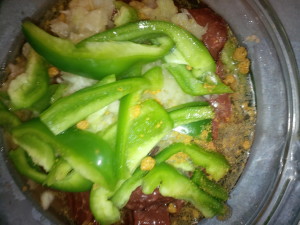 I woke up early, started out with a clean kitchen and no children.  It was a good quiet time to embrace my thoughts and think about what I was to do that day.  I had to mentally prepare.
One of the first things I did was think about breakfast.  What was I going to make that was simple and easy.  I decided to throw in some egg cups in the oven.  These have been super simple and very delicious for our family lately.  I made them and got them in right away, before I started hearing, "Mom, what's for breakfast?"  I mentally prepared for lunch as well.  Thankfully we had leftovers that I just heated up for everyone.  I only wish that everyone was self sufficient on this day, but unfortunately they are not:) So we work with it.
I looked over my list that I wrote out and it had all the foods I was going to make with chicken and hamburger.  I decided to throw all my chicken breasts in a large roaster pan, add some spices, and let it slow cook for a few hours.  Cover it with foil to keep all the juices locked in.  This will make the chicken very easy to pull apart with your fingers.  Very tender and moist.  Let it cook for hours until done.
I then started making a big batch of bulgur burger.  What's this you may ask?? We started making it a few yeas ago when we came across a recipe that someone said they used to help stretch their hamburger in meals.  In our family we have since left the ability to stretch 1 lb of hamburger in our meals.  I take the same amount of bulgur burger and mix it with our hamburger.  We don't notice any difference in the taste and it is much healthier for you.  It is very inexpensive to make.  You can click here to see how we do it.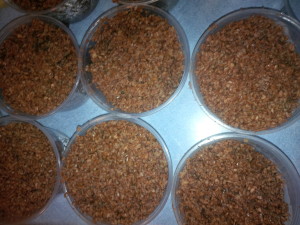 I made one big pot of this so that I could mix it with my hamburger in my freezer meals. The rest I put into containers and froze for later use.
I had bought some ham that was on sale and decided on chopping it up for recipes.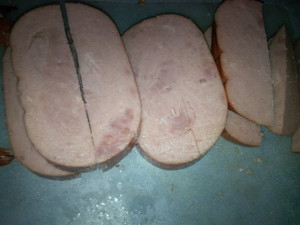 We usually buy bacon, but I opted to use ham this month.  I just cut it up and pureed it into small pieces.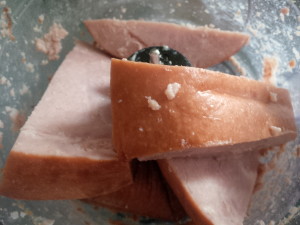 I then put them in containers for freezing.  We use this in potato bacon chowder soup, for breakfast egg cups, and sometimes mixed with chicken and some mayonnaise for sandwich spread.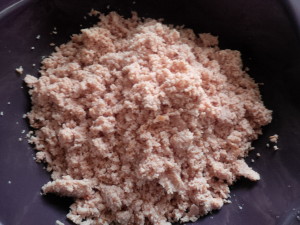 After I was done with the ham, I rinsed out the food processor and grabbed my bag of bread ends from my freezer.  I started saving all of the bread ends, or any type of cracker crumbs, cereal crumbs, potato chip crumbs that I have.  I then pureed these all together in my food processor.  This was going to be added to my meat to help stretch it.  If I was making breaded chicken I would use it for that, but I didn't do that this month.  This has cut down on buying bread crumbs from the store.  Yes they are inexpensive, but by saving all of those little fragments it eliminates my need to buy it completely.
Then I rinsed it out again and put in my onions.  I made a large container full as I knew I was going to be using them for my recipes.
Next, I got out my hamburger and started to mix up the raw meat and form it into my different meals.  I put it in a large bowl, added some eggs, oatmeal, bread crumbs, salt, pepper, and chopped onion.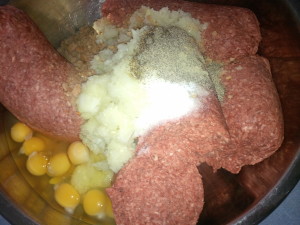 My plans for hamburger that needed to be formed were:
make 2 pans of cheeseburger meatloaf
make 4 bags of meatballs
make 2 bags of hamburger patties for Salisbury steak or hamburgers
I mixed up my raw meat and formed them into the different foods I needed.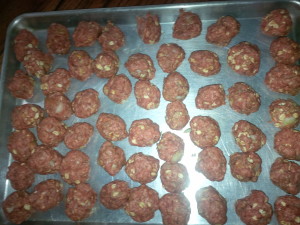 I put them on individual cookie sheets and then froze them solid first.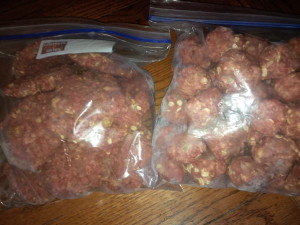 I then moved them to plastic freezer bags.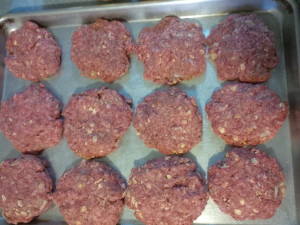 We made up hamburger patties for either eating them grilled or for making Salisbury steak over noodles.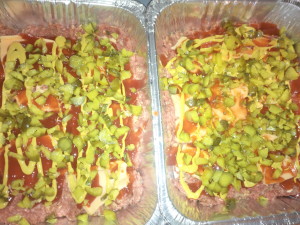 The meatloaf I just made in an aluminum pan. We really like this recipe. Cooked pickles???Hmmmm it actually tastes pretty good. Click here for recipe.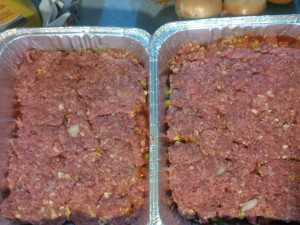 While that was freezing, I started cooking my hamburger in a big pot on the stove so that I could start making my casseroles with it. I just sprinkle a little salt in the bottom of the pan to help prevent it from burning.  I add about 1/2 cup of water and put a lid on and cook over medium low heat.  I use a potato masher to smash the meat apart.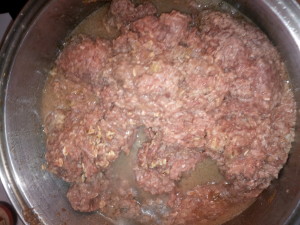 I also started making a big pot of spaghetti sauce for lasagna. You can click here for how we make our own sauce.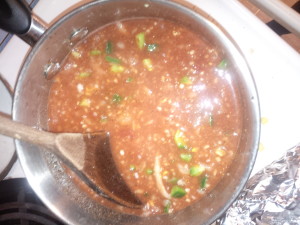 The children were up and moving by this time and they offered to make the lasagna for me.  This saved me some work.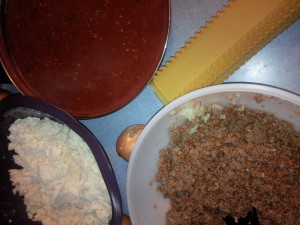 I gathered all the ingredients and put them in an area easy to work in.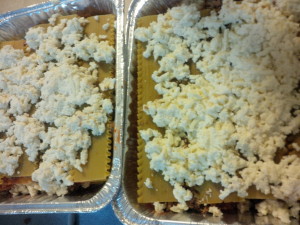 We decided to try the oven ready lasagna noodles this time around.  There is no need to cook them.  I added a little bit more water so that they dish wouldn't get too dry.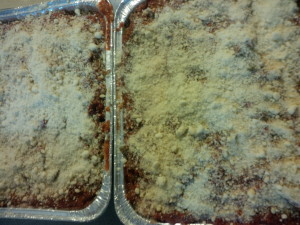 We topped them with Parmesan cheese and covered them in tin foil. I wrote on them what was inside and then set them on small cookie sheets to freeze solid.  If you don't put some sort of pan underneath it, you could end up with a mess.  Freezing them solid first and then stacking is a good option.
I then made 2 pans of tater tot casserole.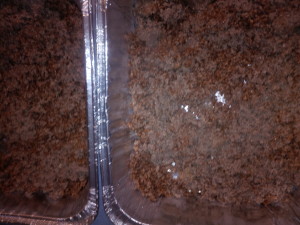 We put equal amounts of hamburger and bulgur burger into the bottom of the pans.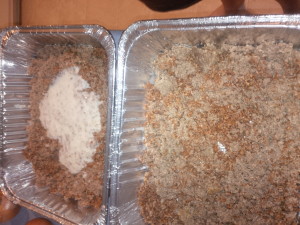 Then topped with homemade cream soup—keep scrolling for recipe.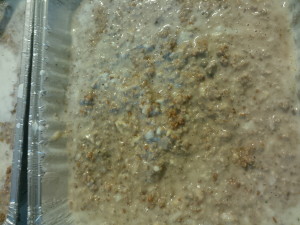 Make sure to have it nice and gravy like.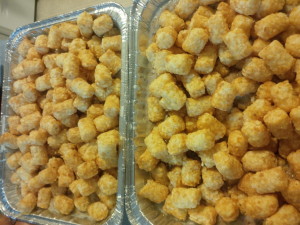 Topped with tater tots.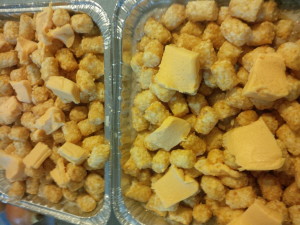 Added slices of Velveeta cheese.  You can make this homemade here.
This required making my own cream soup.  This was very delicious by making it homemade.  We made extra and froze for later use.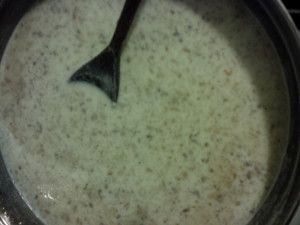 I also made 2 pans of sloppy joe casserole.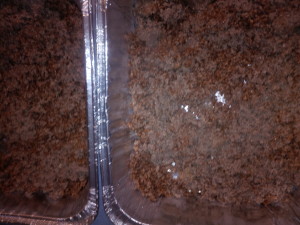 This is similar to tater tot casserole.  I added equal amounts of hamburger and bulgur in bottom of pan.  I mixed in homemade sloppy joe sauce.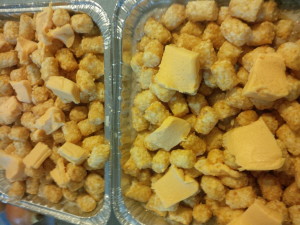 Then it was onto my Mexican ones.  My daughter Jadyn volunteered to make these.  She made 2 pans of burrito casserole.
She also mixed up some garlic beef enchiladas.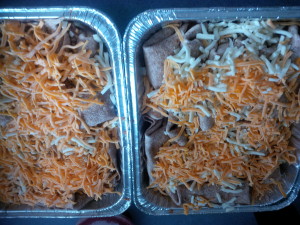 The only other dish that I made with ground beef was for taco salad.  Now in our home what I am finding is that I cannot keep a lock on all of my extra foods that I buy each month. If I were to buy a bag of Doritos for taco salad, someone would find them and eat them.  If I bought cheese for a dish, someone would eat it for some other purpose.  That is where the tape comes in handy.  I decided to gather up all of the ingredients that I needed for the meals and tape them together so that I had them when I wanted to make them.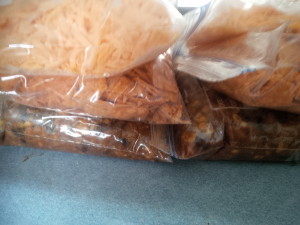 I took my Doritos and crumbled them into small pieces like I would for a salad and put them in freezer bags to freeze.  I put the cheese that I would need to make the salad and put it all together in one taped packaged for the meal.  I also added some chili beans—that we cook and freeze instead of buying canned ones.
Now when I want to make taco salad, I have most all of my ingredients.  Only need to make sure that there is lettuce.
I almost forgot my roast beef cooking in the crockpot.  This turned out very tender and delicious.  I decided to make some ready made sub sandwiches for a quick meal in our home.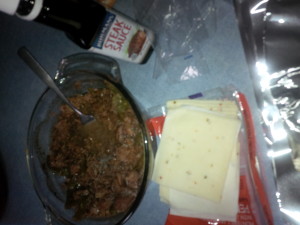 I took some steak sauce, cooked roast with onion and pepper, pepperjack cheese, and sub buns.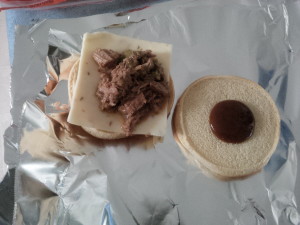 I assembled them and wrapped them in foil.  These went into freezer bags and will be heated in the oven when we want to eat them.
Wrap up:
We have made this so far:
cooked hamburger to freeze
bulgur burger to freeze
chopped ham to freeze
2 cheeseburger meatloaf
4 bags of meatballs
2 bags of hamburger patties
2 lasagna
2 tater tot casserole
2 sloppy joe casserole
2 burrito casserole
2 enchilada casserole
2 taco salad
8 steak sandwiches
Okay we are not done yet.  Look for the next post about what I did with the chicken…..