Large family food ideas desserts pumpkin pie….
I have found that with having a large family most everything that we do is different than the average family.  That includes dessert making.  I used to love making pies for our family but by the time I had made enough for our large family I would have 3 pies stacked one on top of the other in the refrigerator and usually that would result in someone accidentally knocking over the pies and making a mess in an already overcrowded refrigerator.
There had to be another way ……
I came up with making our pies in a jelly roll pan.  It was easier to make one large crust instead of individual round ones, and cutting and serving was way more convenient.
I use the same ingredients that I would for my traditional  pies but with an extra ingredient added to the crust to give it a little more structure.
Large family Pumpkin pie squares
crust
1 c flour
1 c oatmeal
1/2 c brown sugar
1/2 c butter
pie
1 1/2 c sugar
4 large eggs
2- 15 oz cans pumpkin
2- 12 oz cans evaporated milk
2 t cinnamon
1 t salt
1 t nutmeg
Place all of your crust ingredients into your food processor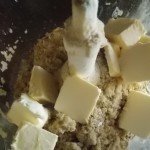 Turn your food processor on "dough" setting and pulse for a few minutes until crust is combined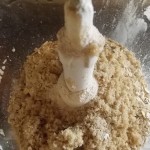 When crust is combined, pat your crust in a baking pan. I use a glass 9×13 pan.   Bake for 15 minutes in a 350 oven.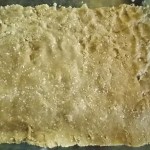 Place all of your pie ingredients into a large mixing bowl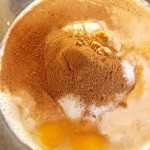 Mix all of your pie ingredients on low for 2 minutes until thoroughly combined
After thoroughly combined, pour mixture over crust.
Bake in 350 oven for 45 min or until a knife inserted in the center comes out clean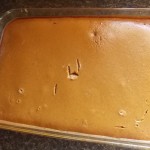 When cool, place pie in refrigerator and when chilled, cut and serve your pumpkin pie.