large family food ideas for desserts chocolate chip pumpkin muffins….
When we do a baking day around our home, we do it big.  We usually have 2-3 things going and we bake a lot of that item and then freeze part of it.  Chocolate chip pumpkin muffins are one of our families favorite snacks.
Scroll to the bottom for normal serving sized versions:)
9 -8 oz cans of pumpkin
18 eggs
4 1/2 c coconut oil
5 c brown sugar
5 c white sugar—-if i had raw sugar on hand I would just use 10 c total of raw sugar
12-14 c white whole wheat flour
12 tsp baking powder
9 tsp baking soda
6 tsp salt
6 tsp each cinnamon and nutmeg
3 c mini chocolate chip
Makes about 84 muffins depending upon how full you fill your cups
To make your muffins…….
In a very large mixing bowl……add your pumpkin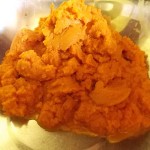 Crack all 18 eggs into the bowl…..hope you have some egg laying hens add your coconut oil as well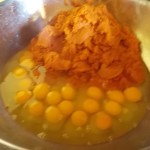 add your sugars to the bowl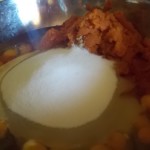 With a beater, mix on low until thoroughly combined.  Takes about 5 minutes to ensure proper mixing of this big bowl.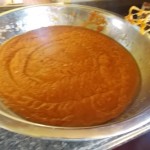 We then add all of our dry ingredients, we start with all of the little ones, like baking powder, salt, etc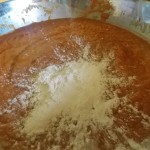 We then add our flour, start with 12 cups first and add more as needed.  You want to mix this very well with a mixer.  You can mix all of the dry ingredients together in a separate bowl, but I don't usually have the extra time it takes to do that and would rather do it all in one big bowl.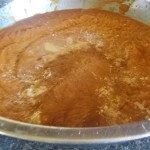 After you have done a good job mixing it quite thoroughly, time to add your mini chocolate chips.  If I don't have the mini ones on hand, I use regular chocolate chips, they all taste the same—delicious.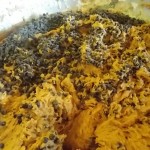 Keep on mixing……..to make sure you have got all of those little chips combined.  Nothing worse than getting the muffin that got "jipped" some chocolate chips!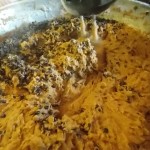 We use paper liners in our muffin tin for four reasons:
I don't like to have to clean out muffin tins—it is a job that I detest
makes it easier to stack them on a platter to serve –because we can no longer have a single layer, it is usually a stacked pyramid!
they pop out of the pan very easily
it is easier to feed to my little ones, actually it is neater, with all of those gooey chocolate chips, we need a part of the muffin that is "clean"
Bake at 350 for 30-40 until muffins are done–insert a toothpick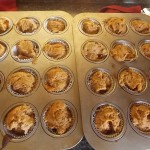 I used to have all of my "baked goods" sprawled out over my dining room table and I just sat back and looked in amazement, before I put them into the freezer.  But nowadays I have to package them up and put them away before they disappear.  Too many little ones that think this is one of those restaurants with an all you can eat  buffet!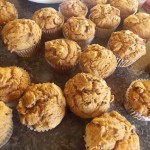 yummy delicious……
Now what if you don't have a large family but you still want to make these fantastic muffins??  Well you could get out your calculator and start dividing and deducting…..and…..oh never mind, here is the recipe that started it all.  At one time in our marriage I used to make this amount and it was enough for all of us.  Those days are long gone……..
chocolate chip muffins for "small families"
3 eggs, well beaten
3/4 c oil
2 1/4 c sugar
2 1/4 c canned pumpkin
BEAT THE ABOVE TOGETHER
2 1/2 c flour
2 tsp baking powder
1 1/2 tsp baking soda
1 tsp salt
1 tsp cinnamon
1/2 tsp nutmeg
SIFT TOGETHER THE DRY INGREDIENTS AND THEN BLEND IN
add 1 pkg chocolate chips to mixture
Bake 350 for 30-40 minutes until done