This is a large family food idea that we enjoy eating it is very simple and cheap to make for a big crowd.  I like to make this meal for the days that we are away running errands.  I can put my oven on a low temperature and let it simmer all day long and when I return home, exhausted, dinner is all warmed and ready to eat.
Calico beans for a large family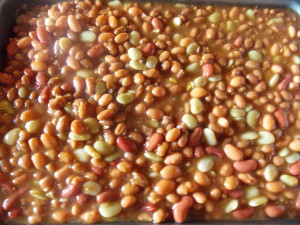 2 cans lima beans, drained
1 can kidney beans, drained
4 cans pork and beans (15oz)
1/2 bag of bacon bits
3/4 c brown sugar
2 t salt
1 t mustard
1 T minced garlic
1/2 c vinegar
1/2 c ketchup
1 small onion chopped
Mix all together and place in oven or crock pot and let simmer.  If you have a larger crowd, just add a few more cans of beans.
Sauerkraut and kielbasa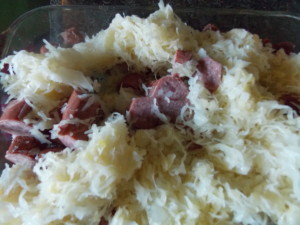 Take however much kielbasa your family will eat and sliced it small chunks. Place in your pan or pot, depending upon how you are cooking it.  Take your bag of sauerkraut and rinse it a few times.  Let drain and then add that to your kielbasa.  I add about 1 -2 Tablespoons of chicken bouillon to help take some of that "tart" flavor away.  Try it, you will enjoy it.
Bake these alongside one another in your oven while you are out doing errands and when you come home you will have a delicious tasting dinner all ready to eat.  Serve with a side of cornbread.