large family food idea–breakfast–baked overnight french toast
I have found that making meals for a large family, really isn't that much different than making it for a smaller sized family.  Around our household, we make a breakfast meal once a week.  One thing our family enjoys is french toast.  We usually use our skillet and fry the toast on top of that.  It can sometimes be a task that takes up much of my meal prep time, especially when you have to go through 2 loaves of bread.
I wanted a simplier way. When trying to plan large family food ideas I wanted to incorporate french toast into the mix, but I wanted it to be easier to make, otherwise I probably wouldn't want to make it.   I have found this baked overnight french toast recipe and we love it.  I make it the day before and then refrigerate it.  When it is time to cook dinner, we pop it in the oven.  No prep for Mom!  Very simple to make.
1 1/2 sticks butter
1 c brown sugar
1 1/2 tsp cinnamon
12 slices of bread
2 cups of milk
10 eggs
What I do first, since we don't own a microwave, is I melt my stick of butters in a 9×13 pan.
While that is melting I mix up my eggs and milk.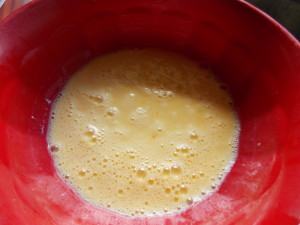 After the butter is melted, I stir into it 1 cup of brown sugar.  Spread it across the bottom of your pan to cover.  I then sprinkle it with cinnamon.  Place 12 slices of bread on top of the sugar mixture.  Put bread 2 slices high in pan.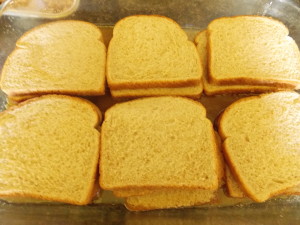 Pour your egg/milk mixture over top of your bread.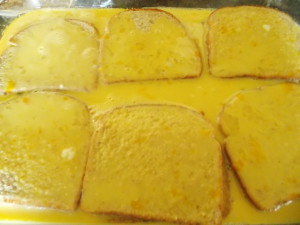 Wrap in foil and then refrigerate overnight.  In the morning or evening, depending upon when you are going to serve your meal, place in 350 and cook for 45 minutes.  This will puff right up out of the pan.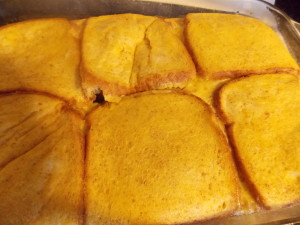 To serve cut sandwiches and then invert them onto a plate. No need for syrup, it makes its own.  Our size family goes through 2 pans of this meal.  Very delicious!