I have shared this week my new book Declutter your life…when less is more, and I am going to follow up by doing a post each week to keep motivating you to declutter your home.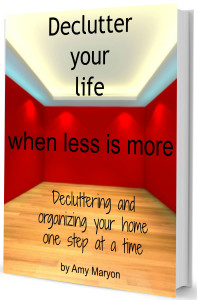 Click here to purchase
Grab the book to get started and to help you as you declutter your home. If you can't, then enjoy the video series that I will be posting on each week.
Week 1  Kitchen cabinents
If you  have read through my large family organization series you will see how we had organized our home.  This is more about living with less and how you can do it.
Even though you THINK you need things in your life, chances are you don't. After moving 700 miles from our home, I had to get rid of many of our household items so that it would fit into a moving truck.  I thought I was more of a minimalist then, but I realize how much more I can live without.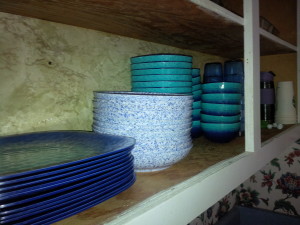 Here are our kitchen cupboards.  I have fairly large room in this cabinets.  I am able to put everything in one area and that makes putting away dishes fast.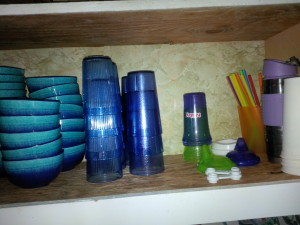 We keep ONE set of dishes for everyone.  No more, if we have guests then we buy paper products.  It makes clean up easier anyways.  Plus it means that I have to do dishes instead of letting them sit in the sink after each meal.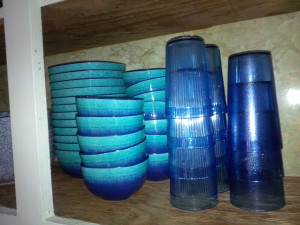 I have found these restaurant style cups, they are almost unbreakable and they work well for our home.  Each person has a water bottle that we keep filled and in the refrigerator but this is good for milk, juice, or kombucha.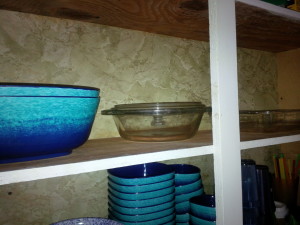 I got rid of most all of our serving dishes.  I bought 2 matching bowls to use with our dishes and we use these for serving.  I keep one round glass bowl with lid for heating up leftovers in the oven.  I have kept 1-9×13 glass baking dish for reheating as well. It also works well for cakes and other smaller desserts.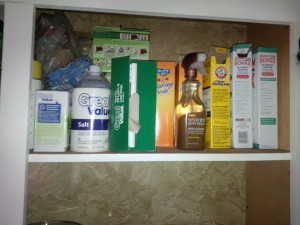 In the top of our cupboards we have lots of space that was too high to reach without climbing so we use it for storage of our cleaning supplies.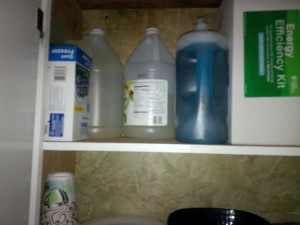 Everything stays out of the way and with one quick look I can see if I am out of an item.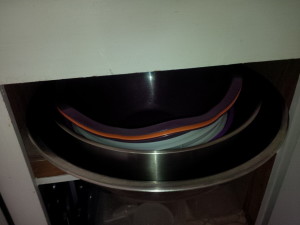 For my plastic cupboard I have a small shelf on top that holds my mixing bowls.  I keep these nested together.  I keep a few cheap plastic ones for popcorn and snacks.  Plus when my husband runs out of an oil pan, guess who he comes too???  I got rid of all my other mixing bowls that I used to have.  These 2 stainless steel ones work just fine and contain the mess by being taller.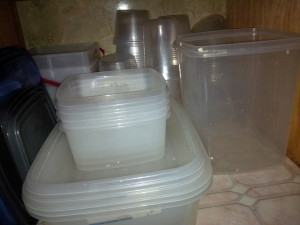 For my plastic stash, I went with large plastic containers.  I am trying to accumulate enough so that I do not have to use plastic bags when I bake items.  I picked up some medium sized ones and they were good for leftovers.  I try and keep all similar sizes–square/rectangles for the ease of stacking.
In the back I keep my round 16 oz containers that I use to freeze foods in.  I do not have a source to buy them here, so I am making sure to keep these.  As I use up my foods in the freezer this cupboard can get messy quick, I take the extra containers and store them in a cooler in our storage area.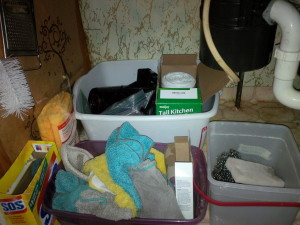 Under my sink, I store a container in back with trash bags–to make sure they don't get wet in case the sink leaks:)  Up front I have my cleaning rags, and in the ice cream bucket I have sponges, magic erasers, and metal scrubbers.  I hang up my bottle brush–for cleaning out water bottles and jars.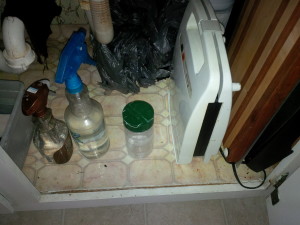 The other side I keep my bottles of natural cleaners that we use each week.  I also keep my cutting board, griddle, and waffle maker down here.  Out of the way as we don't use it much.  I keep extra grocery bags for lining the trash cans with in here too.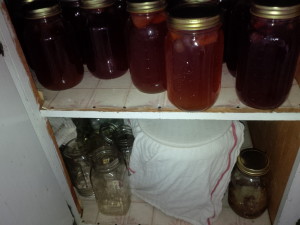 My kombucha cupboard.  Did I ever think I would have a kombucha cupboard??  What's kombucha you ask? click here to find out.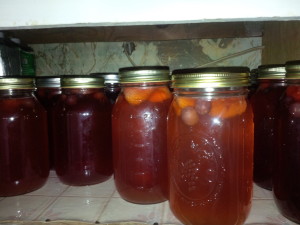 Here are my jars on top fermenting in the second phase with fruit.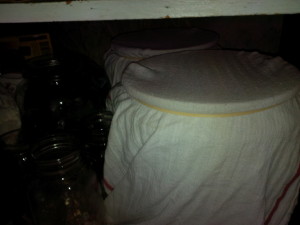 Here are my large crocks with kombucha brewing.  Kombucha has a smell that is not very pleasant, I am very thankful that I am able to keep this inside of a closed cupboard.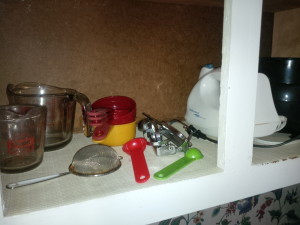 My baking cupboard.  I keep items that we use for baking in here.  Everything in one place.  Works well.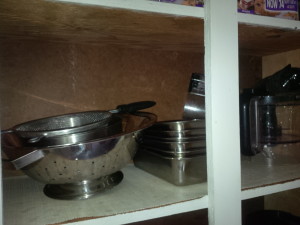 On the middle shelf of this cupboard I keep my strainer and small stainless steel mixing bowl.  My bread pans fit nicely in the center and on the right is the rest of my food processor.  The bottom is on the shelf below it.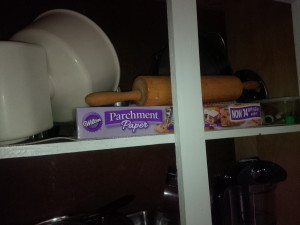 Up top I keep items that I barely use like parchment paper, rolling pin, applesauce maker, and extra blades for food processor.  These are out of the way and if I need them, I do a cupboard climb.
My other cupboards are food.  I don't have a basement to store food in anymore but I am provided with much cupboard space.  I have a tall pantry and then 3 other cupboards I keep food in.  It works for us now.  I keep my toaster, popcorn maker, and crockpot in with the food.