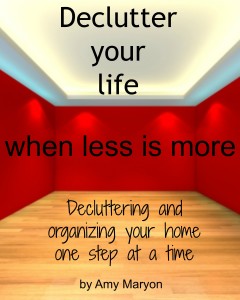 This is the last in our series of decluttering our home.  If you want to buy the book, I go more in depth as far as decluttering and include areas such as seasonal items, diaper bag, purse, garage, yard, etc.  You can click here to buy it. 
Today we are doing the clothing!!!
Depending upon how your organize your clothes, you might have a dresser as well as a closet to store clothing into.  If you have a dresser, then start by emptying out drawers one at a time.  Wipe the insides out and let dry as you are sorting through clothes.  Throw away old, ripped, stained clothing.  Remember just because you are donating your items to someone,  it doesn't mean that they need your trash.  Most people can afford to wear non stained clothing, don't be rude and hand them stained or ripped items.  **Note if they use them for rags or have told you that they want them because they wear them under things that is different story.  Just be considerate.
If you or your child hasn't worn the outfit in over a year, pass it along.  If it is too tight or small, donate it.  Fold like items together.  When ready to put them away, see if you have multiple items of the same thing.  You really don't need 10 black t shirts.  Share the excess that you have with others.  Having less stuff will cut down on your time to take care of it.  This is especially true for children' s clothing.  I find that with a large household, it is much easier to handle 5 outfits per child verses 10 or more outfits.  It takes up less space and is easier to put away.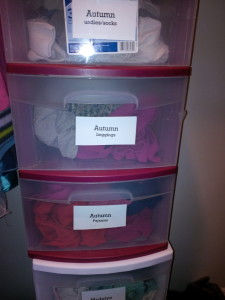 For our children, I make it easy and label each drawer as to what goes in.  We keep it simple.  One for pajamas, one for socks/underwear, and one for leggings.  Everything else gets hung up.
Move onto the closet.  Take all of the items out of here. I know it will be A LOT!!  Go through all of the items.  In my book, I share how we keep all of our children's clothing mess down to a minimal amount.  It has saved on my sanity, as we have LOTS of laundry.  Much less, then we used to, but it is ONLY because I have stuck to my organizing principles.
I also have many tips about the master closet.  Tips for keeping those "fat clothes" and for those "one day" clothes.  (smile)  Go through all of the items.  Throw away any ripped, torn, or stained items.  I used to have many shirts that had stains all over the front.  It was impossible to keep my shirt clean, by the time I was running around all day, wiping noses, preparing food, touching greasy things–oh that would do it.  I finally got smart and bought some aprons.  I know sounds old fashioned. I got mine at Walmart and they are cute. I usually put one on each day, if I am going to be doing any type of cleaning or cooking.  Which is usually every day!!!  It has kept my need for purchasing more tops, erased!!! Look into them, inexpensive.
Then separate out the clothing that you haven't worn in over a year.  If you are determined to lose weight to fit into those skinny clothing–THEN DO IT!! Don't just hold onto it and never do anything.  Actually work towards losing the pounds.  It takes time and effort, but you can do it!!!  I recommend getting rid of the FAT clothes.  You are only tempted to return to your ways.  If you don't have them, then as your skirts and pants get more snug, you will think more about stopping eating and starting exercising.    If you keep them because you are in the child-bearing years, put them in a container in a basement or storage area.  Don't keep tons.  Be determined to lose the weight.  Not to let it stick around for years to come.
Then sort the clothing according to style.  Put your shirts all together, your long sleeve shirts all together.  Your dresses, nicer tops, etc.  You can then do an inventory of how many of each item that you have.  If you have too many, get rid of them.
As you are putting your clothing away, put them away in a pattern.  Put seasonal items, or fancy dresses towards the back.  Then put nicer tops, long sleeve tops, and t-shirts in that order.  I then sometimes, sort them according to color.  My daughter used to do the rainbow colors ROY G BIV .  But I usually only wear brown tones, so that doesn't work for me.  If your closet is still stuffed, start by taking some of the items away.  You really cannot wear all of that clothing.  A person usually picks a few favorite outfits and wears them continually.  I know for my children, I used to think they needed tons, then I realized that I do laundry enough and they wear only 2-3 of their favorites.
Keep it simple.  Make it easier on yourself.  Don't stress. Life is not about laundry and toys and having everything.  Make it about memories, ease, sanity(smile).