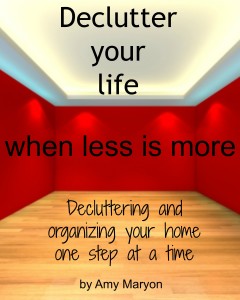 Today we will be tackling the bedrooms!! Skip any type of clothing areas, that will be for next week.
For most of us, this is probably a huge problem area.  Even for myself, I tend to throw things into the bedrooms because they are usually out of sight for me.  We are going to tackle this room just as we have the others.
Grab:
your cleaning bucket with rag for wiping out the insides of things
your trash bag for garbage
your donate box
your basket for delivering items to other areas
Start with one thing, and move around in a clockwise pattern around the room.  If it is your child's room, it is best to do this room while they are asleep or gone.  I know that my children are apt to not allow me to throw anything away, especially if they have 10 art projects and 20 different rocks!
Choose a workspace and use that for sorting, the bed is a good flat area.  Start with a nightstand and take all items off of it.  Wipe the inside drawers out that way they can dry as you are sorting through your items.  Looking at your items, grab up the pieces of trash, receipts, empty bottles of lotion, etc and throw them away.  Next look and see if there is anything that does not belong in here and goes somewhere else, put that in your basket to deliver later.  Take each item and look quickly at it, deciding if you REALLY want to keep it or have not touched it for some time.  Donate those items right away.  The rest put neatly back on the nightstand.
Move clockwise to the next item.  A dresser perhaps.  Start by cleaning off the top of the dresser, removing items and then wiping it down.  Place hair items and miscellaneous things in the basket to deliver to other areas where they are kept.  Put away jewelry and any makeup.  Keep it minimal.  If it is a child's room, how are they supposed to learn how to keep it clean if you have it so full of items that take too long to straighten each day?  Give them a few items and that is all.  Even if it looks bare, it will teach them how to straighten things.  This is a good rule for you as well.
Continue moving around the room, tackling the items.  If you have a bookshelf, start by going through all of those books.  Decide which ones are worthy of keeping and pass along the rest.  If you haven't read them in years, get rid of them.
Clean out ALL of the nooks and crannies.  Oh, and don't forget the areas under the bed!!
If you are in the children's room, find a container to hold all of their toys into.  We like those plastic dish pans that you can buy from the Dollar Store.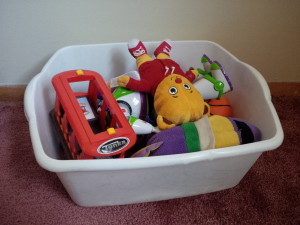 They are sturdy—which is a requirement around here.  I give one to each of the little ones and then they are responsible for picking up their toys.  If cleaning up toys is taking a long time, or they don't do it, maybe they have too many.  Fill just one small container and keep it in their room.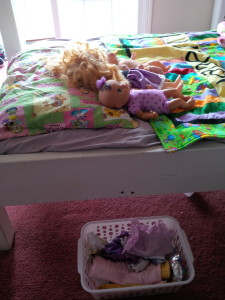 Take the rest of the toys and put them away.  Better yet, give them to someone else! But if you cannot depart, rotate them every couple of months.  Don't stress your children out with tons of things to keep neat.  Keep it simple.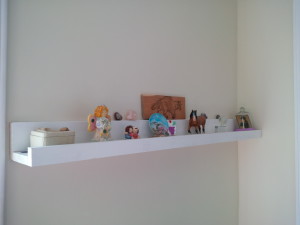 We have a couple of shelves that each child gets to display special things on. If they are older, it usually is neat.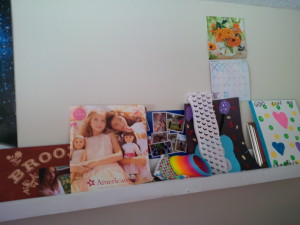 One is by their beds and it holds a mirage of different items, depending upon the day. Sometimes the younger ones collect a vast amount of things at one time.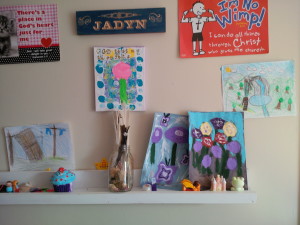 Here Jadyn was working on painting, so it holds her new creations.  I don't  fuss and make this stay nice and neat.  I encourage them to keep it picked up.  But I am not freaky on making them keeping it perfect.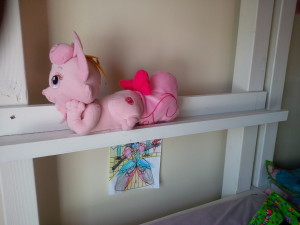 If your the youngest, it looks like this….with nothing but a stuffed animal.  (smile)
The other is part of a bookshelf. Each child gets one shelf on our bookshelf.  The older ones hold books, but the younger ones haven't accumulated many yet so they look like this.  This is Brooklyn's. Simple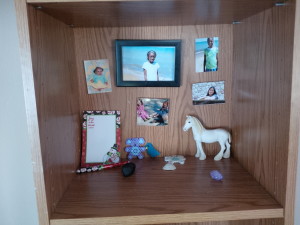 Then I have Jadyn's.  She is more of my saver and collector.  Likes to keep everything.  Just the other day, I had thrown out some cords that we no longer needed and guess what, the one time came that I needed a certain cord that I have never used before and I was like "OH!".  I looked on Jadyn's shelf and she kept the cord I  needed.  (smile)  It pays to have a child like that.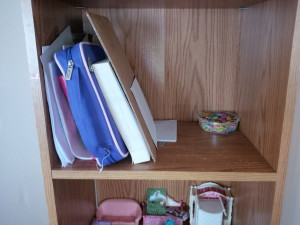 The younger ones get the body shelves and usually will set up a dollhouse on them.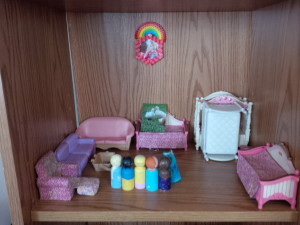 I love to look at our shelves and I can tell right away which one of my children is more like me, the minimalist, and the ones more like my husband, the hoarder (smile.)
Finish off by wiping down the walls, dusting the corners, and wiping all of the furniture off.  Don't forget windows, blinds, and curtains.  Vacuum the entire floor, this includes under the bed and under furniture.
Next week  we finish out with closets part 8!