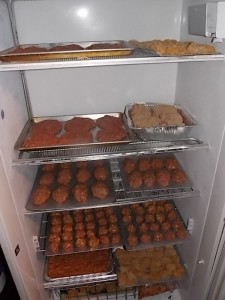 Now that summer is here, I like to be able to free up some of my day by having dinners all ready prepared and ready to just thaw and throw in the oven.  But that starts with my doing a big meal preparing day for the month.  To me the trade off to work extra hard for a day or two, then have a bunch of meals all stacked in the freezer is worth it. This month I decided to make and freeze the following dinners:
chicken nuggets
chicken cordon bleu
mexican stuffed shells
honey chicken
meatloaf–cheeseburger style
hamburgers
meatballs
salsibury steak
spinach lasagna rolls
lasagna
tater tot casserole
I did this after doing our once a month shopping. Here is what I did for my chicken dinners.  I actually cooked a few extra breasts and shredded them in my food processor.  I put them into 1 pound plastic containers and froze them.  I can easily pull them out to make soups or casseroles as needed. One dinner I made out of that shredded chicken was Mexican stuffed shells.  This was a great first time recipe.  It froze very nicely and everyone loved it.  A winner in our household.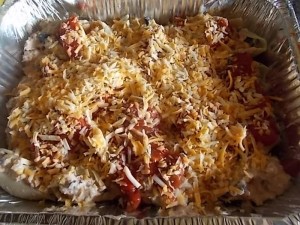 The other chicken I made into chicken nuggets.  I made 2 batches of these and we enjoyed these two times this month.  My children and husband really enjoyed them.  They were so easy to make, just took a second to get out all the ingredients and then we assembly line whipped them out in no time.  I put them on a cookie sheet and placed them into the freezer to freeze solid.  Once frozen I put them into labeled plastic bags.  When it was time to cook, I took out what we needed and placed them on a cookie sheet and baked them.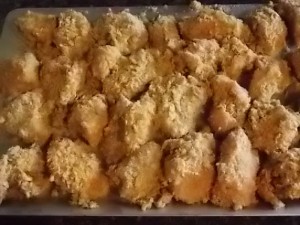 My neighbor gave me this recipe to make.  We absolutely love it.  You have to be sure to pound the chicken as flat as you can.  I put them into plastic bags and used a rolling pin to smash them.  I am sure a real meat tenderizer would work wonderfully.  Recipe for chicken cordon bleu. I then placed this into the freezer in foil pans covered with tinfoil.  It froze nicely.  We like to serve it with fettucine and alfredo sauce.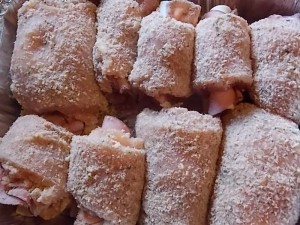 Honey chicken was the last item we made.  This was simple as all I did was cut up the chicken breast into chunks and placed into a ziploc bag.  When it was time to make this, all I did was throw it into the crockpot with the ingredients and let it cook.  Very easy and delicious.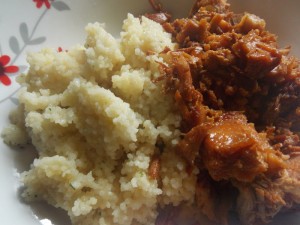 Now onto the ground chuck.  I like to buy my ground chuck in bulk.  We usually get 15-20 lbs per month, depending upon what we have going on.  I like to bring it home and immediately separate it into mixing bowls to make food and then cook the rest and freeze into 1 pound containers.
I set out 4 big mixing bowls and I have one for hamburgers, salisbury steak, meatballs, and meatloaf.
For the hamburgers I take 3 lbs of meat, add 1 diced onion, salt and pepper and then form into patties.  I place those onto a cookie sheet and freeze them.  I have learned that it helps to put my finger tips through the center of the burgers so that when it cooks from a frozen state it is more uniform.  After it is frozen, I place them into plastic freezer bags until ready to cook.  If we can grill, we do if not I make them on my griddle. Homemade hamburger buns and oven fries are always a favorite.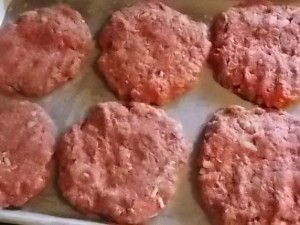 Salsibury steak, is also a favorite in our family.  It is funny because it is one of my highest posts—go figure.  We really like this alot.  I like to brown the frozen patties in a baking dish and cook till almost done, then make my gravy to go over and continue cooking.  We serve over mashed potatoes or curly noodles.   For this I put 3 lbs of ground chuck into the bowl, add 1 c bread crumbs, 2 eggs, and salt and pepper and some minced onion.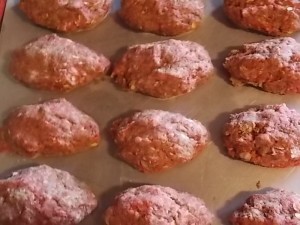 Meatballs, I take 3 lbs of meat into a large bowl, add 1 1/2 cups oatmeal, 1 2 cup of milk, 2 eggs, 1 minced onion, salt and pepper.  I then form them into small balls, place on a cookie sheet and freeze until solid.  Put them into plastic bags and place in freezer.  Our family likes these with BBQ sauce.  A very simple dinner.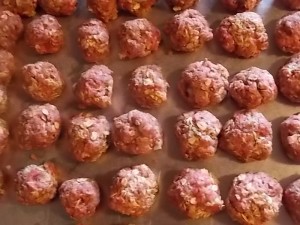 Meatloaf, for this I add 3 lbs of meat, 1 cup oatmeal, 1/2 cup bread crumbs, 2 eggs, 1 small onion chopped, salt and pepper.  I then placed them into a baking pan and freeze.  I put finger indents in the meatloaf to help it cook better.  I make a cheeseburger meatloaf version.  When almost done in oven, I pour ketchup over the top and put 6 slices of Velveeta cheese, and chop up a small jar of pickles and sprinkle over top.  Bake until done.  It is much easier then the rolled up version we used to make.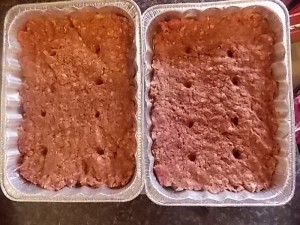 The rest of the ground chuck, I cooked and put into containers.  I then made a few other meals to have for my busy days.  I sure was grateful for them this month.
Lasagna spinach rolls.  This was new that we made, but very simple. After rolling them up, I made a big batch of spaghetti sauce and split it between this and my lasagna. This froze nicely as well.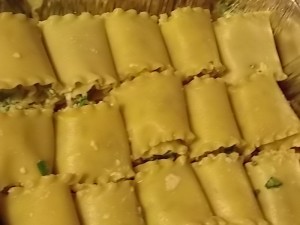 Lasagna, I didn't get an official picture of this in my freezer pan but I make it the same way that I do my lasagna in my crockpot.  Just without the crockpot.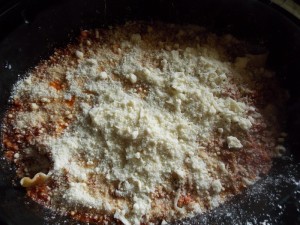 Tater tot casserole, this has ALWAYS been a family favorite.  I didn't know you could freeze it, I think it actually tasted better having been froze.  It really isn't that big of a deal to throw together, but I wanted something done, with no mess or fuss for me.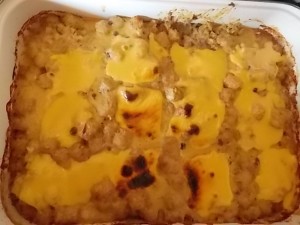 It is always better to plan and prepare, if you can take one day out of the month and make some extra meals to place in your freezer, you will be glad that you did.