Here are some more ways of how we packed for a tent camping excursion.
I took plastic wash bins for doing dishes in and washing up babies.  For traveling these were great to store things under the seats.  I took my Starbucks coffee jars and filled them with dish soap and laundry soap for easy traveling.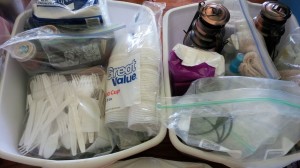 We brought all plastic silverware and paper plates and cups.  I had a bag full of medical supplies for emergencies and a bag full of batteries, mini flashlights for each child, duct tape, scissors, and extra baggies.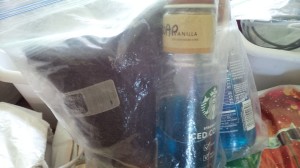 I stored our extra shoes in bags and put them under the seats as well.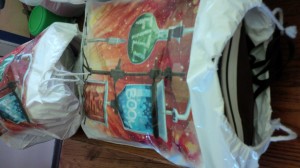 Bread does NOT travel well.  Especially if you are taking a large amount for a trip.  I used 2 diaper boxes and stored our bread in it.  For sandwiches I did flat bread, pita bread, and wraps.  That way I wasn't freaking out trying to keep our bread from getting smooshed.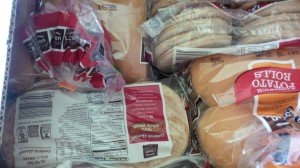 I labeled my pita bread because some of it was going to go bad before the others, so I just put a little note of which ones to use up first.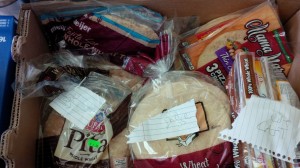 We took our electric tea kettle for instant coffee in the mornings.  I took ice cream pails for the little ones to use at the beach and put their finds into.
I took a toaster and coleman stove for cooking over.  I realized we would probably just use the fire exclusively and will decide to keep that at home next time.  It was a little cooler so we had a fire going pretty much the entire time we were at the campsite.  After our meals were cooked, I would put a stock pot full of water over the fire and use it to heat up and wash dishes with.  The I would do it again and use it to wash up the children.  We even heated up pots and I washed the little ones in the wash pans for a quickie bath one night by the tent.  They loved it.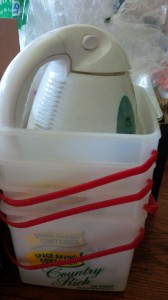 Up front, I kept a bag filled with our bathing suits, a few towels, a sheet to sit on, and one extra hotter outfit per little child.  The weather was supposed to be cooler so I packed that way, but I was glad I took some hot clothing because one of the days turned out to be rather warm and I was grateful for the change of clothing.  Plus having it up front helped to not have to dig through the trunk looking for it.
I also packed another bag up front full of our coats.  This was good because while we were out, we needed something to keep us warm and being able to have ALL of the coats in one location helped not to have to look around the van for them all.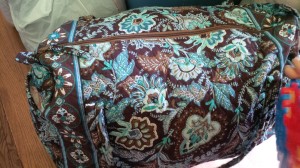 Everytime we got in and out of the van, I would take the little ones shoes off(flip flops) and keep them by the door.  We had packed the van to capacity and if a child decided to put a shoe in a crack somewhere, there is no telling where it would be at when we needed it for a bathroom break.  This worked out well.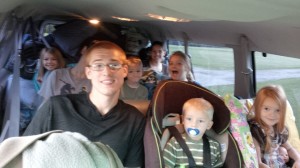 Here we were as we ventured out.  You can see we packed it to the ceiling.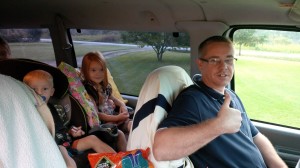 Dad and I were ready for a drive.  We tried to leave early but didn't make it as early as we would have liked.  It was still good.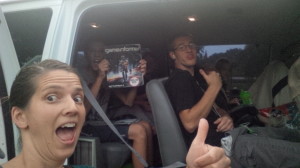 Here I am ready to embark……..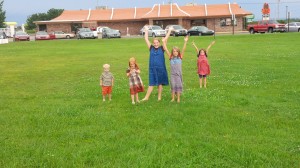 One of our first stops for bathroom break.  Thankful it had a field for the children to run in.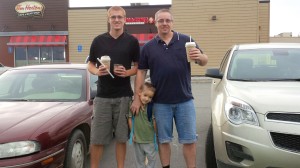 Plus a coffee shop for a pick-me- up for driving.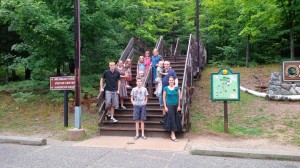 We took advantage of our state parks.  Cost me $11 and we were able to goto many of them.  This one had a lumber camp recreated in it.  Educational and fun for inexpensive.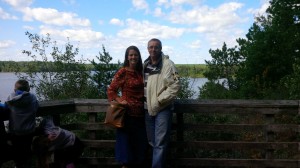 We did lots of stop off's and let the children get out and run.  There were lots of climbing stairs and running involved.  We took the stroller but never used it.  They did great for lots of walking.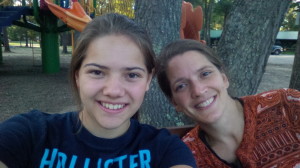 Our campground had a nice children's playstructure.  Here Lauren and I were taking selfies while the little ones played.
Sitting by the campfire, getting warm.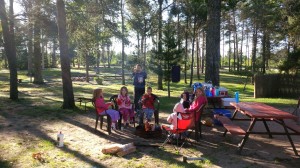 The temperature was close to 80 most days, but one night it dropped down to 45 degrees!!! Oh yeah, thankful we took the space heater and heating blankets.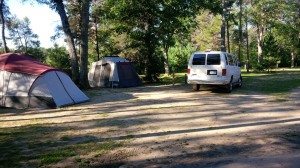 We had a tent for the older children and one for Dad and I and little ones.  I wasn't going to bring any type of tv entertainment, but I am glad I did.  At night time after they were all washed up and ready for bed they needed something to help them wind down after a long day.  I had a few movies on my phone that we set up for them to lay down and watch.  This helped hugely, because there WERE meltdowns and sadness as they were getting ready for bed.  That helped to ease the stressfulness of my job.  But we could lay there and watch a "comfort" show and fall asleep.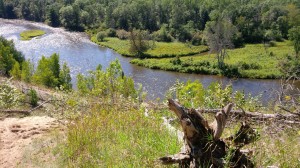 Amazing all of the beauty that God gives to us "free."  We just have to go out there and search for it.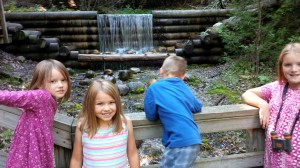 So, did this trip make me to never want to do this again?
Sure we had:
meltdowns
crying before bed
craziness before bed
a million trips to the bathroom
dirt in every corner of our tent, including the bed
craziness before mealtimes
But we also had:
memories created
children that still talk of the fun we had camping
smiles
laughter
experience of being outdoors and doing things differently
good family bonding time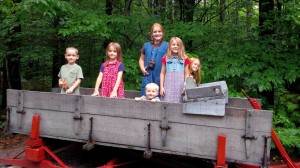 For me, all the bad parts of it, get erased when I see my children just beam with happiness when talking about our vacation.
So, yes I am ready to do it again
Even going to embrace the dirt.  (Northern Michigan actually has sandy dirt.  Much "cleaner" as far as dirt goes.  Makes for great drainage.  Less mud.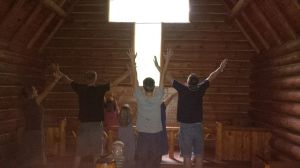 Who may ascend into the hill of the Lord?
Or who may stand in His holy place?
He who has clean hands and a pure heart,
Who has not lifted up his soul to an idol,
Nor sworn deceitfully.
He shall receive blessing from the Lord,
And righteousness from the God of his salvation.
Psalm 24:3-5