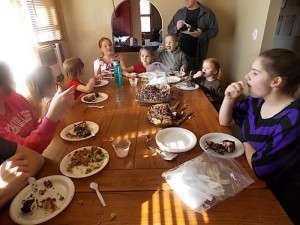 Around our household we get to celebrate birthdays about once per month.  What we do is we let the birthday person choose their favorite meal and then we all get in on the preparing.
This was for our oldest childs 21st birthday.  Happy Birthday Ashlyn.
Her favorite food since childhood has been tater tot casserole.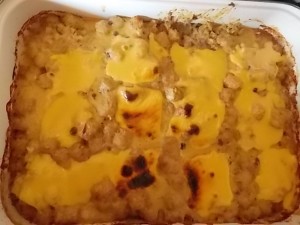 For our large family sized recipe, I make this is my turkey roaster pan and use about 5 lbs of ground beef.  I like to season it well with onions, salt, and pepper.  Add 2 packages of tater tots on the top of it and then pour over a mixture of 2 cans of cream of mushroom soup and 2 cans of cream of chicken soup and 4 cans of milk.  We lay pieces of American cheese on top when it is almost done baking, which we do at 350 for about 45 minutes.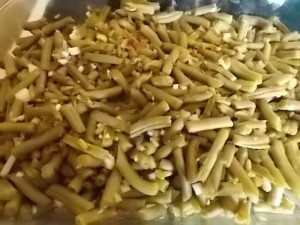 We then had green beans.  All we do is add cans of green beans, we use 6 and mix in a bag of bacon bits and some minced dried onion.  Heat it up and serve.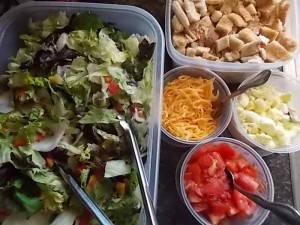 Ashlyn has always loved salads. We like to take a big bowl of leafy greens.  Add to it some shredded carrot, diced up cucumbers, and some green onions.  In separate bowls we have things that will make the salad mushy in case it doesn't all get eaten.  We put diced tomatoes, diced eggs, shredded cheese, and homemade croutons in separate bowls.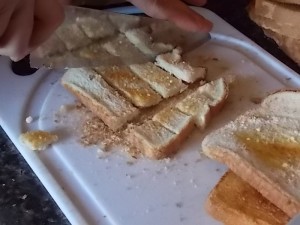 By the way, homemade croutons are fantastic.  Much less in calories and fat then store bought ones and so easy and cheap to make.  You definitely need to try these for your next salad or just a snack.  My children love to eat them right out of the bowl.  I need to put them away or they disappear quickly.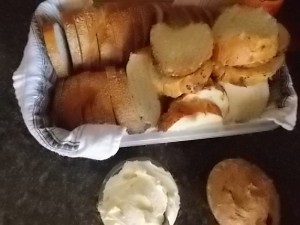 We then love to have homemade bread with any meal and birthdays are not exempt.  Our favorite is the Ezekiel bread.  It has a nice sweet flavor, from the honey.  I like to spruce things up and decided to have flavored butters this time.  I made some garlic butter and cinnamon butter for our breads.  These were again, super easy and delicious for our meal.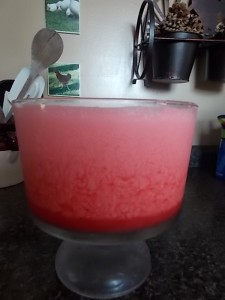 We then made another family favorite, strawberry pear jello.  This was something that we first had when we attended a Mennonite families home for dinner.  It quickly became a favorite in our home.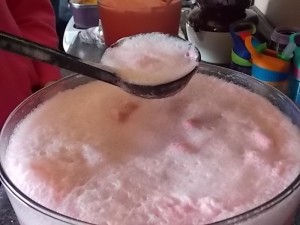 What dinner wouldn't be complete without some punch??  Pink party punch has been the ONLY punch that we make for our family birthdays.
For the birthday dessert, with so many birthdays some of us older ones get tired of cakes.  Not that we don't love a good birthday cake but it can tiring after awhile.  For Ashlyn's 21st birthday I wanted to make something extra chocolately.  Something that was rich and so good.  I decided on making brownie chocolate chip, candy bar cheesecake.  You will definitely not be disappointed with this one.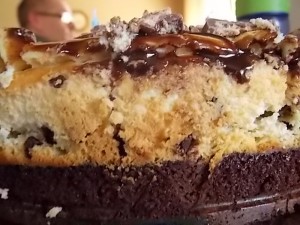 Of course with so many little ones, I need to think Large Family Dessert mode.  Most of the younger ones will not appreciate a good cheesecake, so we had to go with a good little child food.  When Ashlyn was little we used to make dirt cups a lot. I thought that was the perfect treat for the younger girls to make.
Most birthdays are spent playing games together.  Someone usually has to see if they can "beat" Dad at chess.  I am happy to say that Ashlyn and Collin have both defeated Daddy in his ever -reigning champion chess unbeatable  winner role. Congratulations Ashlyn!!  Don't worry Daddy will come back at the next party:)
We also like to play Mancala, Connect 4,  Wii Sports, Pin the tail on something, and any other games that the little ones come up with.  It isn't unusual to be playing musical chairs with all the little ones:)  Good family times. 


Happy Birthday Ashlyn, may the Lord direct your path and guide you as you seek out His ways.