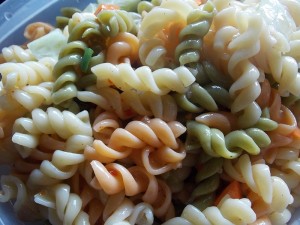 This is a staple salad around our home during the summer months. Very simple and easy to make.  With one secret ingredient to make it taste delicious……….
You will need:
1 pkg corkscew pasta, cooked and cooled in water
1 bottle of italian dressing, I like the Fat free version
your choice of veggies, we like cucumbers, shredded carrot, olives, green onions
SECRET INGREDIENT————2 T sugar
Take your cooled, drained pasta and mix in 1 bottle of italian dressing, your chopped vegetables and 2 T sugar.  Mix and let sit.  The sugar takes away the tartness of the dressing and gives it a mild, taste.