After nursing all ten of my babies, one thing I needed to purchase each year was nursing tops.  Most of the tops that were "in style" were immodest, extremely uncomfortable to nurse in, and shrank after being washed a few times.  It was a very frustrating thing at an already emotional time.  I had to find another alternative.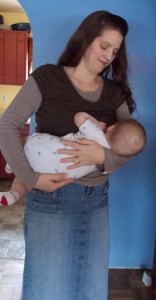 First thing I did was I headed to our goodwill and purchased some plain t-shirts.  I tried to find ones that were form fitting, higher around the neck, and longer to hide those "after baby bellies."
Next I put them on.  Stood in front of the mirror, grabbed my sewing scissors , and started to cut nursing slits.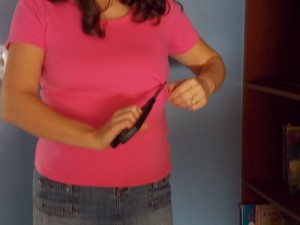 I made sure to cut more on the outer curve of the breast.  I did cut ones right across the front of my breast but those usually ended up showing through my outer top.  The cut needs to be about 3 inches wide.
Now choose an outertop to cover your nursing holes.  You can wear most any kind, fitted, button- up,etc.  What's great is that you don't have to lift up the bottom shirt to nurse.  All that "after baby tummy" doesn't get exposed:-)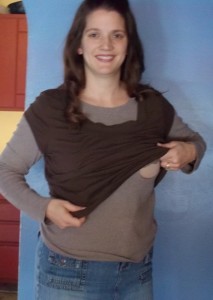 Simple and easy, wish I would've thought of this for my first babies.