Christmas time can be depressing for some.  I believe that the emphasis that we put on gift giving is crazy.  I know that when we were first married and had to buy gifts for so many different people, it was hard financially.  Here we were just starting out not having much money, and the feelings that we got from having to buy gifts for family that we didn't even see but a few times a year was stressful.  I have learned from having a large family that things can be done inexpensively and made with lots of love.
Invention is the mother of necessity.
Having lived through a failed economy and still continuing to have children, we have lived the above quote.
We do not put a big emphasis on gifts for Christmas.  I want my children to know that when the time comes and they are married with children to take their money and buy gifts for their own children.  I want to get away from having to spend all this money that most people do not have.  Now most of the children have saved some money and have purchased and made some inexpensive gifts for each other and that is wonderful to see that they would take their money and spend it on others.  That blesses my heart.  But I do know that I have 2 older children that are just starting out in life and have many "real life" bills.  I always stress to them that I do not want them to buy gifts, because I know that in their lives it is hard enough to get by with their bills.  Just enjoy the fellowship of each other.  It is not about the gifts.  I never want my children to feel that they HAVE to bring gifts to Christmas just because it is Christmastime.  I want them to come and enjoy the blessings that Dad and Mom have for them and their children.
In our house we have a set amount that we spend for each child.  For the younger ones, we usually do homemade gifts and will buy things that they have said they would like to have.  It helps that we don't have television that I am sure is bombarded with toy ads right now.  Most of my little ones have no idea what they want for Christmas.  that is a good thing.  It allows us to be creative and get them things that will help foster creativity in them.
We have lived through multiple Christmas' that we just spent, spent, spent and 6 months later the gifts ended up in the Ebay pile.  No more of that.  I like to take what interests the children have, come up with things that we can make homemade and then get them a few store bought gifts.
I have two girls who LOVE to make crafts.I wanted to make some "structured" craft kits for them so that they can work on their own creating something useful.  As a Mom of many children, time is hard to come by, as well as sitting down and planning out some sewing projects.  This was a great time to be able to put together multiple sewing projects for the girls to do on their own without having to wait for Mom to be free.
Here are the recipients of these items for Christmas this year.  Our 8 year old, Jadyn, posing in single digit temperatures in front of Santa in Frankenmuth at Bronners.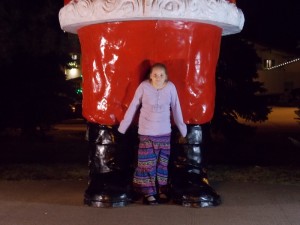 And Brooklyn, who was not about to get out of the warm van for photos, instead here she is on her 7th birthday this year 2 weeks ago.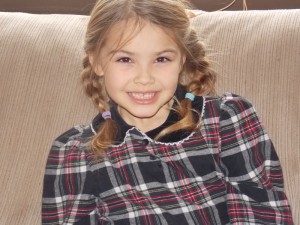 Sewing kit
The first thing I put together to go into the sewing kit, was an embroidery set.  I bought some linen napkins at Goodwill that were brand new and traced designs on the corners for them to embroider.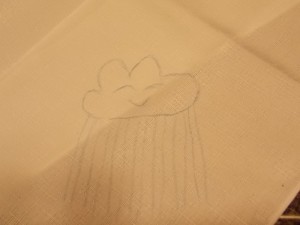 Here I copied a cloud with a rainbow coming out the bottom.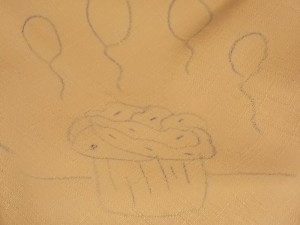 Here was a cupcake with party balloons.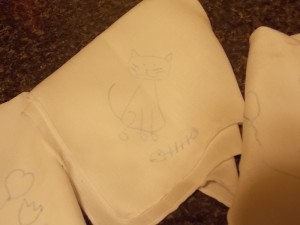 Here a cat after eating a fish.
I printed off of the internet a how to sheet.  I pasted pictures of simple beginner stitches and instructions how to do it.  I include some scrap muslin material with simple sketches of a house and tree for her to practice on.
I bought an embroidery hoop and some floss at Goodwill for under $3.  This should occupy them for quite some time.

The next thing I included in the sewing kit was some yarn and a crotchet hook.  Now I am not an expert at doing this but do remember doing it as a child.  I figured this was something we could do together as I have to jog my memory a bit. Thank goodness for youtube videos:)

I then put together individual sewing packets of various beginning sewing projects.  I did a search of easy beginner sewing crafts for kids.  This is what I came up with
dollhouse sleeping bags–this one I couldn't find a tutorial on, I included some photos of some from an image search.  I cut out a simple pillow out of felt, and a rectangle sized piece of material.
In each bag, I pasted a picture of what the project should look like and included step by step instructions.  I also cut a piece of scrap material that would be large enough for the project, and placed that inside of the bag.
Puppet kit
My girls have creative imaginations and like to do puppet shows.  They usually end up going behind the couch and doing them.  This year I had my husband make them their own finger puppet theaters out of wood.  This will be something that is made last minute as we have been busy filling Christmas orders.  I will include a photo of that later. It will be a simple tabletop theater made from 1/4 inch plywood.  This is an image of what it will look like, but we will carve the girls out of wood and carve their names on the top with some designs, but you can make it out of a cereal box, as this person did.
I then included items for them to create their own puppets.
I did wooden spoons and wooden die cutouts from Hobby Lobby.
In bags I put the following for them to design their puppets:
scrap pieces of material
scrap pieces of felt
googly eyes
fake curly doll hair
yarn
pipe cleaners
I have also included some image snapshots of other peoples' creations to help them along in designing their puppets.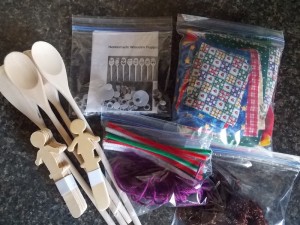 We also have sewing scissors, permanent markers, acrylic paints, and glue that I did not include in the packets.  Those are items that will get opened by curious little ones.  Those are safe behind the gate and up on the homeschooling shelves.

Tic tac toe traveling game from Altoid tin
Another item that I thought my girls would enjoy is a traveling tic tac toe game.  They are always organizing and filling their purses with different items.  They usually ask me what else they can put in their purses.  I thought this would be a great item.  I like that it is magnetic as to not lose the pieces in the van.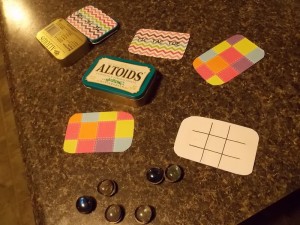 I cut pieces from cardstock to fit the insides and the top of the Altoid tin.  Before I cut, I printed "tic tac toe" on the piece that was going to fit on the top of the tin.

I bought these gems from the Dollar Store and glued magnetic buttons to the bottoms of them.  You can also glue pictures on the bottoms of the gems before hot gluing them to the magnets.  It looks neat as it "magnifies" the picture, I did not do that, but will if I make these again.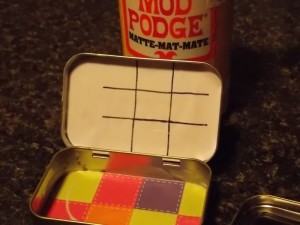 I used  Mod Podge and glued the papers to the tin.  Cover the papers on top as well to give it durability.Thi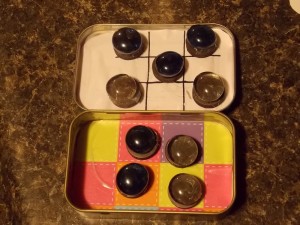 My beads did not fit on the inside bottom of the tin, so I had to create the board on the underside of the top.  Fun game for the girls to enjoy.
Dollhouse holiday set
This was something that I did not take a picture  of, as I haven't gotten it all together just yet.  My girls like to play dollhouse.  So what I did was purchased a mini christmas tree.    I then went to Hobby Lobby and bought  mini garland, mini ornaments, and a mini star.
I plan on putting this together with some small, jewelry boxes, mini scraps of wrapping paper, and some small bows.
This way the girls can play Christmastime with the dollhouse.
Simple plain and not so plain gifts for girls.