How to make an inexpensive fall table centerpiece decoration
When we were first married and  making a home, I had the cutest little decorations all set out around our home for each season. After many moves, many children, many lost and broken decorations, I don't even have any of my original seasonal decorations.  Plus with having a large family who has time to think about decorations?
Well my 8 year old daughter does.  Jadyn, really enjoys making things "beautified" in our home.   She and I put together this cute table decoration, that has so far stayed put in our home.  Well it probably has stayed put because we have placed our benches directly underneath our table because for the time being we have a curious 1 year old who loves to climb, the table seems to be the place you are most likely to find him.  To avoid any serious injuries, we thought it best to place the benches far away from his climbing reach.  Plus it has helped my centerpiece to stay set up.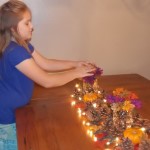 For our table top decoration….we placed a strand of Christmas lights down the middle of our table.  We moved out the table leaf and brought the cord up through the opening so that it was centered on our table verses dangling over the edge.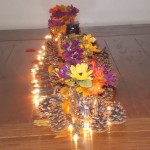 We then placed pinecones all around the lights.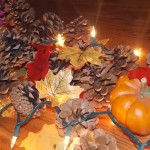 We found  packages of leaves at the Dollar store and sprinkled those throughout the area.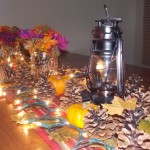 We bought a sack of mini pumpkins at the grocery store and placed those in the centerpiece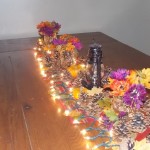 Our neighbor gave us some pretty glass mugs—remember we don't have glass around here it breaks too easily–but I had to find a use for them.  We placed some flowers from the Dollar Store into the mugs.  At the bottom of the mugs we put pinecones to help push up the flowers and make it look neat.  The cups are beveled glass so you can't really see inside them.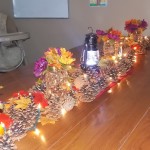 The lantern is a household decoration.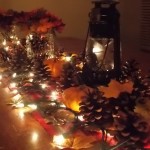 Here is how it looks at night time.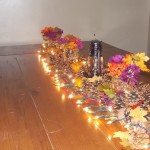 christmas lights—already had                            FREE
pinecones—found in yard                                     FREE
glass mugs–from neighbor                                   FREE
2 package of leaves from dollar store                $2
5 bunches of fall flowers from dollar store       $5
sack full of mini pumpkins from Walmart           $3
TOTAL COST FOR DECORATION                            $10