We have lived at our current home for almost a year now.  I haven't done any real big decorating because I didn't want to "lock" myself into this house.  But I realize that we are going to be here so I might as well do something to make the home more homey.  Plus it gives the children a chance to be creative and help decorate the home.
I wanted to do stuff that wasn't going to cost much, but would add a nice touch to our home.  I came up with these ideas…. thank goodness for Pinterest influence:)
Our $2.06 penny vase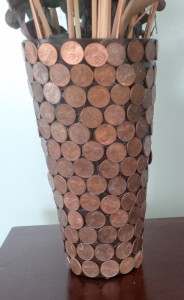 This was a fun project for our ten year old to make.  I spray painted a glass vase  black.  My daughter then washed some pennies that she got from her brother Collin's money rolls. She soaked them in 1 cup vinegar and 3 Tablespoons salt solution.  We let them sit for about 10 minutes.  You can scrub them as needed, but we just drained and dried them.  She then hot glued pennies all around the vase.  It was a good math tool as well, as she counted $2.06 that she used.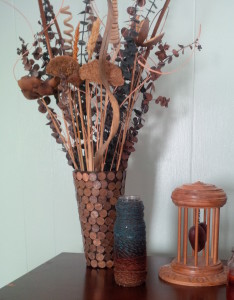 We filled it with a bunch of floral's that we had found inexpensively.  Easy and inexpensive.
Yarn bottles
I had found a picture of twine covered bottles and I had thought that looked neat to do.  I saved a couple of Starbucks coffee drink bottles for this purpose.  The problem was that I could not find twine inexpensively.  Our local Walmart had some for the holidays but it was only a small amount and I would of had to pay $7.50 to cover the jar—not worth it for me.  Oh a need for a Hobby Lobby here…..
My daughter loves to crotchet and has lots of odd and end yarn scraps.  I found one and started hot gluing it around the bottle.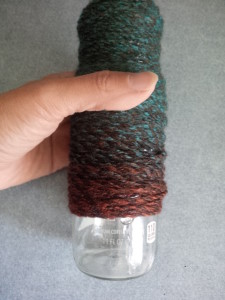 The results………we got two bottles, that I think look rather neat.
Another inexpensive idea.
Decorative balls
I had found a basket and wanted to fill it with something.  My intentions were pine cones.  But I was having a hard time finding pine cones here. Then I saw decorative yarn balls and I thought those looked neat at the store.  But the price tag was not.  In my head, I thought we could make this.  So we did.
We started out by blowing up balloons to the size that we needed.  I then took some Elmer's glue and watered it down a bit.  Oh first….I covered our work area with paper—young children and glue make a mess!!!!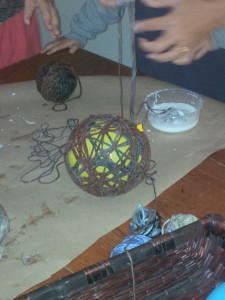 We then worked on the yarn ball.  We set the yarn in the glue bowl and then squeeze off the glue from the yarn as we wrapped it around the balloon. Messy, but it worked.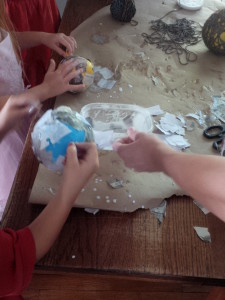 Other children were doing paper mache on the balloons.  We are going to paint these later.  It was like making mini pinatas.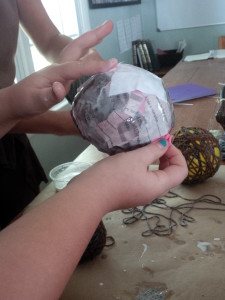 Some children did well, smoothing out the paper and others, we had to go back and fix.  But overall, it was fun and they had fun getting messy.  Something I don't like to do as far as crafts and mess and little ones.  But we did it!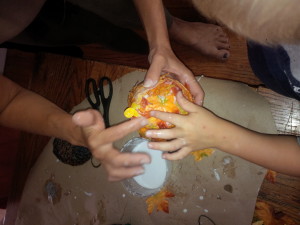 Then we thought we would glue on some fall leafs that we got at the Dollar store…..we will see if that turns out.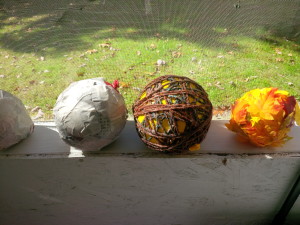 It was a beautiful warm 80 degree fall day, so we set them on the porch window sill to dry.  By morning time they had dried.  I took a pair of scissors and popped the balloon inside and pulled it out.  A couple of paper mache ones had deflated while drying.  Too big of paper chunks and too much glue:)  One of the yarn balloons deflated and I just untied it and blew it back up.  It worked!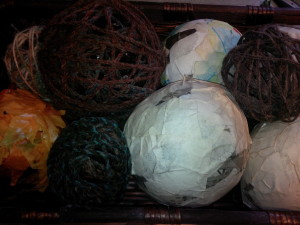 Here they are after they dried.  The thicker yarn is a little smooshy, I would recommend using more glue or using thinner yarn.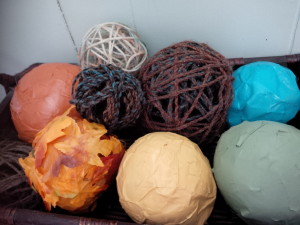 The paper mache, I spray painted with some leftover paint that we had.  The turquoise one was the deflated balloon, but it was made by a younger child—so we kept it.  Shove it in the corner of the basket:)  Even the leaf one turned out pretty neat.  Not a bad decoration for things we had lying around the house.
popcorn candles and beaded candles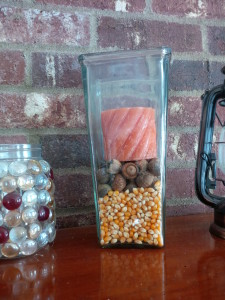 This was another idea I had saw on Pinterest.  Layer popcorn seeds, acorns from our yard, and a candle.   Simple and easy.
The beaded candle jar on the left we had made at our ladies group.  We just hot glued some beads to the jar and when it is lit, it looks pretty.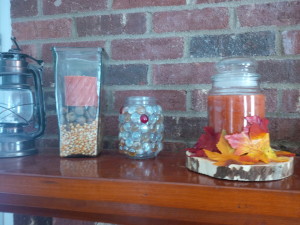 The hanging lanterns we had used for a camping trip and those gave the mantle a rustic look.  I found a log round in my husband's woodshop.  I placed a pumpkin fall candle on it and hot glued some Dollar Store leaves around it.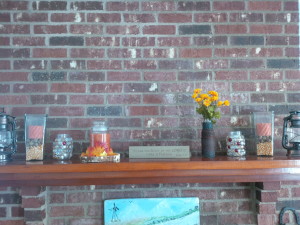 Some inexpensive, easy decorations for the fall.  Now I need something for the background on the mantle. Hmmmm…..something large and bright enough to break up the colors of the brick.  I had saw picture frames painted bright colors with a wreath hanging down the center.  I might do that.  Keep my eyes out for things.  In time, little by little.  The key is to do something.  These took me only a few minutes each day and now it helped spruce up our home and it didn't cost us much at all.
Do you have an inexpensive fall DIY ideas to decorate your home with?