Okay, we moved down to the south a few years ago and it is definitely much hotter down here!  Not complaining, we absolutely love it.  The one thing we are very fortunate that we have is a private lake in our community.  We spend almost everyday at our lake for a few hours to cool off.  This will be until we get our pool in place. How do you engineer a pool off the side of a mountain?!! I am leaving that up to my husband:) Anyways until that time….we settle for a kiddie pool and floaties for the lake.  We purchased a couple of these pools from Amazon and Sams Club last year and got new ones as holes appeared.  This year I discovered Gorilla Glue Silicone Sealant and I have not had to replace our pool yet.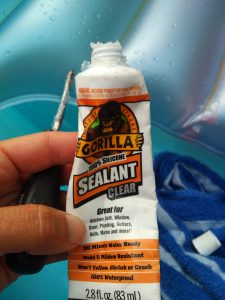 I get the family swim pool for around $30 and it is great for our large crew.  I used a tarp and set it on our driveway.  We live on a mountain and there is not any flat grass land.  Plus now that we have bears in our yard!!! I like my children within view:)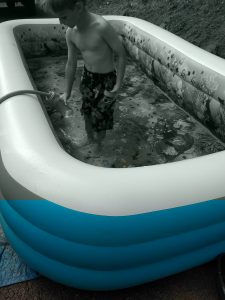 Forgive me for the 1/2 black 1/2 color photo—my phone edited like part of it?!!  When it is time to change the water, usually every 2 days, we let out the plugs and let it flow down the mountain.  I use an electric pump and fill up each ring and it takes about 5 minutes to fill.  Then we fill it with the hose.
This works great for the days we just want to cool off at night and when the lake season ends on labor day, BUT it will still be warm for a while down here!
I purchased some fun floaties at the beginning of the season and have made them last by using this goop over the holes as they would appear.  My children can be rough, as most are launching pads for multiple children:)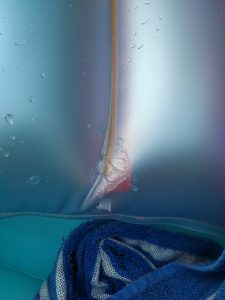 Here you can see on the seam how we covered it in goop. If the hole keeps not wanting to seal and air blows through, cover it, let it dry a few moments, and then spread some more on. Eventually the air will not blow out.  It helps to not have the floaties completely full of air—no pressure.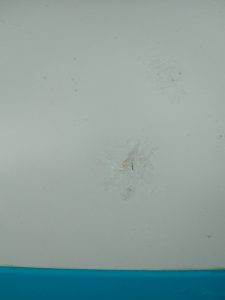 Here were some small holes on the pool.
For the $5 it costs for this plumbers seal, well worth the price, especially at the end of the season and there is no place to get floaties at around here.
Hope this helps someone patch some holes.  Last year, we used the patch kit and it worked for a bit, but this was much better.  I have a red boned coon hound dog that enjoys jumping into the pool and leaves her tiny scratches on the sides and I have been able to patch my holes easily.  Sets up within half hour in the sun and is great!
If you floaties are slowly losing air…..get some of this sealant at your local Walmart or Lowes.
Have a blessed day!