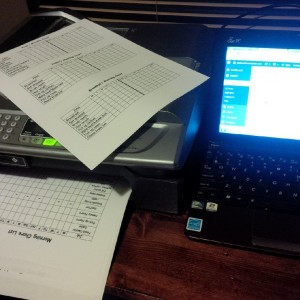 For summer time, I don't like to have to much of a scheduled day, I enjoy being lapse in what we do as a family.  It allows me the freedom to be able to work on projects.  I took the first part of my summer months and worked on finding all of my children's education for FREE online.  This has worked out to be a huge blessing in my life.  No need to budget for school curriculum.
It is winding down to the last month of summer for us.  I am going to begin school the first week of September.  I wanted to get all of my schedules and charts printed off and start implementing them with my children.  I have found that the more I can do to "prep" my lifestyle will lead to less stress later on.  If I can get my children to focus on doing their charts and lists, it will help  me not have to deal with that issue as well as learning issues.
Here is my wall of clipboards.  I made these last year and it has saved me from having too much paper clutter on my kitchen counter.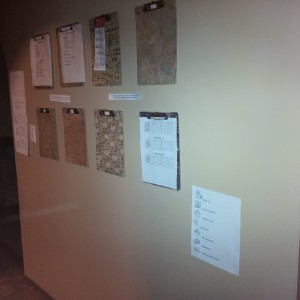 One of the first charts that I made was for the little children. Notice I put it lower so that the little ones can see it.  Kind of hard for a 3 year old to see a chart way up high.
Every morning we would get up and do the same routine.  Each morning, I grew tired of telling them to brush their teeth and pick up their clothes.  I need them to have some sufficiency.  It grows character in them to be able to do things on their own.  Now the 5,4, and 3 year old go to the picture chart and do their morning tasks.
You can make your own very easily, by listing what your morning preparations are and finding a clip art photo online to go with it.   We have implemented this for about a week and they are getting used to it.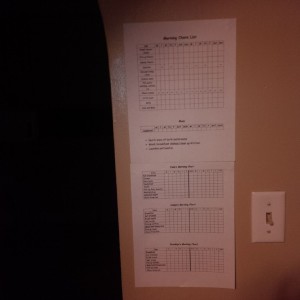 Now for my  "middle" aged ones, I noticed how they constantly would do things only if I told them to.  Something as routine as pick up your room, was forgotten unless I reminded them.  I want my children to grow and be independent.  I want them to do things on their own.  Thus I came up with their morning and evening daily chart. Now each morning, they know exactly what they have to do BEFORE they can play video games or watch tv.  When school starts this will be completed and then they will be beginning school for the day.
Around our home, we have many variables whether we have older helpers or not.  Some days my oldest children are working and sometimes they are home.  It was hard to do chore packs like we used to do, because if an older one wasn't home, someone else had to do their work.  Instead of trying to schedule my days around children that may or may not be there, I decided to make a check list of chores that needed to be done.  That way whoever could help in the morning, does.  I also listed a check list for myself.  The reason being, is that sometimes I leave early and let my older ones watch the children.  If they know what Mom's usual chores are they can help do them.  Here is my morning checklist for chores.
Now I have some accountability for my children, it frees me from having to micromanage them, and it lets them be in charge of themselves.  My children will awake in the morning and do their checklist then we will begin school.  I haven't actually started school yet so I don't know how our days are going to go just yet, look for that in future post.
But I do know that in the afternoon, before dinner time, I am going to do a quick pick up of the home before Dad gets home.  We also will be doing some afternoon chores.  Again, I don't know which children will be home, so I made a list for each day of the week and different areas I wanted to focus on cleaning.
I put these in plastic sleeves to protect them and hang them on the clipboards.  Each morning as I am serving breakfast I switch the papers to the correct day.
I still keep to a certain day for each task, with a few more thrown in:
Monday==laundry day
Tuesday==office day
Wednesday==baking day
Thursday==cleaning day
Friday==errand day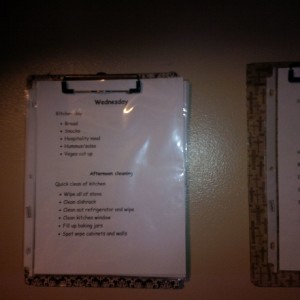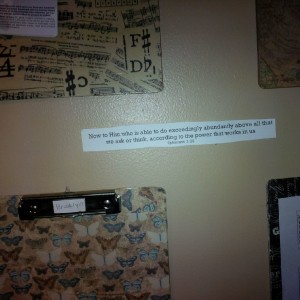 I have also printed off some of my favorite bible verses and hung those among the clipboards.  I put my children's names on the clip board as well.  I want to be able to "clip" their papers for the day onto them.  This will allow my counter tops to be free of paperwork.  I have one for everyone doing school this year.

I also have a clipboard for my night time reminder checklist.
This will help me to be better prepared for the coming day.  When you can wake up to an empty sink, toys picked up, coffee ready, and breakfast planned out—it makes the morning smoother.
By planning to prepare for my mornings, I am preparing for a smoother start to my day.