Hey everyone, hope you are doing great!  We have had a good busy week.  Last week was HUGE shopping trip.  Did I emphasize HUGE??  I was down to nothing.  I used up pretty much all of my fragments but we did it:)  Well I should say God did it:)  I was very thankful to be able to go do my once a month shopping trip that now we are overflowing with groceries.  I shopped on one day and got all that put away and then went out the next day and finished with my daughter.  It was also my birthday day so we did lunch and got to have some mother daughter time.
Then home to a busy household of children, did I mention we are in rainy season and this weekend was one of those flooding warnings rain …..so can you imagine little boys stuck inside for two days?!?!?!  fun fun:)  I took most of Saturday afternoon, and cooked up all my meats and prepared some dinners.  I bought some frozen pizzas for my sanity and my birthday splurge for the family:)  I didn't stay up too late because the next day was church and it had already been the longest feeling day of my life:)
Sunday I got up and decided I was not about to do any food prep.  Even though I could have, but I was gently reminded by one of my daughters the night before, "You know mom, God says you should rest:)"  I know, I know but my mind wanted to get it all done!  But I listened, I got up and we went to church.  We did our groups before service and then had church together.  It was great.  Dad bought donuts and coffees for our Sunday treat and then home.  I made some sandwiches for lunch and then sat and read some books to my children, snuggled with my children (who I feel like I had not been seeing for the last couple of days), and just chilled for a bit.  I had made some stuffed shells the night before to freeze and had a small pan that I saved for dinner.
My husband took me out to my favorite restaurant Soly-Luna for dinner just the two of us, for my birthday treat.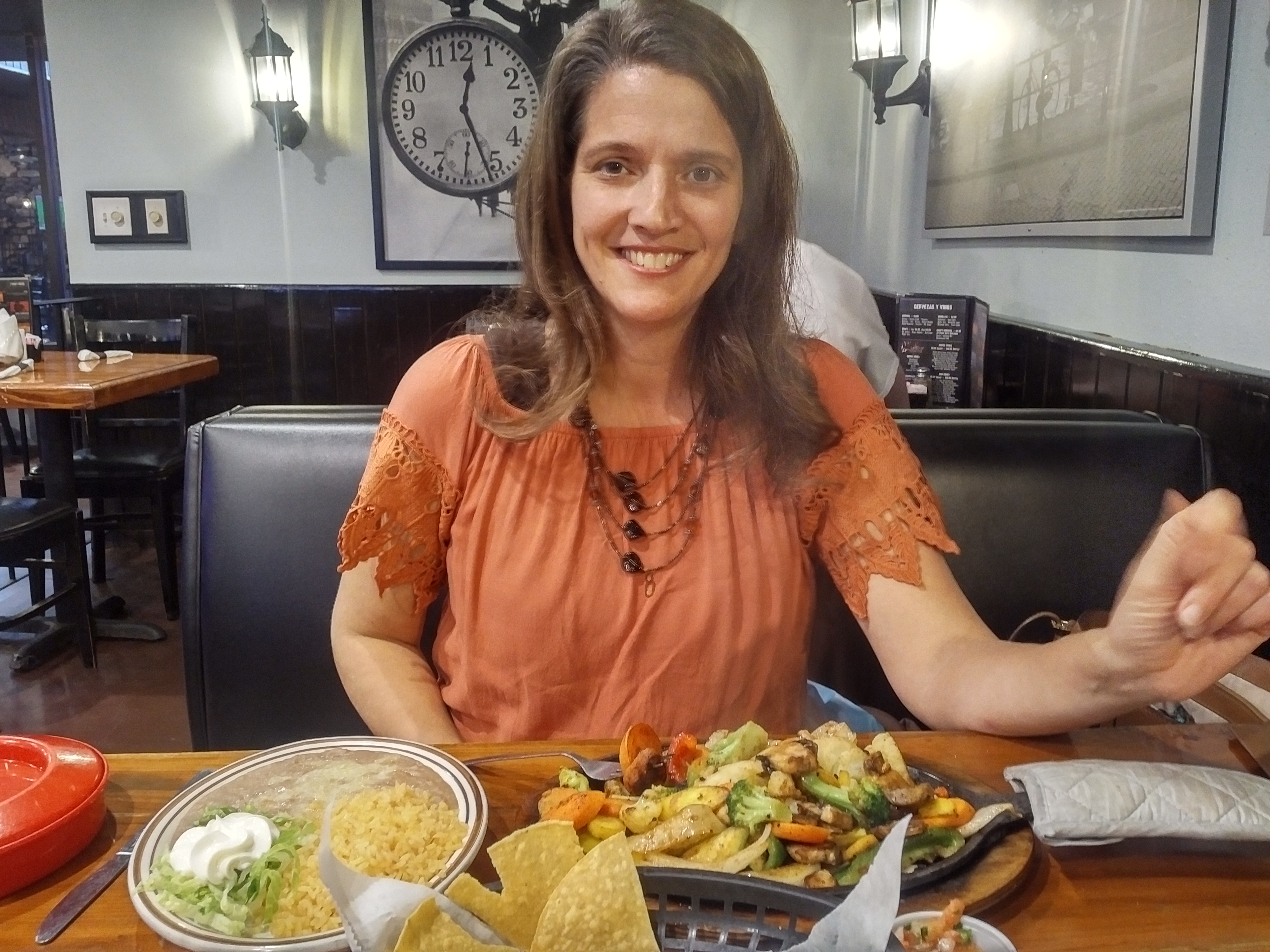 It was really nice.  Life can get so busy, busy with the doings, busy with the children, busy with work that you push aside those husband -wife times, I was happy to be alone with him.  I got a big skillet full of fajita grilled vegetables and it was so good.  Then we left and  got dessert.  Normally my choice of birthday dessert is tiramisu.  I absolutely adore that dessert.  He surprised me with something different.  I remember having frozen custard way back when I was a child in Canada and it being the creamiest dessert I had ever had.  I had it maybe once since then and he remembered that and surprised me with a trip to Whit's Custard.
My friend, it was soooooooo good. Took me back  to when I was like 8 years old and that yummy taste:)  I had a Hawaiian sundae full of banana, pineapple, coconut, and macadamian nuts.  I think I would have to say that my love for tiramisu has been topped!  So good!   Ok enough about food.
We stopped at the Dollar Store on our way home because we have another birthday coming up in a few days, Madelyn will turn 7.  We picked up a bouquet of balloons for her.  Then we came home and relaxed some more.  I sat with the children for a bit and we talked.  I got to take a nice bath with some homemade bath bombs that Jadyn and the children made on Friday while I was out shopping….I got one from each child—-it will last me a while, who gets to take a relaxing bath?!!?!?
We tucked everyone in bed and  watched a movie. I'm not a big movie fan, but I do have my favorites. Normally my choice would be Mom's Night Out—just because I can relate to the entire movie:)  But I chose, 13 Going on 30. There are only a few shows I have ever watched that make me laugh.  I don't do comedy at all.  Everybody loves Raymond, Mom's Night Out, and 13 Going on 30 I can genuinely think is funny……..is it because those portray life so well:)?!?!?  It was going on 10:30 and I am like ok, this momma is needing to go to bed:)  So I switched off the movie and fell asleep.  I wanted to get up early today because I wanted  to post this and get moving on my day.  When you don't do much house work on Friday, Saturday, or Sunday and the home has been occupied by 11 people, it get's pretty messy.  I'll spare you pictures:)
I woke up to my 5 year old next to me and I realized it was 4:54 a.m.  hmmmm do I try and go back to sleep or just get up?  I have learned, it is best to just get up.  So here I am, I have thrown in a load of laundry, switched out some cooked beans from the crockpot, and now I am drinking coffee working on some computer work.  I will work for a little on here, then get moving on house clean up and food prep.  I would like to get all the food made today, because we have another busy week.  Lauren's birthday is tomorrow, Madelyn's is on Wednesday, Thursday is our homeschool Valentine party, Friday I need to food prep for birthday celebration dinner on Saturday and then throw in schooling, house work, sibling squabbles to work with, oh and I need to get to the park everyday.  The weather is definitely warmer…my phone showed 67 last night!!!! Park is a must for sanity!  Everyday, at least 45 minutes–my goal.  Needless to say, my week will be full…no complaints…..just sharing.  It was a good day, I am happy I listened to my daughter and took the day to relax…God has a purpose behind that….so we can get ready for our week's.
Here is a video I posted last week on youtube…..it is all about how we homeschool everyone.  I hope you enjoy.
Have a blessed beginning to your day………