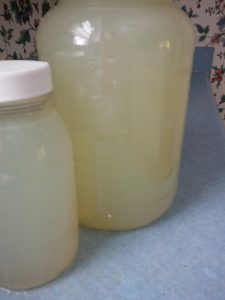 My girls and I did a tailgate market the first summer that we moved here and it was wonderful.  My girls sold sweet tea and lemonade.  It was sort of humorous as people would ask them if it was made with a sugar syrup.  We weren't used to that way of making it.  We just went and bought the  big canister at Sams Club and would mix with water.  They were kind and still bought it.  But this year, at one of our Mom's days I decided to make some lemonade to have as a treat just like the southerners do.  It was super easy and delicious!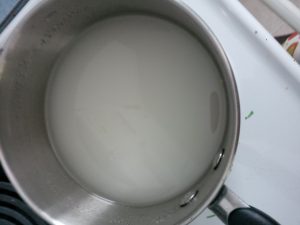 In a saucepan, dissolve 3 cups sugar in 1 cup of boiling water.  Let cool and then add 3 cups of lemon juice.  I just use the plastic container kind.  You can store this in a mason jar in the refrigerator and use within a week or two.
To serve combine 1/4 to 1/3 cup syrup to 3/4 cup water or 5 cups water and 2 2/3 cup syrup.    I poured it into my gallon glass jar and then added water.  It was still a little sweet, so I poured some out into another quart jar and added water back into the gallon jar.  It made a lot of lemonade.  Delicious!