Growing up, I remember one of my favorite lunchbox treats were apple fruit roll ups. I don't even think they make them anymore.  But I remember the yummy chewy goodness of apple tasting fruit on a roll.  Now that I am a Mom, I try and find foods that are in line with a natural diet.  Fruit roll ups would probably not fall into that category.  But wait could there be a way….
Well this past fall we were blessed to be able to make hundreds of quarts of applesauce.  I had so much that I decided to make some apple butter to go with our oatmeal.  Now that it is nearing the fruit season, I wanted to help use some of that extra apple butter up.  I decided to make homemade apple fruit roll ups.
It was very simple, I took my jelly roll pan and lined it with parchment paper.  I then poured on my homemade apple butter.  In my apple butter recipe I used applesauce and raw sugar and baked it down.  If you were making your own you can puree any kind of fruit….strawberry and raspberry…..mango and blueberries…….then add some sweetener.  You can use honey, raw sugar, or regular sugar whichever you have.
Pour into your parchment lined baking pan.  I spread it out to about 1/8 thick.  You want it as uniform as you can as it will help in the drying process.
The put in your oven at 180 degrees for about 12-15 hours.  I start it at night and let it run through , by morning time it is usually done.
How do you know it is done?  It has beads of moisture on top if it, you can peel it off the paper, and when poked in the middle it is hard not sticky.
Let it cool completely.  I then cut mine into strips with a pair of cooking shears.  I then cut those strips in half.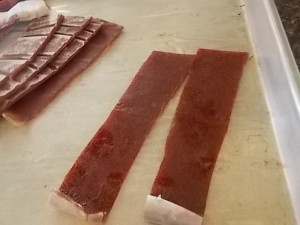 I roll them up and put them into a container.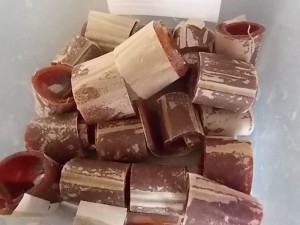 I store mine in the refrigerator—because I am freaky and don't want to worry about not drying it completely and getting some illness to my children:)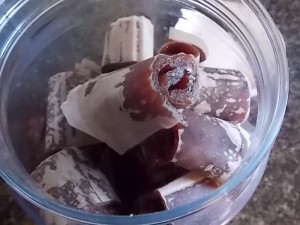 I even made a big container and put it in the freezer.  When we are ready to eat it, I just take it out and it tastes fine.  Here my daughter demonstrates how to eat them—by licking:)