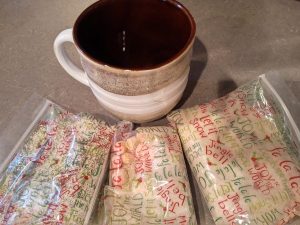 This month my girls and I have been baking and making all sorts of different holiday treats to share.  One of the things we made up were large batches of homemade hot cocoa, chai tea, and friendship tea.  We then packaged them up in holiday ziploc bags and  gave them away as gifts to friends.  These are super easy to mix up and hardly cost much—compared to store bought versions.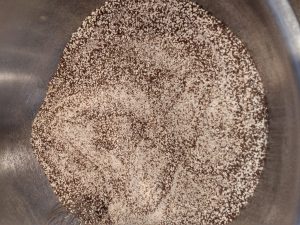 My absolute favorite this year was homemade chai tea. I forgot how yummy this tasted.  It is something I will be having on hand throughout the year for myself.  Click here for the recipe.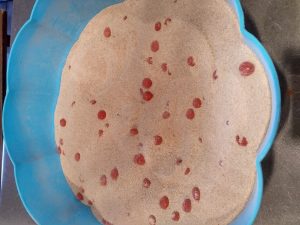 Another drink we mixed up was called Friendship tea or Russian tea.  This was something given to me by my pastors' wife a couple of years ago and it was my favorite–now chai is my favorite:)  A wonderful drink for a cold night.
What is Christmas without some homemade hot cocoa mix??  This was the other one we made.  I had a little leftover vanilla flavored coffee creamer and added that to my mix.  When I placed it in the bags, I added some peppermint marshmallows.  We make this as a staple in our pantry, so we know it is good:)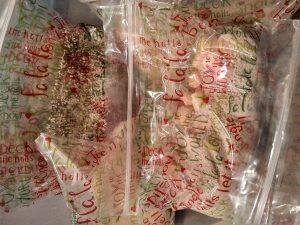 I keep this bin in my pantry full of these drink mixes and when I think about someone that I want to give something to…I grab a few of these.  Or whenever I would like a nice warm drink…I can have one myself:)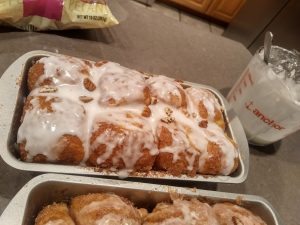 Another wonderful treat that we made this year was cinnamon bread.  My girlfriend was telling me about Dollywood cinnamon bread….well I made a version myself but it wasn't as sugary gooey as this was.
It is a  good tasting bread, but this was a great bread to make as gifts. Lauren made these for all of her clients and it was delicious! You can click here for hers.  Her's is much easier because you use frozen bread dough so that takes the bulk of your time and they look so pretty.  Click here for recipe.
Hope you enjoy these and maybe make a couple of these up for last minute gifts!  Enjoy your day!