This week we have 3 birthdays to celebrate, myself and my 2 daughters.  In order to avoid birthday cake fatigue, I like to choose a different treat for my special birthday dessert.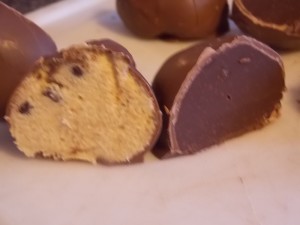 We were recently at Starbucks and they had a sample truffle and it was sooooooo good.  I knew there had to be a way to make these treats.  After doing some research online, I realized that these amazing truffles were actually very easy to make.  That is what I decided to make for my birthday treat.
We made two different kinds of truffles.  We chose plain chocolate ones and then cookie dough ones.  It was a mixed review of the household.  For the children that like cookie dough, they preferred the cookie dough kinds, but the other, myself included we really enjoyed the chocolate ones.  Mix up a batch and decide for yourself.
For the chocolate ones you will need:
16 oz semi sweet baking chocolate.  I chose Ghirardelli and Bakers brand chocolate.  I got 4 ounce bars so we bought 2 pkgs of each brand.
1 can sweetened condensed milk
1 T vanilla
melting chocolate discs to coat them–I would recommend buying a more expensive dipping chocolate, you can't beat the flavor.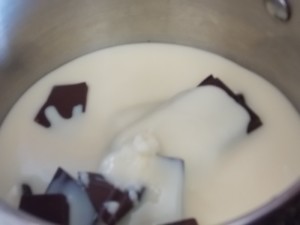 In a small pot, break up your chocolates, pour 1 can sweetened condensed milk over the chocolate, and place on the stove over low heat.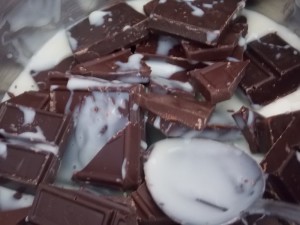 Heat over low heat until the chocolate is melted.
It will look like this, will be a little thick almost like a marshmallow melted thickness.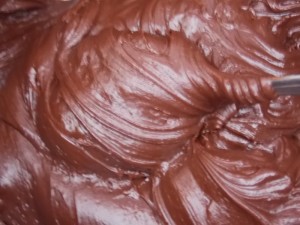 Then you add your Tablespoon of vanilla.  It will make the chocolate shiny.
Then you can place your pan in the refrigerator or freezer to cool–depending upon how long you have to make them.  I used the freezer and let it sit for about an hour.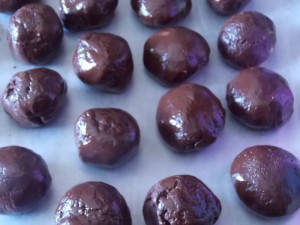 After they are cooled you can roll them into balls and place on waxed paper.
I then put them back into the freezer and froze them solid.  Meanwhile I melted the chocolate coating on low heat on the stove.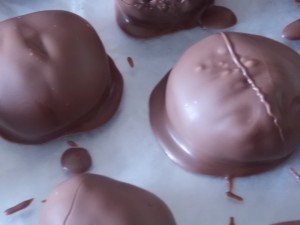 Dipped the balls into the chocolate and placed them onto the wax paper to harden.
Next we mixed up the chocolate chip cookie dough ones.  For this batch you will need:
1/2 c butter
3/4 c brown sugar
1 teaspoon vanilla
2 c flour
1 can condensed milk
1/2 c mini chocolate chips
1/2 c chopped pecans or walnuts
chocolate for dipping
In mixing bowl, cream the butter and the sugar on medium speed.
Next you are going to add your flour and sweetened condensed milk alternatively in your bowl.
Mix thoroughly, it will resemble cookie dough.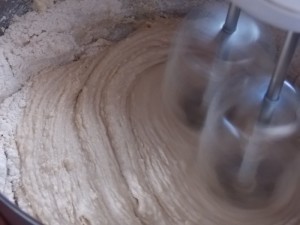 If your mixture is thinner, you can add a little bit more flour to get the right consistency.  I then put my mixture into the freezer and let get quite firm.
I then used my cookie dough scooper and dropped balls onto my wax paper lined cookie sheets. The dough was a little softer than the chocolate one, but that is expected.  I put them back into the freezer to harden up while I was melting my chocolate.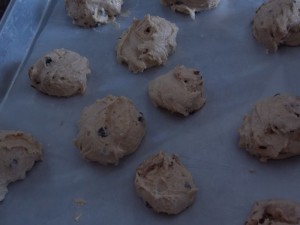 I then dipped my cookie bites into the chocolate and let them harden.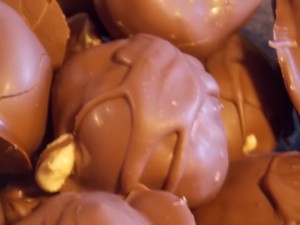 These were so simple to make and taste sooooo delicious.