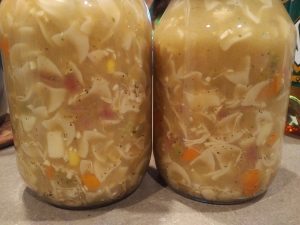 In large pot either place chicken stock (if you have any) or fill with water and add chicken bouillon to taste.  If this is for a sickness I add chopped onion–a whole one and 2-3 T of minced garlic.  The more the better.
I add a can of chunk chicken or frozen shredded chicken, or chopped up leftover chicken.
You can add a can of mixed veges or frozen mixed vegetables.
Heat that to boiling and then add noodles.  We use whatever we have on hand, curly ones, or fideo pasta–it looks like Mrs. Grass soup.
Bring back to a boil and boil for 2 minutes.  Place lid on and shut off.  Let this sit until ready to serve 10-15 minutes.  The noodles will continue to cook.
Serve.