We had a cookie exchange at our church and one of the ladies had brought biscotti to it.  The next morning when I woke up and grabbed my cup of coffee, I had taken out one of the biscotti's and ate it.  It was so good.  It was the perfect mix of sweet and not too sweet to it. I ended up eating my entire portion given to me!  So good.  I knew I had to get the recipe.
This is my friend Tammy's recipe, she came over while I made it and that way I was able to make sure I was doing it properly.  It is super easy to do and tastes great.  I have had biscotti from the store before and it was the hard-break-your-teeth kind of cookie.  You definitely had to soak it in coffee before you ate it.  This recipe is the perfect mix of chewy and crunchy in one.  If you want it crunchier you bake it longer, chewier bake less.
I made two kinds chocolate and vanilla-almond.
Chocolate biscotti—-makes two 12″ logs
1 1/2 c flour
1/2 c cocoa
1 1/2 t of baking powder
1/2 t of baking soda
2/3 c sugar
3 T butter
2 eggs
1/2 t vanilla or maple extract
Almond Biscotti
1-8 oz cream cheese
3/4 c butter
3/4 c of sugar
1 t almond extract
4 eggs
3 1/2 c flour
1 t baking powder
1/8 t salt
1/2 cup dried cranberries
In both recipes, mix up your wet ingredients well.  Then add your dry ingredients and mix.  It will be like cookie dough.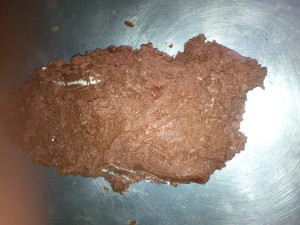 Drop your blob onto your cookie sheet and form it into a 12 inch long loaf.  This will spread out as it is baking so don't put too close together or too close to the edge.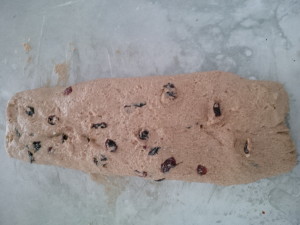 Once you have it shaped.  Place it in your preheated 375 oven.  Bake for about 20 minutes or until golden brown.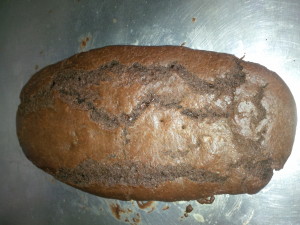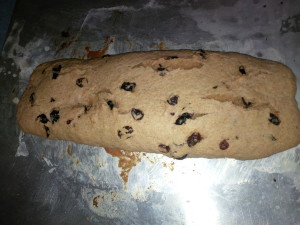 My cranberry one I should have baked a few minutes longer.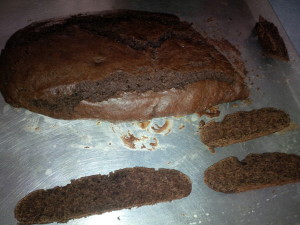 Then take it out and let it cool.  Once cooled you can slice it into 3/4 inch thick slices.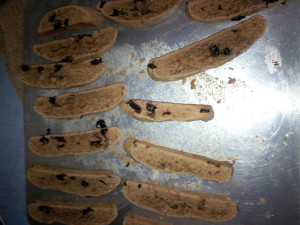 Set them on their sides and put back into the oven to bake for about 5-7 minutes.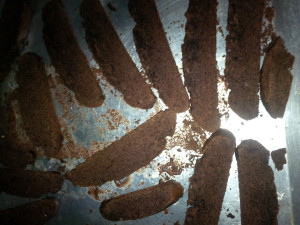 Flip them over and bake on the other side for 5-7 minutes.  You want crunchy cookies.  For less crunch you can just bake on one side.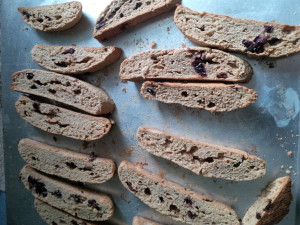 Let them cool on the cookie sheet and then you can place them into a container.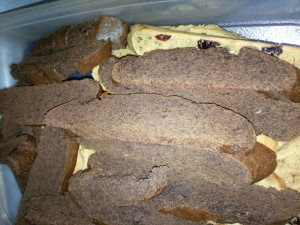 Melt some chocolate and dip the ends of the cookie into the chocolate.  If you want you can drizzle an opposite color over the entire cookie.  I then dipped the ends into chopped almond slices to give it a nice crunch.  For my chocolate ones, I added mini chocolate chips.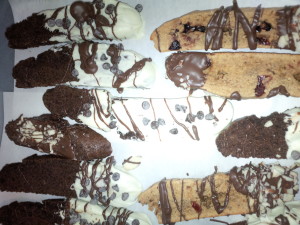 These lasted 2 weeks sitting in a container on my counter.  You can also freeze them and they will thaw quickly when you take them out of the freezer.
So yummy!  Serve with a cup of coffee.