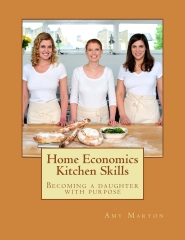 You can now get a printed physical copy of my Home Economics Kitchen Skills book from Amazon. Click here
Home Economics Kitchen Skills is an easy and precise way to help train up your daughters in the art of cooking. It is presented in weekly format and gives you all of the information and tools necessary to teach for one semester of school. It begins with the basics and builds upon each skill with new levels of learning. It includes over 170 personal favorite recipes from the authors large family kitchen. It is meant to equip your daughters to give them purpose and know-how in the home. Everyone needs to eat, but not everyone is skilled in cooking. This book will give you a foundation in learning how to prepare nutritious and delicious meals.
You can still get it in ebook form from my blog here, but for those who want a printed copy, I would suggest ordering it from Amazon.
I am working hard at getting the next one finished in time for the coming school year.
Be blessed and thank you.  Amy