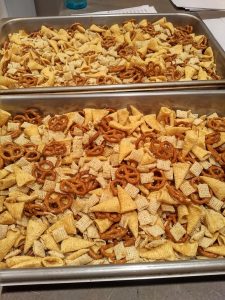 Mix in a large pan:  one family sized box of rice chex, 16 oz pretzels, one large bag of bugels.  In large measuring cup melt 1/2 cup butter and 3/4 cup brown sugar and 1 tsp maple or butter flavoring. Pour onto your dry mix.  Bake 275 for about 45 minutes, stirring every 15 minutes.
Let cool and then add some candy corns, Reeses Pieces or Fall M&M's.
A yummy snack mix to give away as a gift.