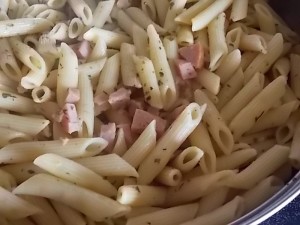 This is great when you have leftover ham.
You will need:
1 pkg penne pasta, cooked and drained
2-3 cups leftover cut up ham
1 medium onion, chopped or 2 tsp minced dried onion
2 cloves of garlic, minced
2 T parsley, dried
1 1/2 teaspoons each of oregano and basil
2 cups of chicken broth
2 T lemon juice
1 cup Parmesan cheese
In a skillet combine all of the ingredients except pasta and Parmesan cheese.  Bring to a boil and let simmer 15 minutes.  Add pasta and stir.  Right before serving add Parmesan cheese.