Christmas time is upon us, this is the time of year people spend, spend, spend to their hearts content.  Sometimes it is good, but for most of America, it is a reason to go into debt for at least 6 months afterward.  Why is it that we get so wrapped up in what our society has said Christmas is all about?  What happened to the days when people made gifts for one another?  Well I know, we have hit the age of technology and when my teenager really wants a smart phone for Christmas, a homemade gift might not cut it:)
For the record my teenager will not be getting a smart phone for Christmas, but she will probably get some store bought gifts, as well as some homemade ones.
I like to start out my Christmas season with making as many gifts as I can for my children.  It is almost a "challenge" to be able to see how little I can spend on making gifts for them.
Having so many little girls, we are constantly in need of hair bows.  But to buy a bow for all 6 girls, that would get costly.  I started doing some online searching and came across some different ideas, using what materials I had on hand.
Here is the original blog where I found the idea from to make these cute, loopy hair ribbons out of felt.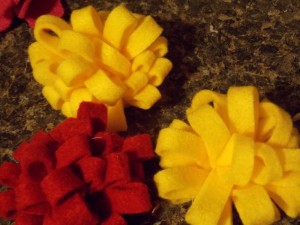 Since my 2 and 4 year old always wear pigtails, I was going to add a material covered clip and give a set to them for piggy tales.  For my other girls, I made the measurements slightly larger and made a bigger loopy bow.  I was going to add that to a thin headband for my older girls.  So cute and super easy to make.
Cut two pieces of felt.  They piece on the right is 2×5 inches.  The one on the left is 3×4 inches.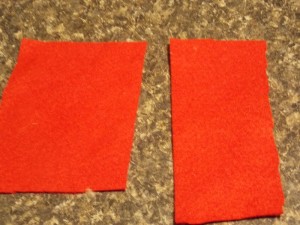 Hot glue the long edge on both pieces of fabric.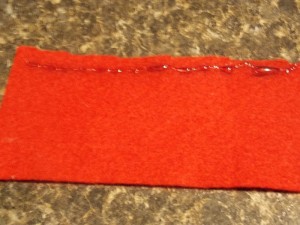 Fold over end to end.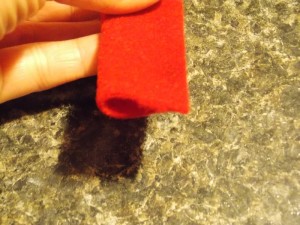 Now you have two thinner pieces of fabric.
Cut each strip with individual cuts across the fabric.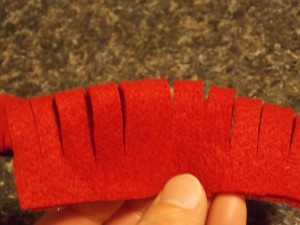 Place a thin layer of hot glue to the 3×4 original sized strip.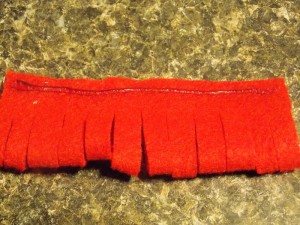 Carefully roll it up along the bead of glue.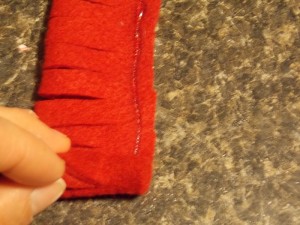 You will have this.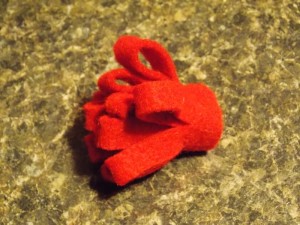 Then take your other piece of cut felt and apply a bead of glue and roll your first puff onto the second one to create this.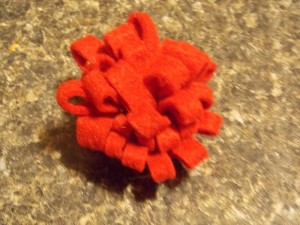 Those are so quick and easy to make as you can see I made a bunch of them.
Here are some tutorials for the felted flowers, seen as purple, aqua, and pink flowers in bottom photo.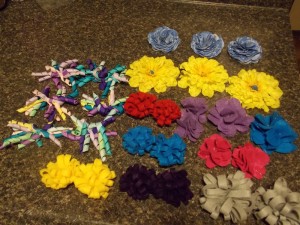 I then have been busy making some full and textured fabric flowers, seen as the blue ones on the top of the photo.  The only difference that I did was I used a hot glue gun to create all these hair bows.  In the textured fabric tutorial she sewed in a circle pattern, but I just hot glue gunned it.  Works great!
The flowers were easy to make, just take apart a flower to remove the stem and the center piece.  Re-glue all the layers together and add an embellishment to the center.
The loopy twisty things were recycled from some hair bows I had bought, but had broken clips.  I just tied 9 of them together and re-hot glued them to new clips.
The above flowers cost me NOTHING but time.  Well actually I have to purchase the clips, which are about $2 and some headbands another $2.  But still they were all made from things I had around the home and they will make great gifts for my girls.
I am going to hot glue—can you tell I love hot glue verses sewing??  Okay, I am going to cover a piece of cardstock, that I cut to the size of an index card, with some scrap material.  I will use that as a cute holder and finished gift.    Simple, easy, and practically free to make.  My kind of gift.  Made with love.