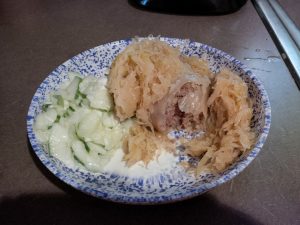 This meal is from my husbands' family.  When we first started dating, this was the first meal that we had with them.  Being young, it was a little smelly and I didn't appreciate the full flavor of these until now.  I love gwumpkies.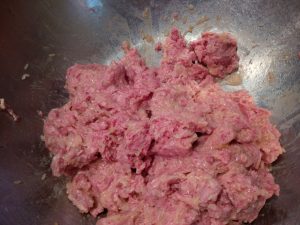 In a large mixing bowl combine the following:
5 lbs of ground chuck–uncooked
2 cups of rice
5 eggs
Mix the above together.  Then in a pot on the stove.  Fill it with water about 3/4 of the way up.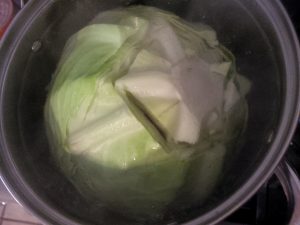 Get the water boiling and then add your head of cabbage.  I make slits around the core part and let it boil. The leaves will easily fall off and you can pick them out with tongs.  Don't over cook them, just enough to be able to pull them off the head.  I put them in a bowl and let them cool for a few moments and then I add a small scoop of meat mixture and wrap the cabbage around it.
I like to make them in my crockpot so that they don't stink up your oven.  Even though they do smell—the crockpot contains it better.
Layer in your crockpot some sauerkraut.  For this recipe, I get two bags of it.  It is in the refrigerated section.   I have used cans but it isn't as sour or as juicy.  Just enough to cover the bottom.  Then put a layer of cabbage rolls.  Cut up some Italian sausage and sprinkle on some more sauerkraut.  Continue layering until you are finished.  Top with sauerkraut and sprinkle some salt and pepper.  I cook this on low all day long.
For the cucumber salad.  I peel the cucumbers and if you use the seed kind, cut off the seeds.  I use the disc on my food processor and put them in that.  You want to get them thin. I used to shred them with a hand shredder, but the food processor is quick.  They are a little thicker but that gives them some texture:)  I put them in a large bowl and sprinkle liberally with salt.  Stir them around and let it sit.  The salt will bring out the water in the cucumbers.  Taste it and see if you need to add more salt.  Drain off the liquid as best as you can and add a container of sour cream.  Stir and then cover and put in the refrigerator.  Serve this with the gwumpkie.  One of our traditional meals.