That title doesn't even sound appealing. But for our large family its a monthly item. With so many little ones we were always grabbing a bag of pretzels or snack mix for a quick treat for them. They grew tired of always having plain pretzels (but they were cheap) and they loved the snack mixes but at $4 a box we couldn't afford that. So we came up with the garbage bag snack mix. I would purchase their favorite snacks–cheese balls, bugels, combos, etc but then I would throw in the boring stuff like cheerios, chex cereal, oyster crackers, and pretzels. Then we would have a snack mix that would stretch our budget.
First we gather all items
Next we get a heavy duty trash bag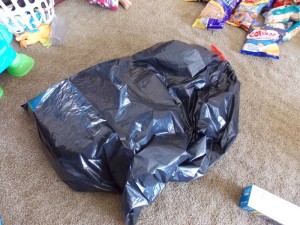 Then we let each child participate.  Each child taking turns dumping their snacks into the bag.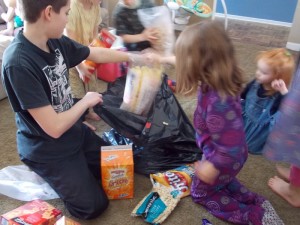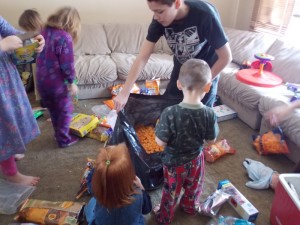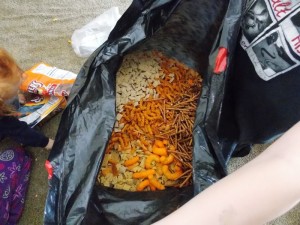 Then we let an older one roll the bag to mix it up.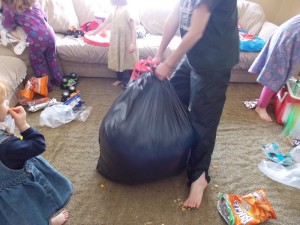 Doesn't that look good???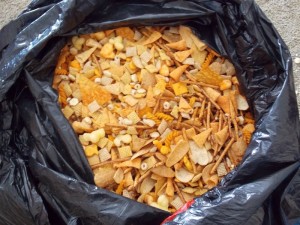 Scoop into gallon ziploc baggies.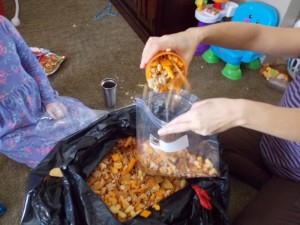 We store ours in a cool basement, but you can store them in the freezer for longer than the month.  It will ensure the freshness of the snack mix.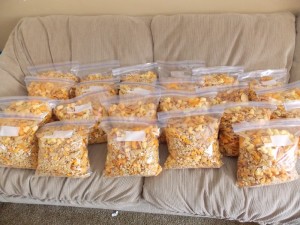 An easy to grab snack when on the go, don't forget to bring small plastic cups for everyone's portions.
You can use any combination of items you like.  Here is the ones that we typically use.
4 boxes crispy oats cereal
3 boxes rice squares cereal
3 boxes corn squares cereal
4 bags puff corn–buttered and cheese flavored
1 large box goldfish
2 boxes wheat thins
2 bags frito twists
1 bag multigrain crisps chips
1 bag nacho cheese chips
1 bag pretzles
1 bag combos
2 boxes cheese snack crackers
1 bag potato skins
1 bag cheese puffs
2 bags bugels cheese and regular