It is hard to believe that our school year is almost done.  After moving here, I have found that it is much harder to stay on our school because the weather is nicer earlier.    After being used to being indoors for most of the winter in Michigan, it seemed when we lived there it was much easier to get school work done because we could not be outdoors. But since moving here, we have been enjoying warm weather very early on which is something new.  We try and get our school work done at least by early afternoon so that we can enjoy our time outdoors.
Making the transition from Michigan's no laws for homeschooling to North Carolina's laws for homeschooling was  a bit different.  We are more lapsed than most people are when it comes to schooling.  I find that I like to "zone" in on what my children's strengths are and what they excel at the best and then we go with it.  That means that sometimes we might put off learning certain skills until they are ready.  I am at the mindset that by the time my children are finished with high school, they will all know what they are supposed to learn, some just took longer than others.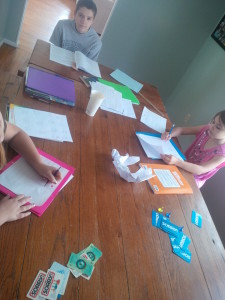 I would much rather let my children learn some skills that are going to actually help them in life verses a bunch of formulas and facts that are going to get them nowhere.  My oldest is in college and we made sure to have her learn all of her "required" useless skills so that she could do well in school.  The  last year of her schooling, we did a crash course in review to put her up to par and she did fine.
For my others, we are not anywhere near that point yet, so we just do what we enjoy doing.  With the exception that I have to test my children and they should be at a "certain" level.  Since we do zero testing, ever.  I decided to purchase some practice test prep books from Spectrum.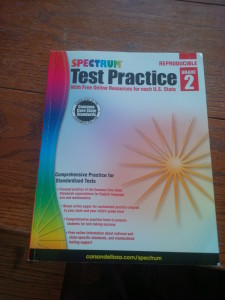 Amazon carries Test Practice and Test Prep.  I recommend getting the Test Practice.  The other book just gives you a few questions with more explaining of how to take a test.  Don't bother wasting your money.  These were about $8-10.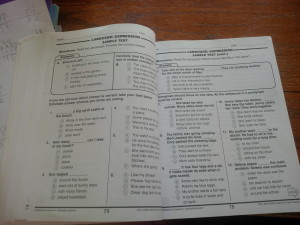 Here is a sample of inside the books.  To me these were great, my children and I are almost done going through them.  Each day, we do 2 pages of each section:  Math, Language, and Reading.  In another week we should be done with them.  It gave us the chance to go over a few things that we previously did not learn and my children understand it completely.
In another week or so, I will order the CAT5 tests for each of my children.  They cost about $30 each and then I will administer the test to each of my children and keep the records.  Easy enough.  After reading different reviews, that seems to be the best one suited for homeschoolers who don't normally do tests.
Then it will be time to explore and find out what I want to do for my children for next year.  I don't think you need to have the same curriculum for all of your children for every year.  I think that our life changes, circumstances change, children's learning is different, and sometimes financial reasons change.  We can't always do the same thing for each children and that is okay.  Each child is different and we can't expect them to all learn the same way. It is okay if you decided halfway through the year that something isn't working, its hard but it is much better than a whole year of frustration with your child because they don't get it.  I am glad that we can switch things up each year.  It makes the year less monotonous and boring.  Plus I am glad when we can do more in a year than previous years.  I look forward to sharing what we will be doing this next year.  But for now, I have to prepare for another Monday.  Be blessed.