Hello everyone!  Hope your week has been going well.  We have been busy. Aren't we always busy?!?!? This week was "take all six kittens and one dog to the vet to get spayed and neutered."  Now I have to keep all seven of them calm and NOT running around!?!?! Hmmm…gonna be quite the challenge.  When you place six kittens in one bathroom, they seem to climb on everything and make quite the mess.  I think we will only be doing that for a few days.  Plus I got two books formatted and up for sale on Amazon and that I am excited for!!!!!
I now have fifth grade basic skills complete curriculum that you can purchase on Amazon.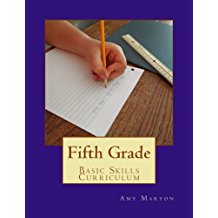 This book has 36 weeks of schooling.  It has enough to do four days of "worksheet" school.  I would recommend the other day you do more hands on learning. It also includes weekly work for vocabulary words every 5th grader should know and extra speed drills in addition, subtraction, multiplication, and division.
You can click here to buy from Amazon.
Again, these are course from my blog here that are FREE.  I only added a few more days worth of pages so that it could be a complete course.
I have the answer key to this book available as well under my homeschooling resource section.
Hope that you have some sunshine in your day!  We are off to the lake for some much needed fun time!   Be blessed and see ya soon with the next level:)