It has been a long time, since I have had any real sanity in my life….actually I probably don't have any "real" sanity, I am a mother of 10!!!!  but anyways……having children, I have realized the importance of fostering a love of books in them.
Our first set of children(the upper half) I read books to almost every night,  and pretty much anytime a child wanted me to read to them, I did.  Now our second set of children(the lower half) came along and life has just been crazy, one baby after another.  I can't honestly say that I was consistently reading to them, as much as I would have liked to.
But that all changed this year. I was determined to make sure that I read so many books each week to my children.  To some it may seem like a lofty goal , but for me, I could literally go all week and not read a book and not even think about it. Before this school year began, I took some time, and scoured the internet for crafts, books, and ideas for me to do extra with my children.  I organized all of the information into weeks, printed them out and placed them into my household binder.
Along with theme crafts and ideas I put together a book list for each week as well.  At the end of the month, I order all of the books from our local library so that they would be there before we start each new month.  So far this system is working well for us.
**please note I am not being paid to endorse any of these books, they are ones that we just enjoyed reading.
Here are the books we have read pertaining to fall……
Too many pumpkins by Linda White
**please note, there is a jack o lantern reference in this book.  My children do not partake in Halloween to any extent, in this book the woman carves pumpkins and places a light in them, to light a path to her home.  My children didn't really ask or think much about the carved pumpkins except that the woman used them as a lighted path to find the "party."  Wanted to note this so that maybe you would view the book before you read it to your children to see if that is something your family would like to be exposed to.
Fall leaves fall
Why do leaves change color by Betsey Maestro
This is a good informational book to explain about the leaf process.
The Pumpkin Runner
Hello Mr. Scarecrow
Leaf Man
Leaf Jumpers
Apple Cider Making Days
The apple Pie tree
 Applesauce Season
A Friend for all Seasons
Bear has a story to tell
Earl the squirrel

fall mixed up
**note some halloween reference pages, we just skipped them
Hello, squirrel
Hooray for fall
Leaves
Maple syrup season
Nuts to you
Red leaf, yellow leaf

Ten red apples

The scarecrow dance
**this is a great book that references God in it:)
Tuckers apple dandy day
The stranger
Apples, apples, apples
These are the crafts that we have done…….
Remember I do not have many "skilled" artists yet:)  My children's ages that did the crafts are 2,3,4,6, and 8.
Easy, trace the child's hand and let them color it in brown like a tree trunk.  Use bingo dabbers to let them make fall leaves.
For this we found a fall themed  poem and printed it out onto cardstock.  The poem– I had some of my older ones memorize for school, so I thought we would turn it into a nice craft to hang on the wall.  I then had the children make a tree in the corner with branches.  We then used Dollar Store foam leaves and placed them on our tree.
This was a time consuming craft, but looks neat if you have "skilled, patient" children.  I don't have that just yet.  Not that my children aren't skilled, they are just not ready for these types of crafts.  In time, but the website busybeekidcrafts.com has a version of this and it looks very cool.
I have a group of little ones and it didn't turn out as nice as there website. My daughters sat and watched a video while they were tearing their leaves.  You were supposed to paper hole punch them out and it started out that way, then we realized we had to make this craft 5 times over.  After awhile, we just decided to tear the leaves as best we could.  You gotta improvise once in awhile.  Okay most all of the time. Click on the picture to see how to make it.
We also did some salt dough pumpkins. Click here to view how we did it.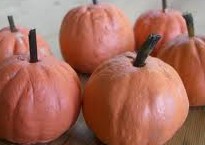 Our leaves are changing here in the Northern part of the US.  I hope to collect some leaves and do some more pictures with the children.  Maybe after reading the book Leaf Man, up above, we might glue some different shaped leaves together to make a person with googly eyes.