For the holidays I like to serve bread with our meals, as I do most our meals.  Each week, we make up a batch of  honey wheat bread that our family really enjoys.  I actually had the recipe years ago in a Taste of home magazine from 2008 and it was named Ezekiel bread.  We have always called it Ezekiel bread, but I was told what "true" ezekiel bread was and this is obviously not it.  I am going to have to "rename" our bread from Ezekiel to honey wheat.
Since we needed a bread to go with our Thanksgiving meal, I wanted to do something different than the traditional rolls that we usually make.  I found this Everything bread recipe and we really like the taste of it.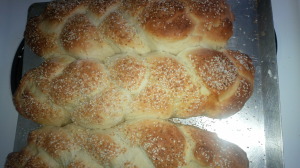 It was very easy to mix up and the girls enjoyed braiding it together to make.  The first time we made it, we divided it into 2 loaves, and they made a BIG mound of bread. We enjoyed the taste so much, I made it the next day so that we could have it again.  This time I divided it into 4 smaller loaves so that they would fit into my containers for storage.
Mix the following into a large bowl:
Dissolve 1 Tablespoon or 1 pkg of active dry yeast into 3/4 cup of warm water.
Add 1 cup warm milk, 1/4 cup butter–softened, 2 Tablespoons of sugar, and 1 egg yolk.  Mix well.
Then add 4-5 cups of flour and 1 1/2 teaspoon salt and mix well.
Knead in 4-5 ,more cups of flour and place in a bowl and cover with a cloth.
Let rise until double in size.  Punch down dough and then put on a floured surface and knead a few more times.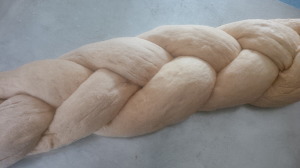 Divide dough into 4 clumps.  Take one and roll out 3 pieces into a snake.  Braid those 3 rolls together and place on a greased cookie sheet.  Continue with the rest of the bread.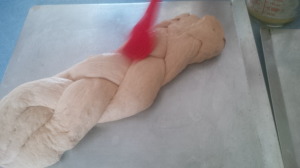 Whip the egg white until foamy and brush onto the bread.  Sprinkle with your choice of toppings.  We used:
dried garlic
Parmesan cheese
salt
sesame seeds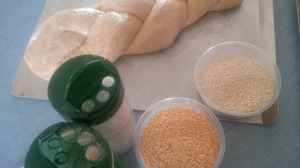 Let the dough rise until double in size then place in oven and bake at 375 for 30 minutes.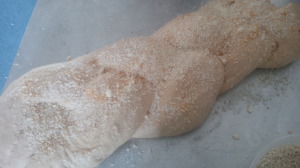 When finished baking, let cool—-if you can wait that long:)  otherwise enjoy the wonderful tastes of this bread.  Just the toppings alone give it enough flavor that you don't need to spread the bread with butter.  I stored mine in a plastic container and it lasted well as our other breads do.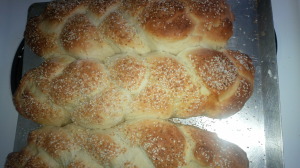 Try some for an extra special change from your usual bread.